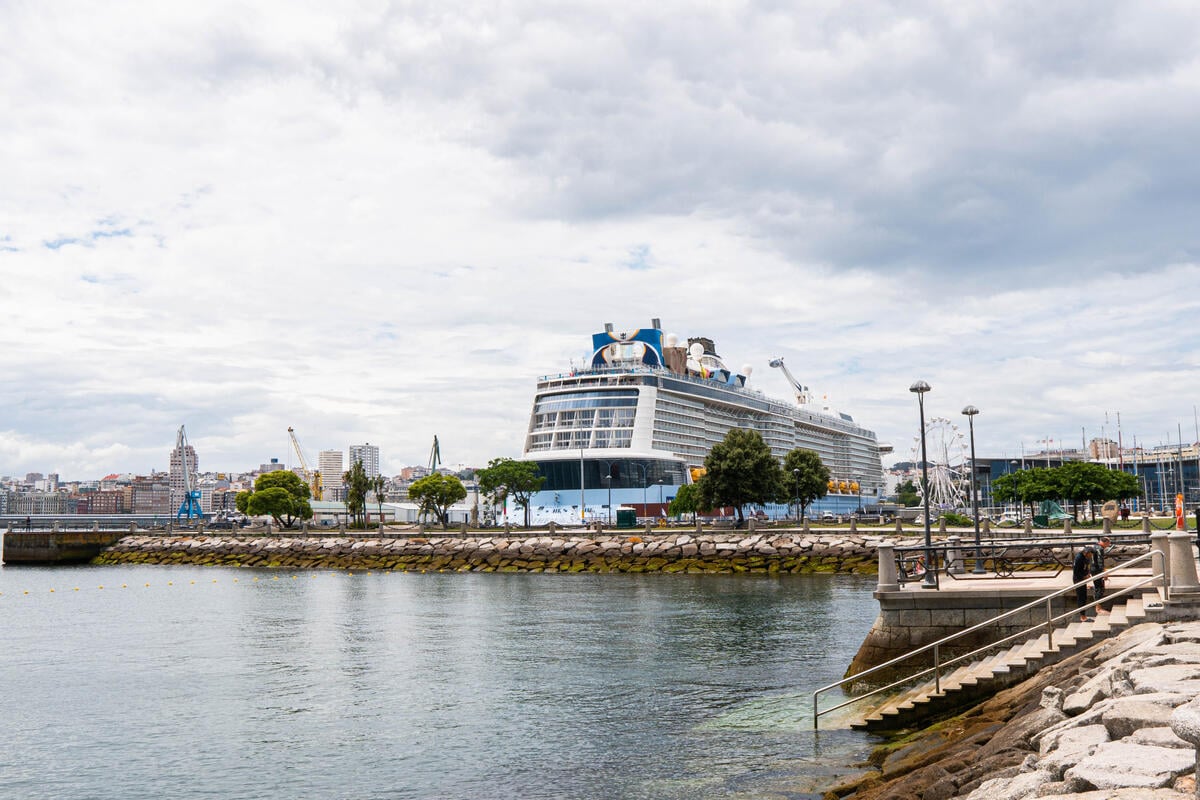 Anthem of the Seas Live Blog – Day 5 – La Coruña, Spain
[ad_1]
I can't believe that today is already the fifth day of my cruise on Anthem of the Seas! Today we docked in La Coruña, Spain, a medium-sized town in the Spanish region of Galicia, located just above Portugal. With rolling green hills, dramatic ocean cliffs, and small beaches dotted with coves in the landscape, La Coruña was a beautiful place to spend the day.
The cruise port is conveniently located downtown, so we were able to leave the ship and start exploring right away.
One trend I noticed on this cruise is that while ships dock at 8am, ports are very sleepy until at least 9 or 10am. When we got off the ship around 8:45 a.m. the cafes were just starting to open and the town was really quiet.
Breakfast and ocean view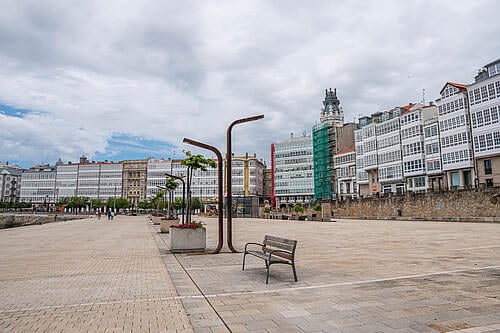 I decided to skip breakfast on the boat today in favor of dinner at a local cafe in Spain. Even though I go on cruises quite often, it's not every day that I can have breakfast in Spain!
Samantha and I stumbled upon Praza de María Pita, a large public square lined with historic buildings, restaurants, and cafes. Here we enjoyed pastries, freshly squeezed orange juice and cafe con leche.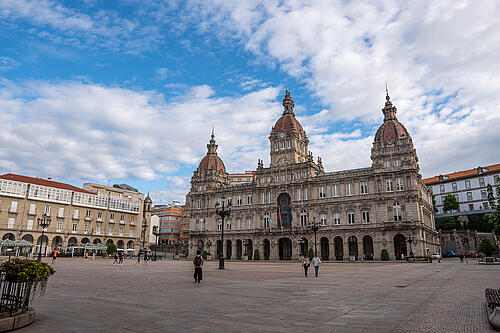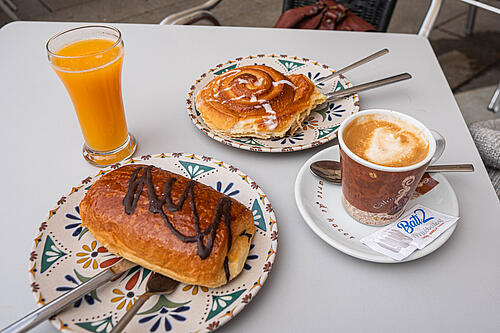 Like every port we've been to so far, we arrived with no plan on how to spend the day. What's great about cruising to European ports is that the infrastructure caters for pedestrians, meaning you can explore most ports without worrying about needing buses, taxis or boats to move around.
We came across a beautiful waterside trail that first led us to a small beach. After relaxing at the beach, we continued along the path. It turned into one of the most beautiful coastal hiking trails I have ever explored.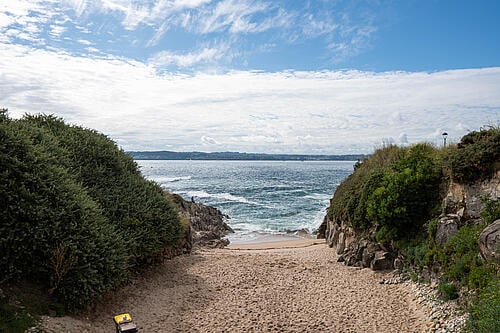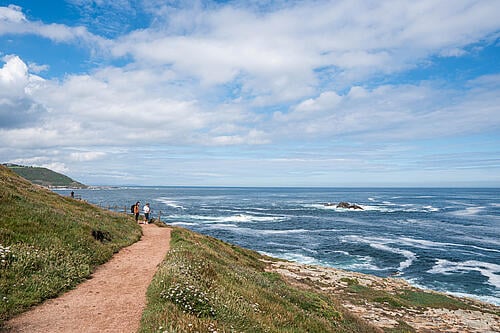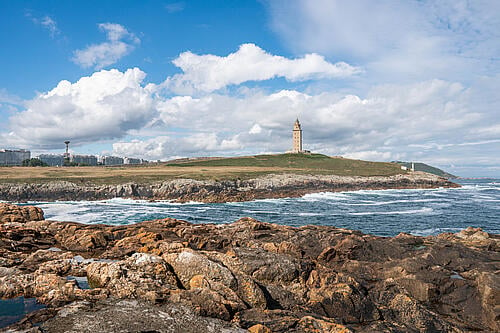 Located in the far north-west of Spain, La Coruña's landscape and its rocky and dangerous coast are breathtaking. One of the city's most iconic landmarks is the Tower of Hercules, the oldest surviving lighthouse in the world. With a height of around 180 feet, the lighthouse towers over the coast and was quite impressive to behold.
The walking path was the perfect place to spend a sunny morning in Spain, but all the walking quickly made us hungry!
Lunch time in town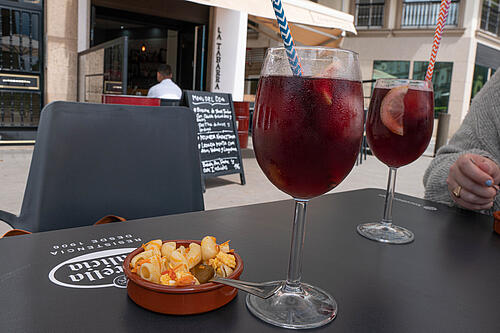 Because La Coruña is a quiet town, we decided to have a long, relaxing lunch at the port. We came across a local restaurant with a menu del día (menu of the day). For €10.60 each we had two glasses of tinto de verano (a sweet wine drink), an appetizer of pasta and eggs, bread, a Thai rice dish, chocolate pudding and coffee. It was an amazing deal and the food was delicious!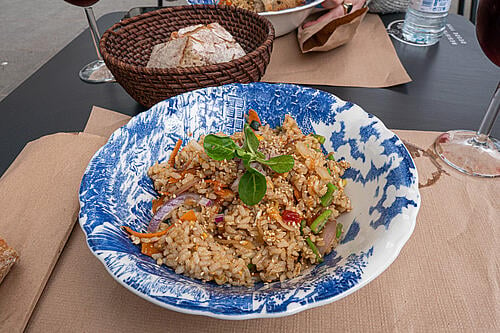 We sat outside for about 2 hours enjoying the culture and sights of La Coruña. A fascinating fact about Galicia is that the native language of the region is Galician, which is actually more closely related to Portuguese than Spanish. About 2.5 million people speak Galician and you will hear both languages ​​when you visit La Coruña.
Our day in port ended with a brief walk to the ship along the La Coruña waterfront. I relaxed a little on one of the benches in the city park in front of the port before getting back on board.
Impressions of La Coruña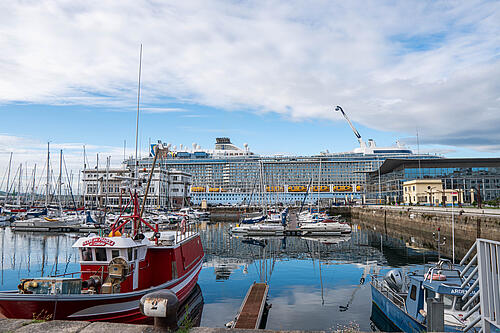 La Coruña is without a doubt the sleepiest city we have visited so far on this route, but I loved the relaxed vibe of the city. Honestly, I don't know where most of the ship's passengers went today because everywhere we went it wasn't crowded.
If you're happy to stroll beautiful hiking trails, visit the Tower of Hercules and indulge in Galician cuisine, La Coruña is a quiet day port. Although it doesn't offer as many tourist attractions and activities as a city like Valencia or Barcelona, ​​I loved being able to walk around and learn more about the culture and landscapes of Galicia.
After three consecutive days in port, I would say this route is best suited to those who are more interested in visiting small towns above the larger and more touristy cities in Europe. If this is your first time visiting Europe, you might prefer an itinerary to cities like Rome, Nice, and Naples to see attractions like the Colosseum, Pompeii, and more.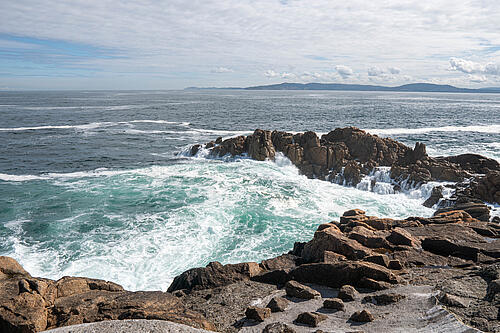 If you've seen these places before, however, venturing into smaller, lesser-known towns will give you the opportunity to see these countries from a new perspective and connect more to the local culture rather than quickly jumping from one place to another. attraction to another.
Because I have already visited many major cities in Western Europe, this cruise itinerary is exactly what I hoped for! I probably never would have thought of visiting Galicia, for example, and now I can't wait to go back.
Back on board
I was back on board around 3:30 p.m. and took about two hours to relax in my cabin before going to dinner.
We enjoyed another dinner in the main dining room tonight. I think that's the most I've ever eaten in the main dining room on a cruise! Although I often opt for a quick dinner at the buffet after port or at the occasional specialty restaurant, it's nice to feel "spoiled" every night in the dining room.
After ten cruises, I still can't believe how classy it is when the waiter pulls out the scraper to clean the crumbs from the table before dessert. I ordered pesto tagliatelle and cherry jubilee for dinner tonight and they were both delicious!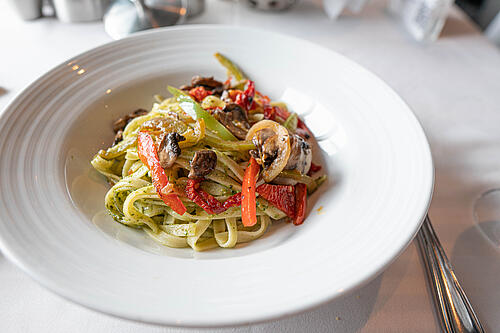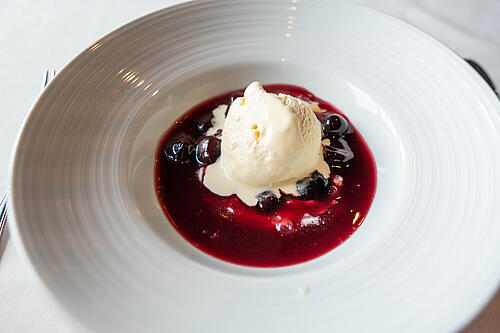 A highly anticipated event was scheduled after dinner: my first Broadway production on a Royal Caribbean cruise!
So far I have been on three other Royal Caribbean ships with Broadway shows (Oasis, Harmony and Independence of the Seas). Each time, the Broadway show was canceled due to an omicron or crew injury. For this reason, I was super excited to watch We Will Rock You at the Royal Theater on Anthem of the Seas.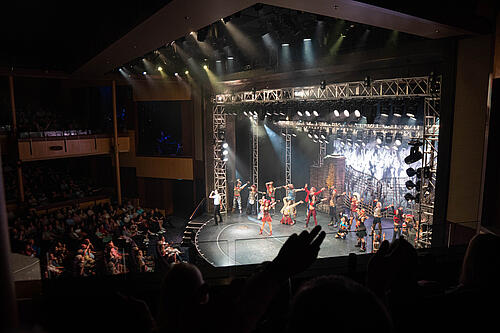 We Will Rock You tells the story of the battle between Bohemians and an oppressive establishment. While bohemians want to experience the freedom of rock n' roll, the futuristic establishment tries to stop anyone from playing and experiencing the greatest music in history.
Let's just say I was blown away by the incredible performance; this is by far the best show i have ever seen on any ship! I now understand why everyone raves about Royal Caribbean shows on Broadway. The 2 hour production was hugely energetic, with classic rock n' roll tunes that turned the theater into one giant party.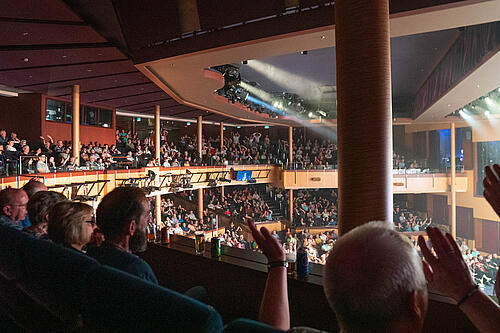 The cast was also beyond talented, with the best voices I have ever heard on a cruise ship! I usually struggle to understand Royal Caribbean's more abstract entertainment shows, so I loved having an easy-to-follow storyline mixed in with wonderful live music. Samantha and I may see the show again tomorrow because we enjoyed it so much.
Tomorrow is a well-deserved day at sea after three busy days in port!
More Anthem of the Seas Live Blogs:
Anthem of the Seas Live Blog – Day 1 – Embarkation
Anthem of the Seas Live Blog – Day 2 – Sea Day
Anthem of the Seas Live Blog – Day 3 – La Rochelle, France
Anthem of the Seas Live Blog – Day 4 – Bilbao, Spain
[ad_2]
Source link