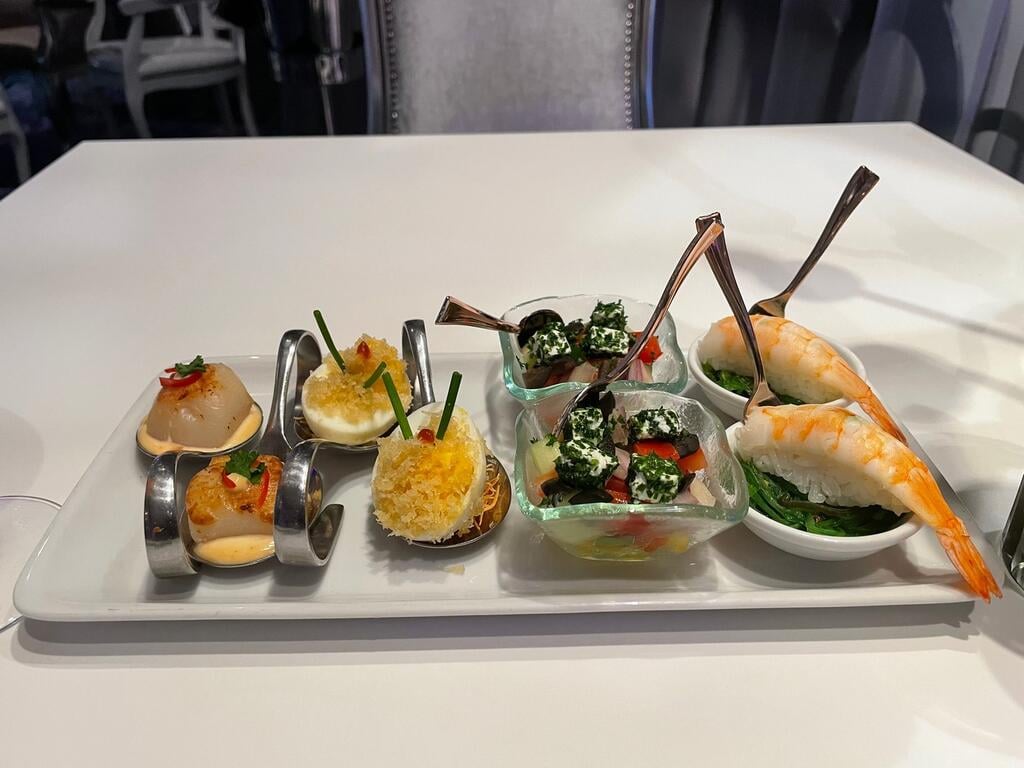 I tried the Taste of Royal lunch experience
[ad_1]
Specialty meals are a popular option for cruise passengers who want to indulge in different cuisines, and Royal Caribbean offers a sample one-meal package where you can try the best of many different restaurants.
Known as the Taste of Royal, it gives customers the option to sample various dishes from different Royal Caribbean specialty restaurants, even if those restaurants are not on the ship they are sailing on.
Whether the call is for someone to get a sample of what specialty restaurants are like, or to pick a "star selection" of top rated foods, Taste of Royal seems like an intriguing option.
I decided to sample Taste of Royal myself while sailing aboard Odyssey of the Seas. The meal took place in Wonderland.
What is Taste of Royal?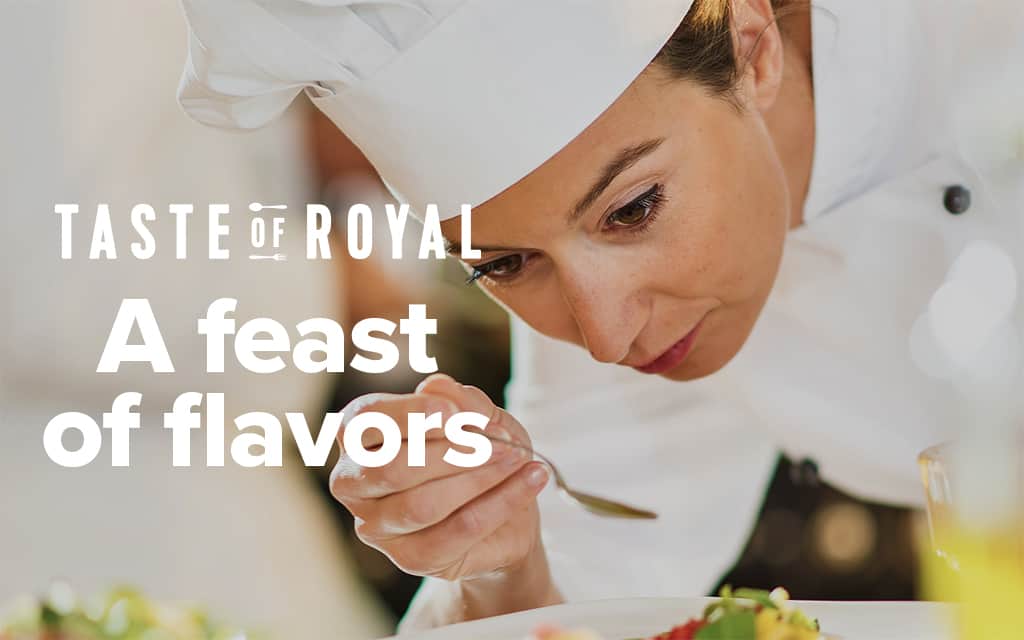 Royal Caribbean has several specialty restaurants in its fleet of ships, and each is known for certain dishes. Over the years, each restaurant has developed a reputation for one or two essential dishes. So it looks like Royal Caribbean wanted to offer their customers a meal that hit all of those high marks.
Taste of Royal is a fixed price four-course meal. Unlike a specialty restaurant where your meal begins when you arrive, Taste of Royal is more like the main dining room, where everyone booking lunch shows up at the same time, and every dish is served at the same time for everything. the world. Don't worry, you are not sitting with the others.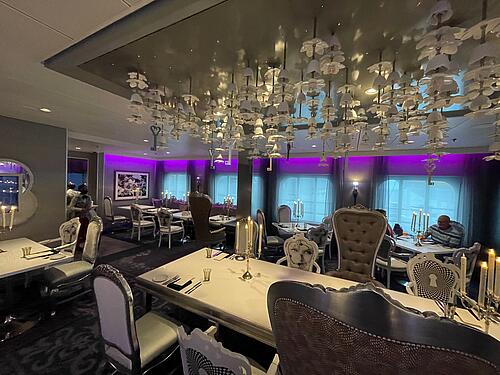 When I tasted Taste of Royal on Odyssey of the Seas it cost me $ 34.99 per person.
There's also an optional add-on where you can tie up a wine theft for $ 19.99 per person. There is a 25% reduction on the theft of wines if you have a drink package.
Taste of Royal is not included in meal plans.
Taste of the Royal menu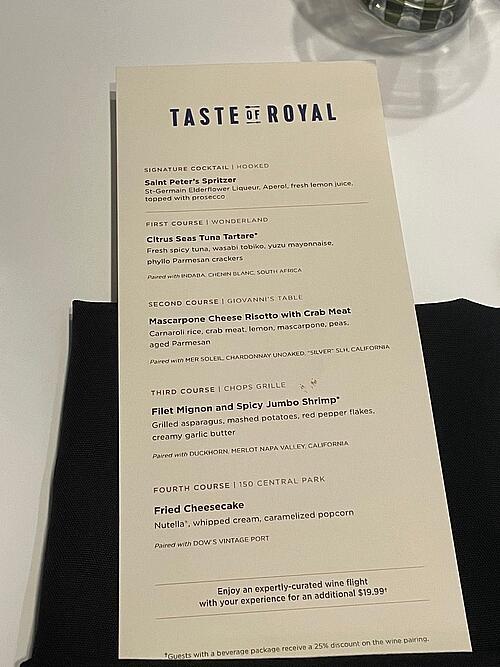 The menu is fixed, which means if a dish or two isn't something you would order, there isn't a lot of leeway to turn things around. They can modify the dishes if you are allergic or prefer not to take a certain part of it, but you are limited to the printed menu.
Speaking of menu, it leans on a few different restaurants including Hooked, Wonderland, Chops Grille, and 150 Central Park.
When I dined there, the menu consisted of:
Hooked Signature Cocktail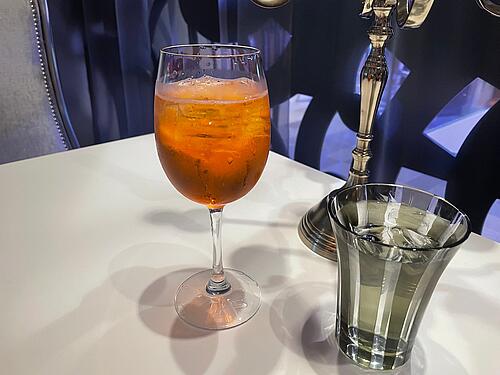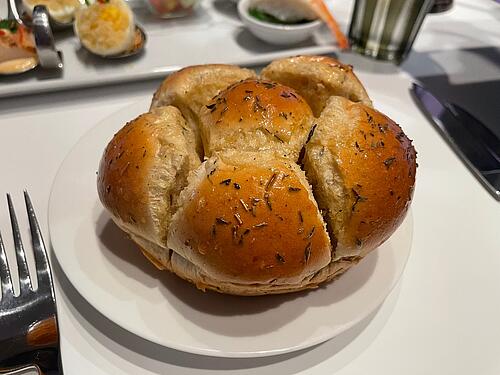 Saint-Pierre Spritzer
St-Germain elderberry liqueur. Aperol, fresh lemon juice, topped with prosecco
First Wonderland Course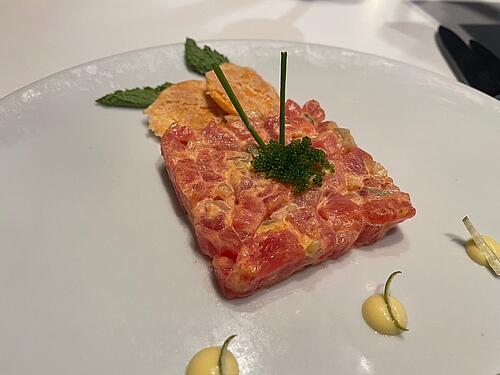 Citrus tuna tartare
Spicy fresh tuna, wasabi tobiko, yuzu mayonnaise, parmesan phyllo crackers
Second course from Giovanni's table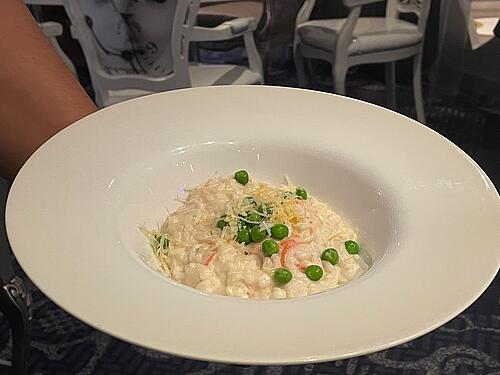 Risotto with mascarpone and crab meat
Carnaroli rice, crab meat, lemon, mascarpone, peas, aged parmesan
Third course of Chops Grille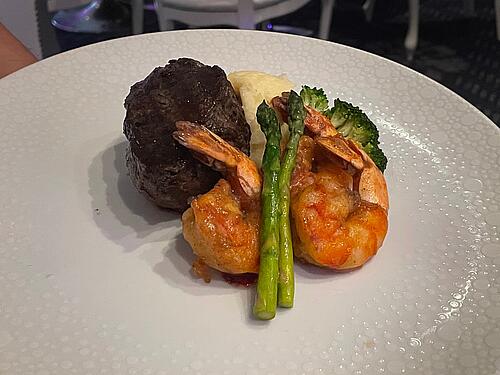 Filet Mignon and Spicy Jumbo Shrimps
Grilled asparagus, mashed potatoes, red pepper flakes, creamy garlic butter
Fourth course of 150 Central Park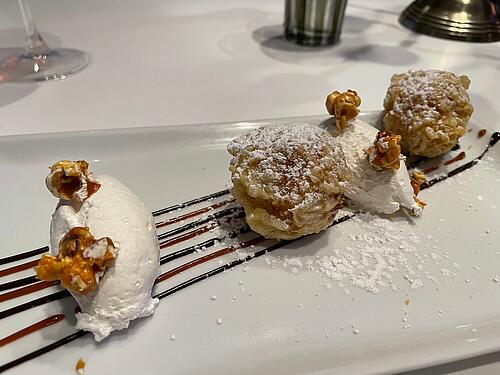 Fried cheesecake
Nutella, whipped cream, caramelized popcorn
Is it worth it?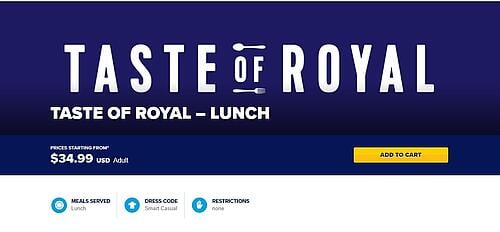 I think the appeal of Taste of Royal is twofold: tasting the best dishes from different specialty restaurants if you are either new to specialty restaurants or an aficionado who truly appreciates the items on the menu.
Royal Caribbean has selected the most popular dishes from its restaurants and delivers on a special meal promise that gives you the "best of" those choices.
If there is a dish or two that you are not interested in, the appeal of Taste of Royal might be diminished since it is a set menu. Picky eaters will almost certainly look elsewhere for lunch.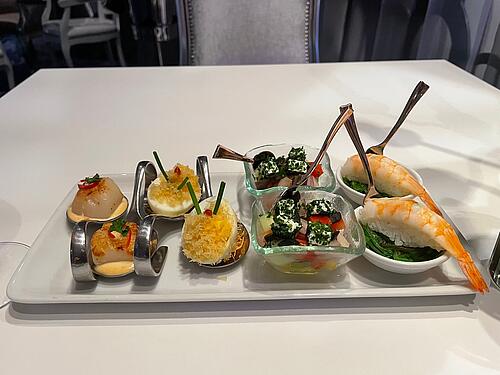 In terms of value, it's cheaper than most specialty restaurants for dinner, and you can sample a variety of dishes rather than just one cuisine. For someone who won't buy a meal plan, but wants to get some of the best options, this could be quite convincing.
I enjoyed my meal and enjoyed it for what it was: a quick lunch where I was able to sample dishes from some of the best specialty restaurants on any Royal Caribbean ship. If the menu looks good to you, then you expect a satisfying lunch.
[ad_2]
Source link