Independence of the Seas Live Blog – Day 1 – Embarkation Day
[ad_1]
I'm back on a Royal Caribbean cruise ship this weekend, this time checking out Independence of the Seas.
Since it's President's weekend, my kids have school off on Monday and it's a natural fit for a weekend cruise.
We had originally booked Royal Promenade connecting rooms for this cruise, but the prices dropped at the last minute and my travel agent was able to upgrade us to connecting rooms with balconies for only $50 more.
Independence sails from Port Canaveral and offers a 3-night Nassau and Perfect Day at CocoCay itinerary.
About a week before the cruise, Royal Caribbean warned us that embarkation would be pushed back an hour so the ship could undergo additional cleaning. It's not unheard of in recent months, even if it's the first time I've met him.
We had an 11:30 a.m. check-in time, but Royal Caribbean said everyone had to arrive an hour later than the time they booked.
We left our house and went to Port Canaveral, which is about an hour drive door to door.
When we arrived at the terminal they were letting people into the building to check in but they were holding passengers in the waiting area until the ship opened for boarding.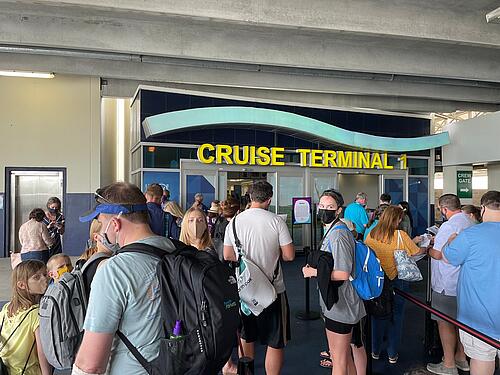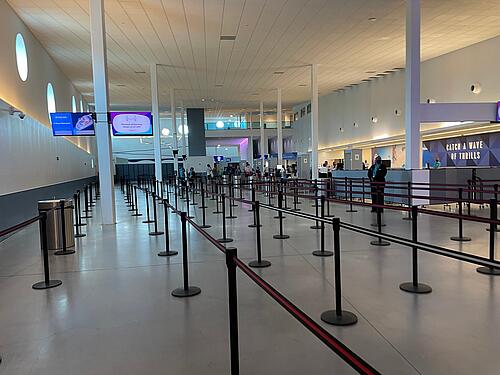 Luckily, once check-in was complete, boarding began. They started with suites and pinnacles, then went upside down to the Crown and Anchor Society before opening it up to everyone.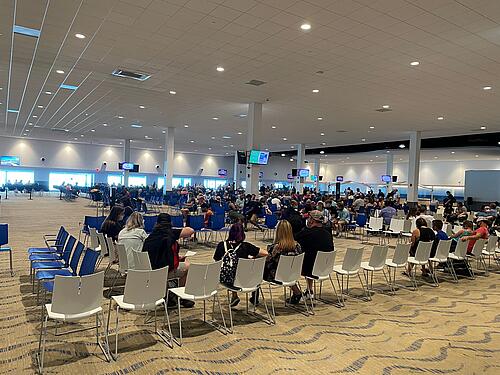 The weather started out a little cloudy, but it all cleared up as the afternoon progressed.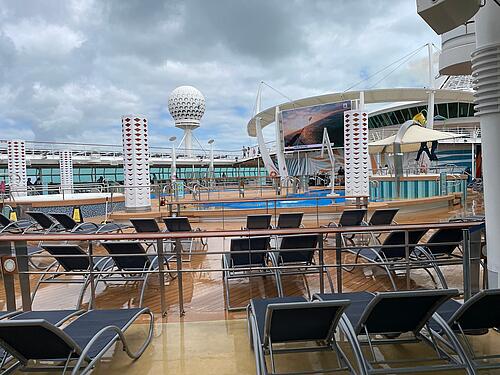 On board the ship, we had lunch at the Windjammer.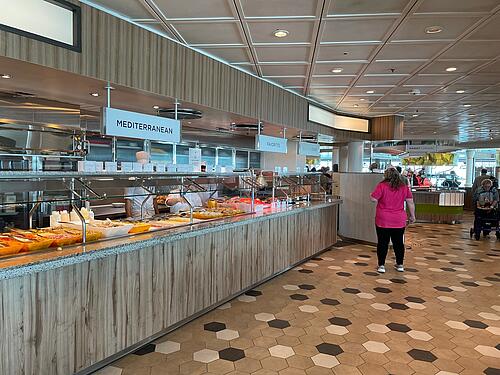 The cabins weren't open until 2pm so we took the kids up to the sports deck for a spin on the Sky Pad.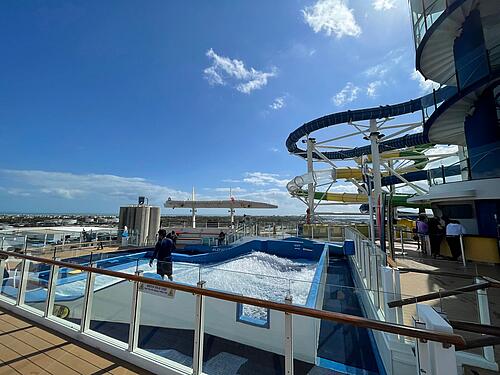 I booked the unlimited dining package for this cruise, and it's always a good idea to book your dining reservations on the first day. I was able to get the days and restaurants we wanted without too much trouble.
We then enrolled the children in Adventure Ocean. On this sailing, there are 600 children on board and they limit parents to 3 hours per child for advance reservations.
My wife made a well-deserved visit to the spa, while I took the kids to the pool deck. Independence of the Seas has a fairly large Splashaway bay and they enjoyed the slides.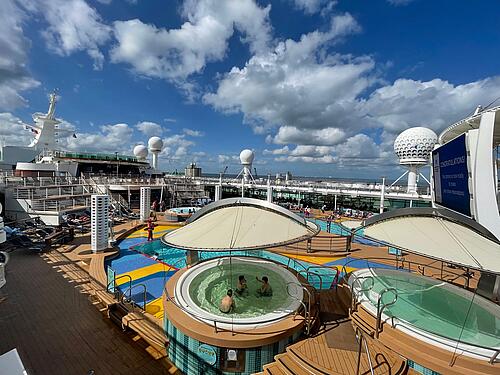 Once in the rooms, we dropped off our belongings, then went downstairs to complete the mustering exercise.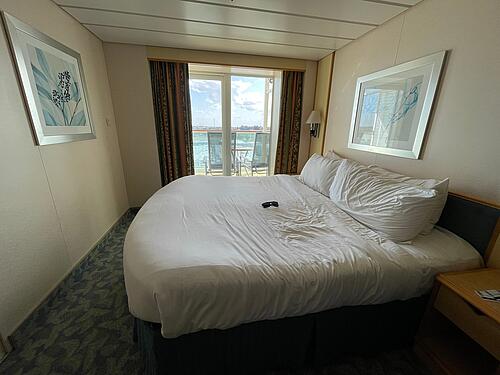 Our next stop was at the Sky Bar to enjoy some sailing. We stayed in port a bit longer than planned, but it was a nice afternoon weather-wise, so we enjoyed being outside.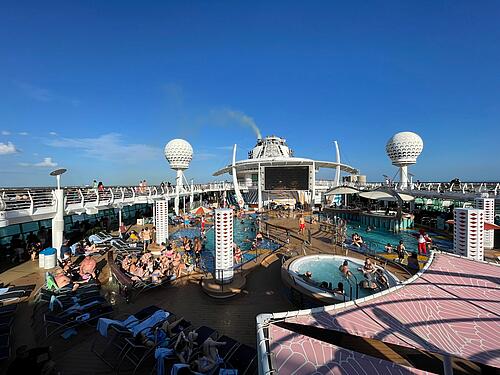 As we sailed, it was time to get ready for dinner and change.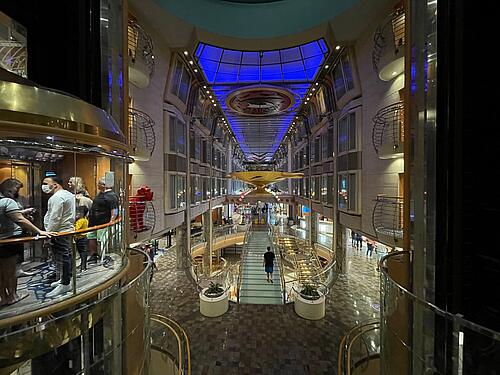 We had dinner tonight at Izumi hibachi.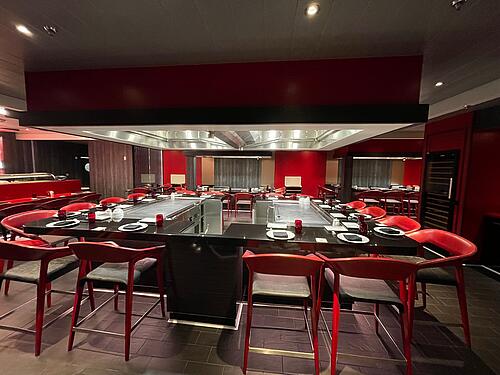 Dinner was great and we had a very good chef who had some original gear.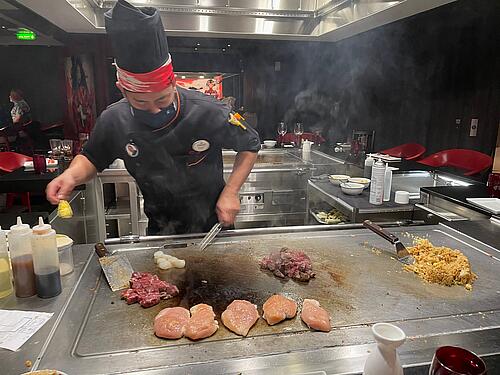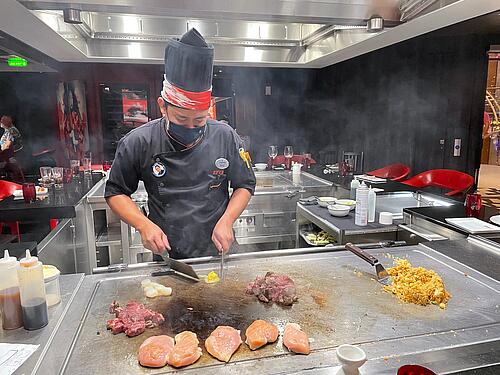 After dinner we enjoyed music in the pub.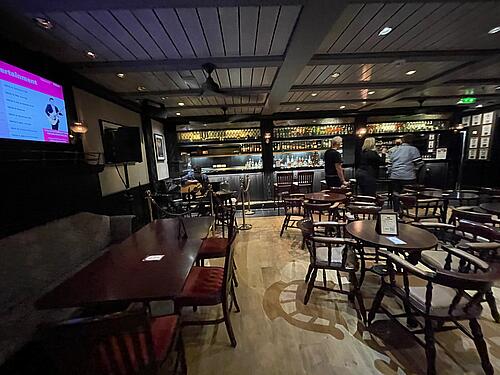 Tomorrow we will visit Perfect Day at CocoCay.
[ad_2]
Source link