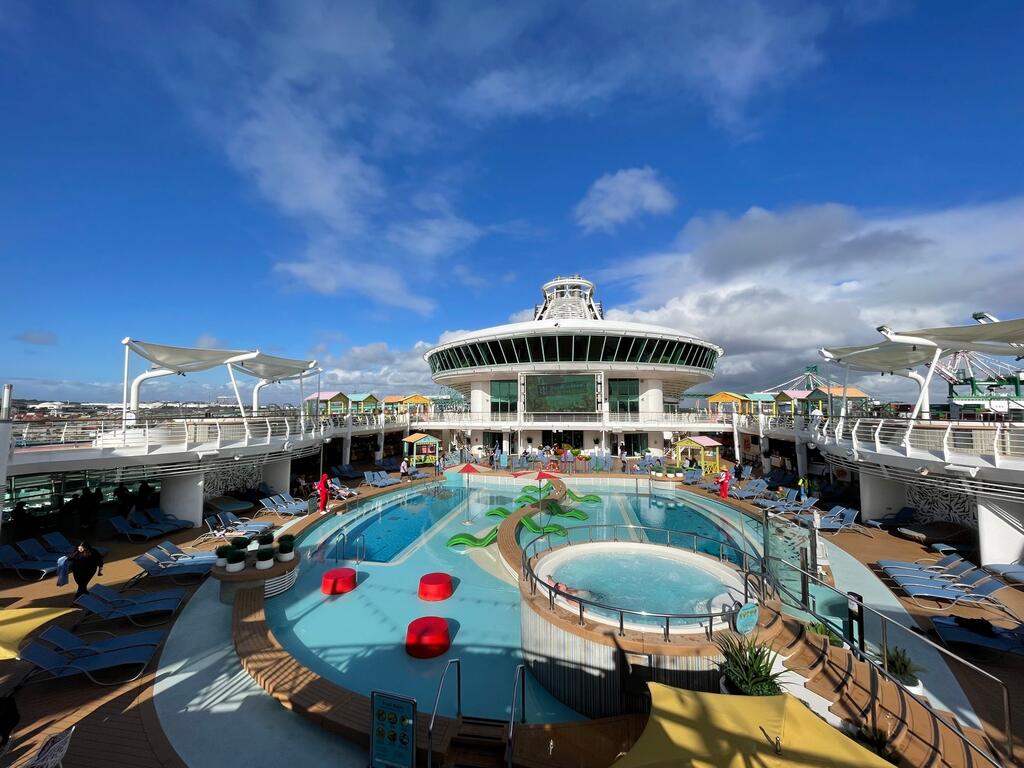 Navigator of the Seas Live Blog – Day 1 – Embarkation Day
[ad_1]
Our cruise has arrived and we are ready to embark on Navigator of the Seas for a 7 night cruise on the Mexican Riviera.
My family and I flew from Orlando to Los Angeles earlier this week so we were able to spend a few extra days in Los Angeles and take the kids to Disneyland.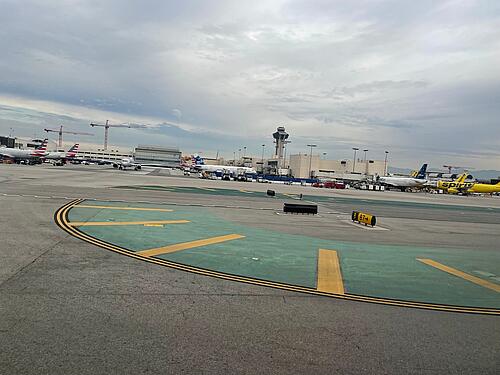 The flight was great, and we stayed at the Residence Inn Anaheim near the Convention Center. It was walkable to Disneyland and 40 minutes from Lyft to the harbor.
Our boarding time was 12:30 p.m. so we hung out at the hotel before asking a Lyft to take us to the port.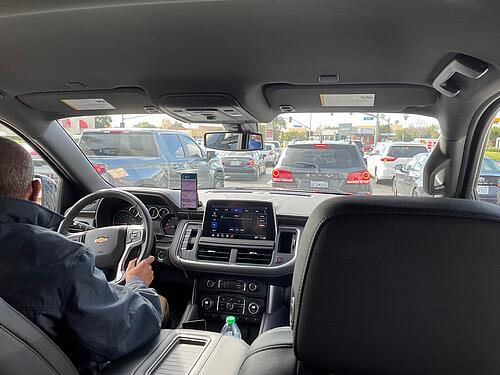 When we got to the terminal, no one checked anyone's boarding times and didn't allow anyone to check in. This was disappointing, as not only did it stand the opposite of what Royal Caribbean preached about the importance of check-in times, but it made the check-in process much more cumbersome and slow.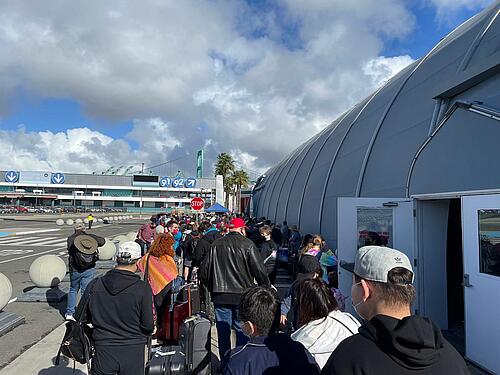 Make sure to print your baggage tags before the cruise, as there was a huge queue for people who needed baggage tags. It appears that carriers in Los Angeles do not have additional baggage tags like carriers in Florida or New York.
Our children (6 and 11) are fully vaccinated, so I knew we still had to jump through a few hurdles to prove they are vaccinated. Royal Caribbean's registration system does not yet have a mechanism to distinguish between vaccinated and unvaccinated children.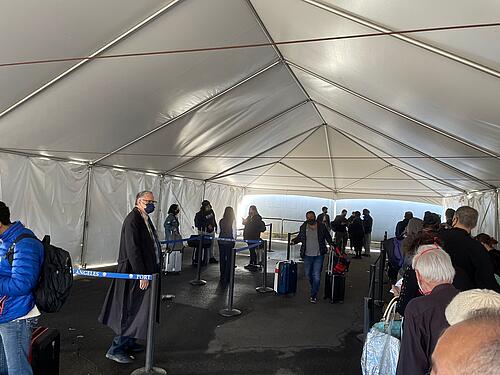 We had to go to the testing area first to prove they were vaccinated and skip the test. Then we had to wait in another (longer) line at check-in for them to prove once again that the children were vaccinated.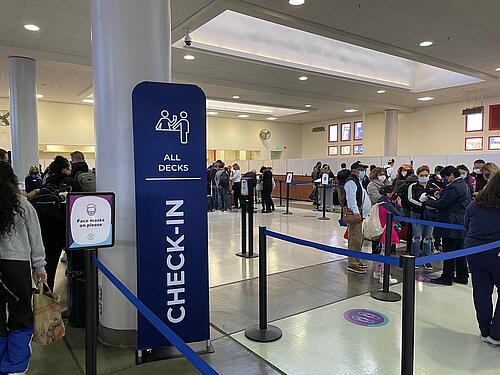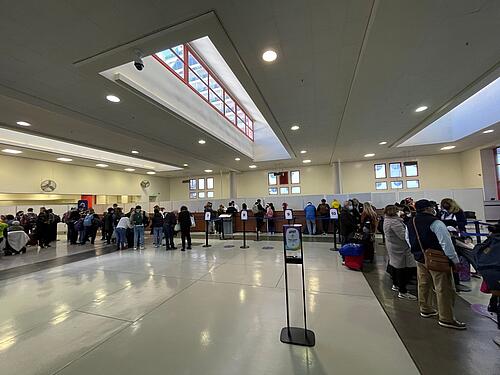 The rest of the check-in process was fairly straightforward and we did it on board the ship.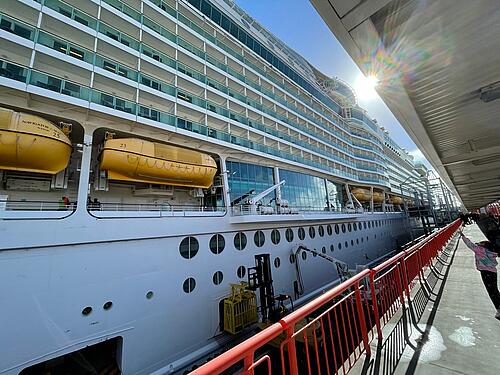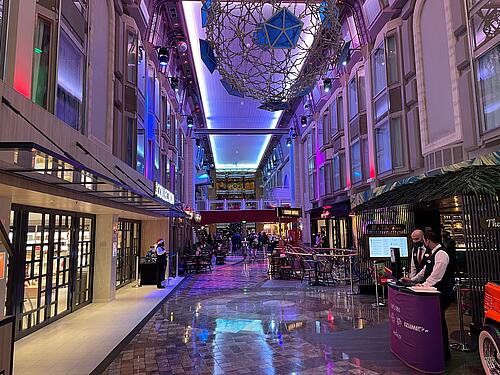 Navigator looks great and this is the first time I have been on board since 2019.
We knocked out the emus exercise whenever we could. So easy and quick!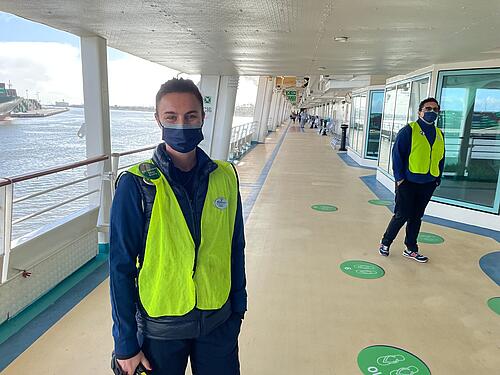 The cabins weren't ready until 1pm so we went up to the pool deck to relax. The kids ate ice cream, while I enjoyed the very comfortable outside temperatures. It was partially sunny with highs in the upper 60s.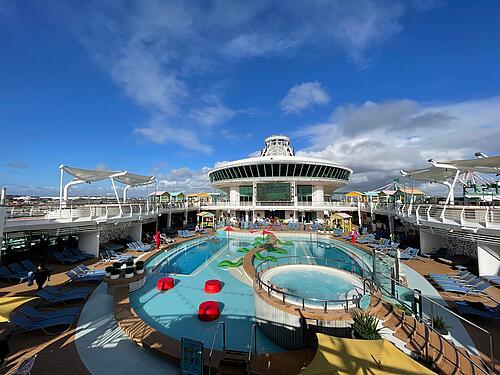 My wife went to the spa for a massage booked in advance.
The rooms open at 1 p.m. We have two connecting cabins with balconies on this cruise, right next to the elevator. I'm a big fan of two adjoining rooms rather than a cabin with kids. The extra space and the bathroom make a big difference.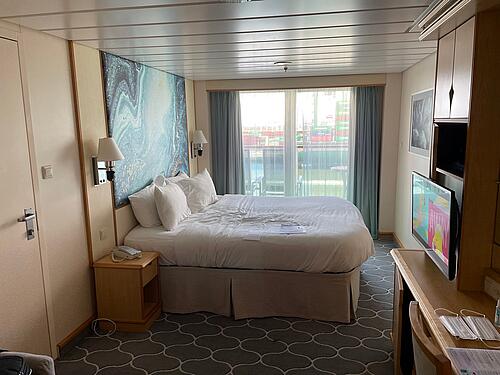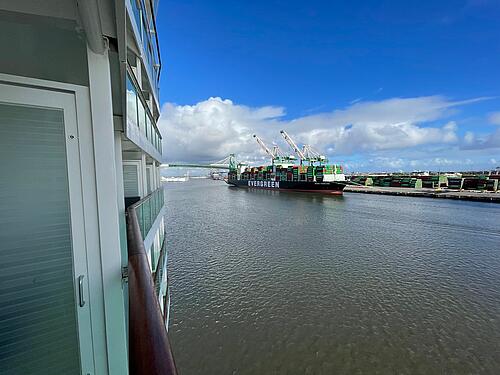 The next stop was Adventure Ocean to register the kids. I am disappointed with the Covid restrictions that Adventure Ocean currently has. Families are limited to one reservation for the entire 7-night cruise.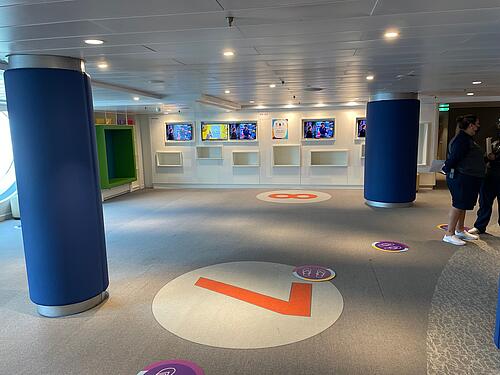 While Royal Caribbean feels good about increasing the capacity of the ship, Adventure Ocean must scale proportionally to match.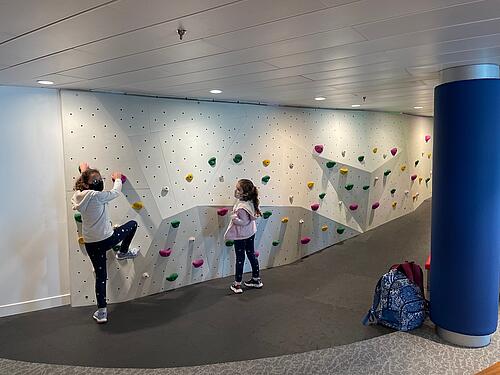 Hopefully there will be more space available later in the cruise, but the staff have given no indication to expect more weather than luck with additional seats. Alas, I know we'll have a great time, but it makes planning for families more difficult.
For lunch, we stopped at the Windjammer. Like much of the ship, there are plenty of Christmas decorations, including a gingerbread village.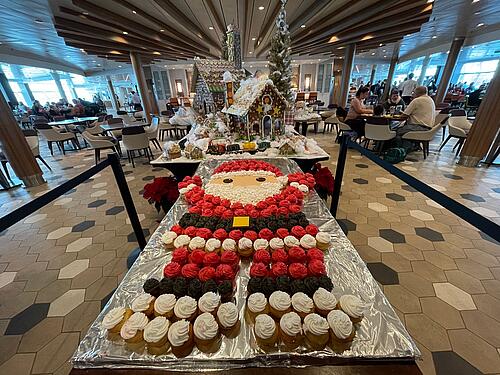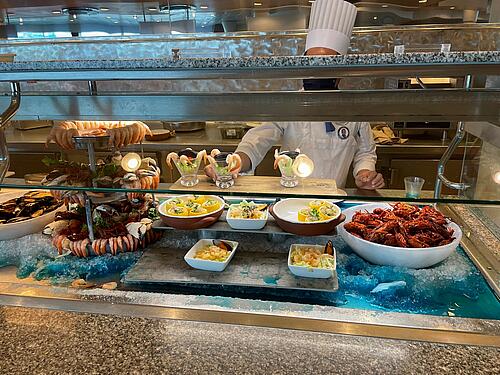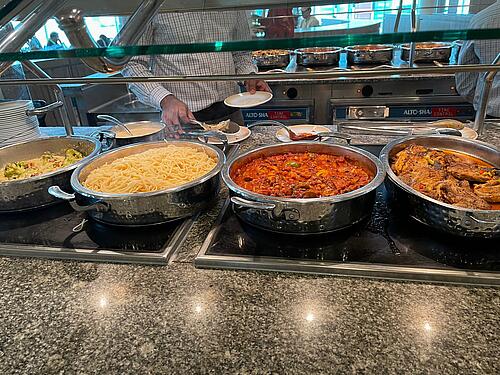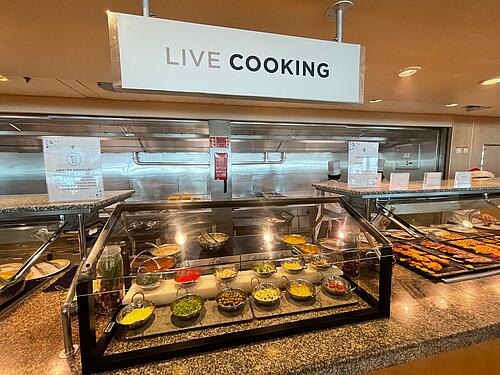 Speaking of decorations, there is also the big tree on the Royal Promenade.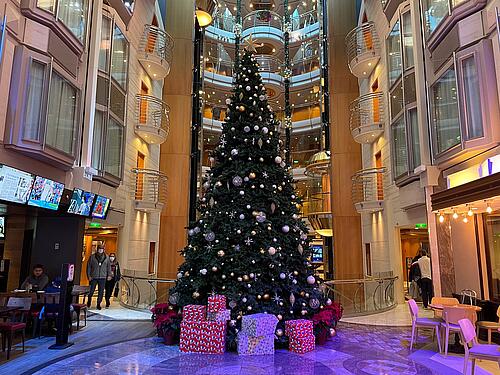 I also noticed a letterbox for letters to Santa Claus near customer services.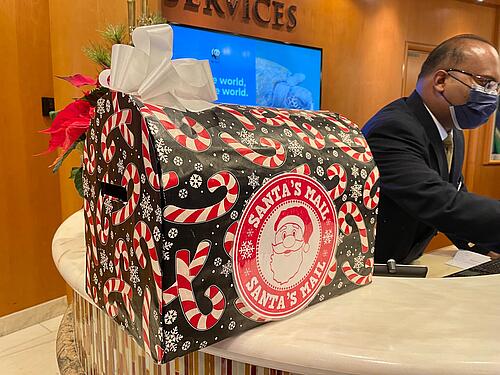 Back in the room, it was time to get ready for our evening activities.
As you may know, Royal Caribbean announced stricter face mask rules last week. These new rules are in place for this navigation, which essentially means that you cannot remove your mask to be vaccinated in a vaccinated area.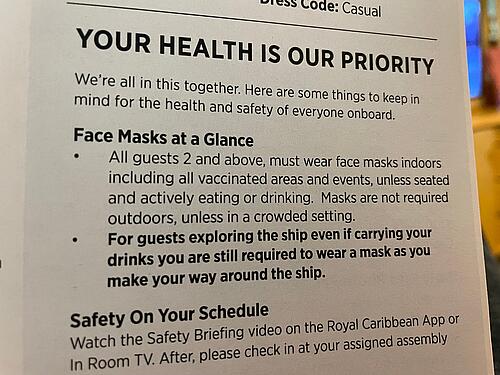 Likewise, you cannot walk around with a drink or a piece of food without a mask. So far on day one, respect for masks has been pretty good across the ship.
I ran to the pool deck to watch the evening sunset. Too many clouds to make a beautiful sunset, but the colors of the sky were pleasant.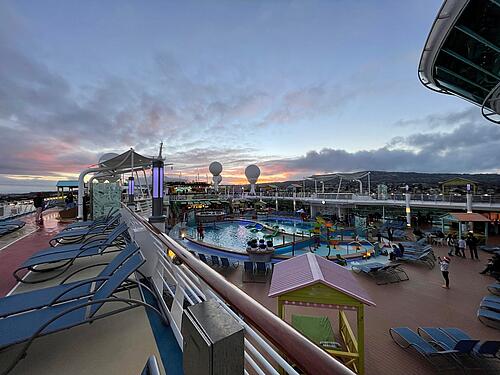 On the upper deck there was a hot chocolate station, where you could optionally add alcohol for the adults.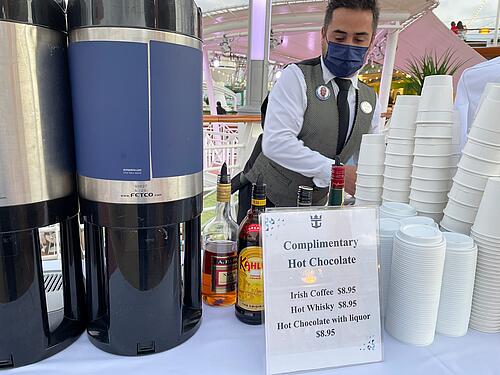 Dinner tonight was in the main dining room. I had come down earlier to check with the butler about our table assignment to make sure we weren't on the deck unvaccinated, and of course we weren't.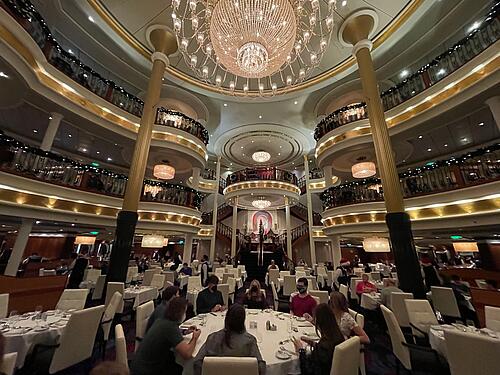 The dining room was quite full and decorated for Christmas.
After dinner we strolled the Royal Promenade and checked out the Bamboo room.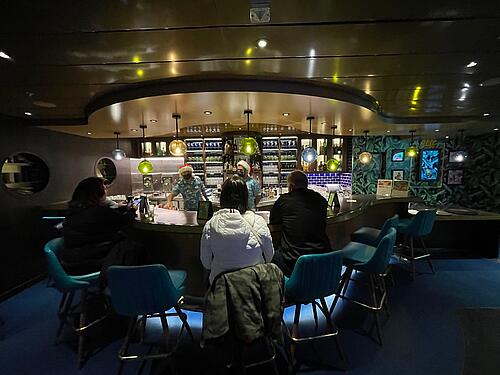 Around 8:30 am I called Adventure Ocean to see if there were any spots (they opened at 8pm on the first day) and of course there were! I dropped the kids off, then met my wife in the English-style pub.
I love the music from the pub, which always has a guitarist playing.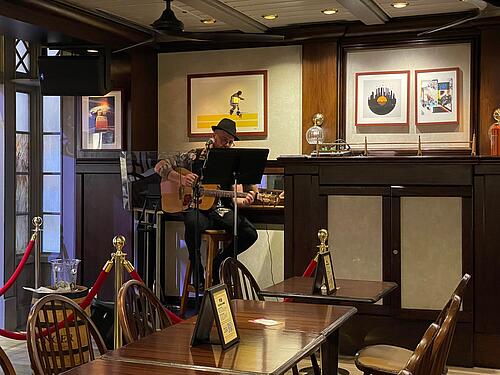 On this ship, friends who had been on Navigator several times since the restart had "warned" the pub staff to wait for me, and we had a good laugh together.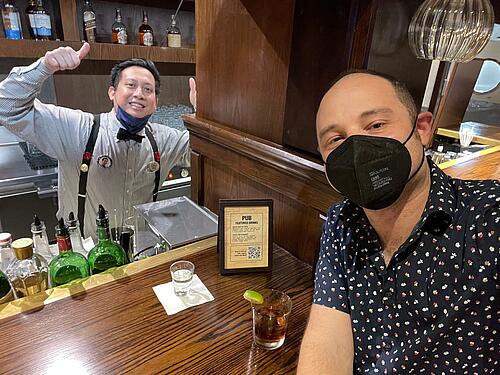 Tomorrow is a day at sea, as we sail south to Mexico.
Stray observations
Customer services have told me twice that we have around 2,600 passengers on board. They didn't have a final tally yet but said we were at around 60% capacity on this navigation.
We have the new water cans on Navigator (instead of the bottles).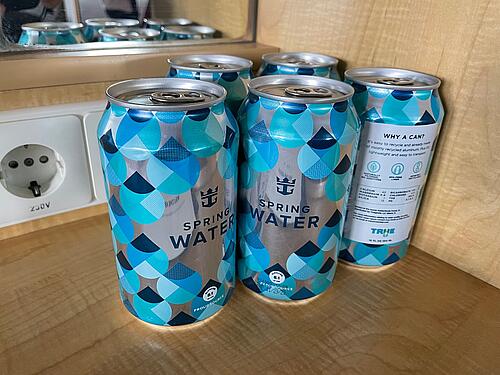 The Windjammer is open for dinner on this navigation.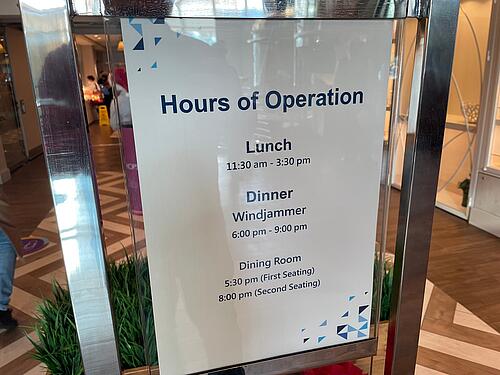 Live Blog Index
[ad_2]
Source link