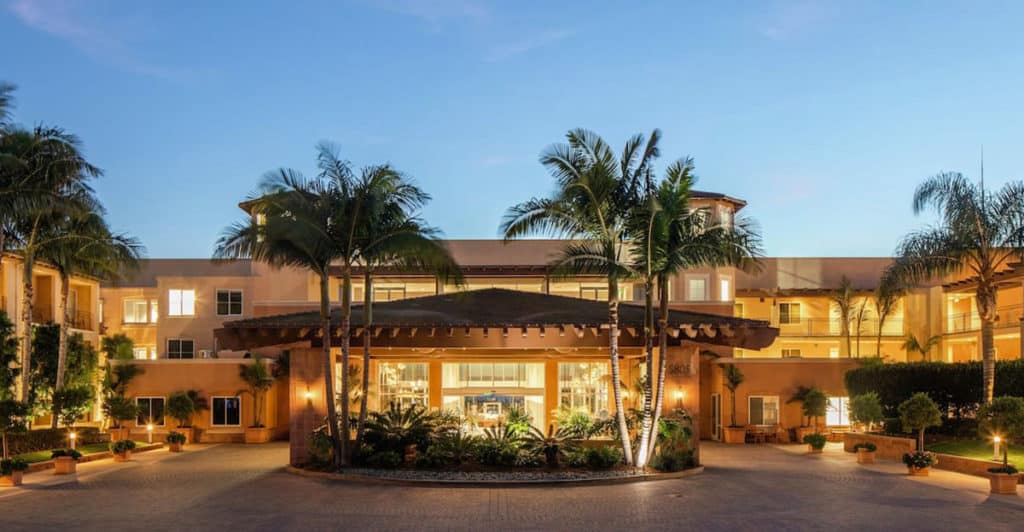 We stayed at the Cassara Carlsbad, CA
[ad_1]
Looking for a family-friendly hotel that looks and feels upscale and centrally located to Carlsbad's most popular attractions? Then The Cassara Carlsbad, Tapestry Collection by Hilton is a great choice!
We're always up for a fun weekend getaway that's not too far from Orange County, and Carlsbad, CA is one of our favorites. Carlsbad is a charming beach town located just south of the OC. You'll find popular places to visit like The Flower Fields, LEGOLAND, Carlsbad Strawberry Company, and the beach!
The Cassara Carlsbad: About the hotel
Spending the weekend at Cassara Carlsbad with our kids was so much fun! It was family friendly…but also adult friendly. And it is GORGEOUS. Not only in its decor and landscaping… but also with its beautiful views of the ocean, flower gardens, and the Carlsbad cityscape. It is literally walking distance to The Flower Field and Legoland via a private pedestrian entrance.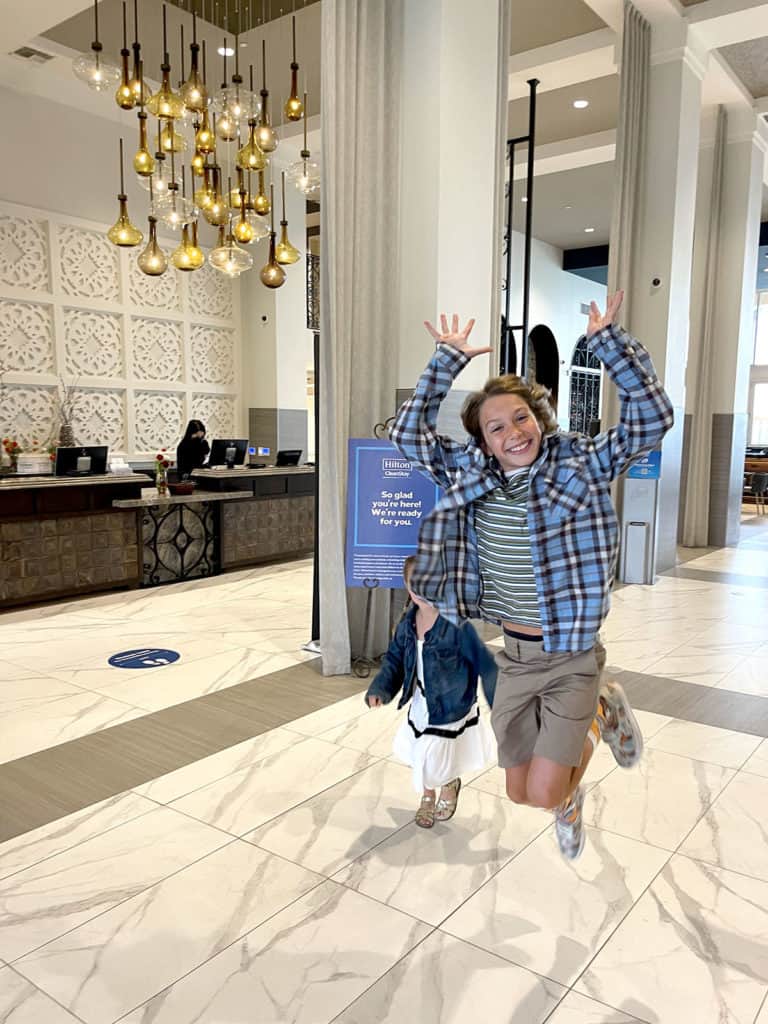 From the moment we arrived at the Cassara Carlsbad, we felt like we were at an upscale resort. It has that cool, spa-like feel…with great amenities around every corner.
Thanks to the friendly staff, we felt very taken care of.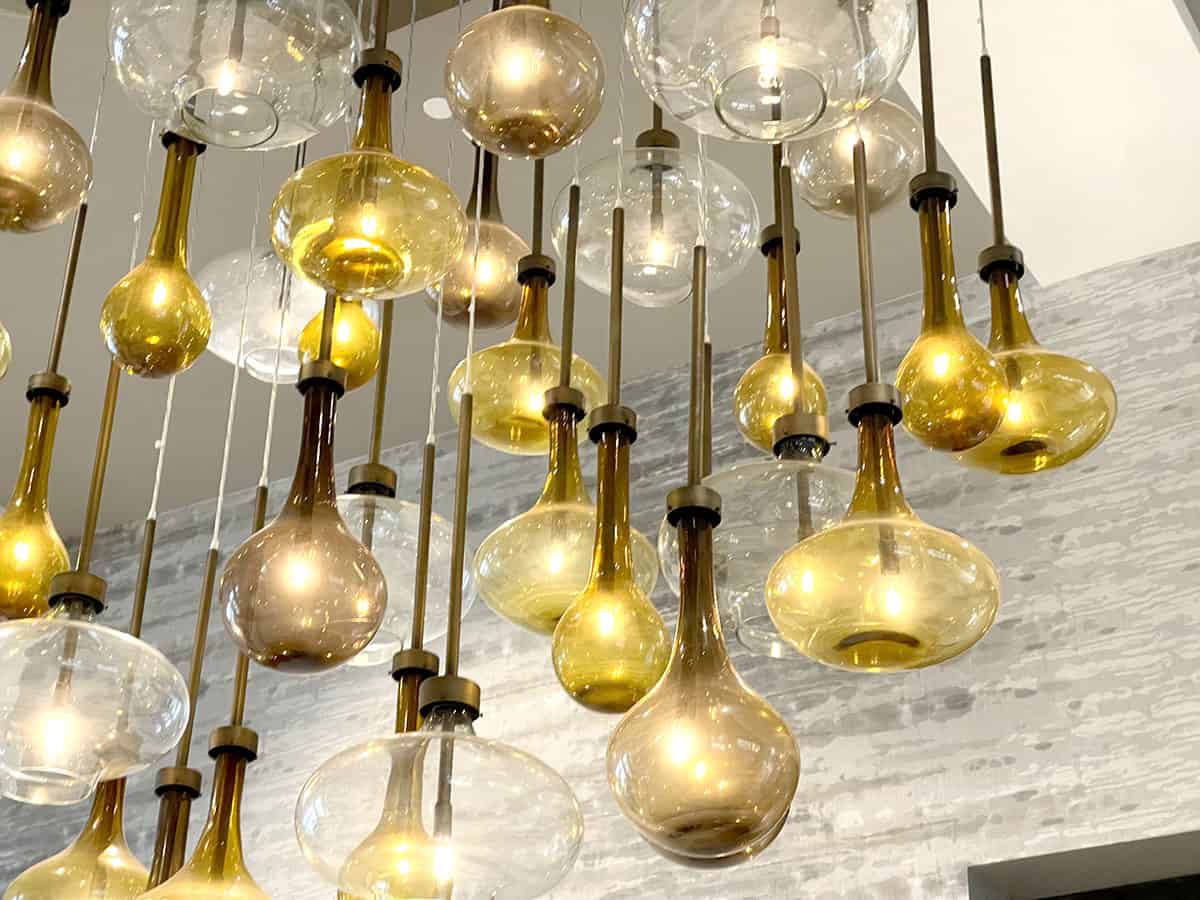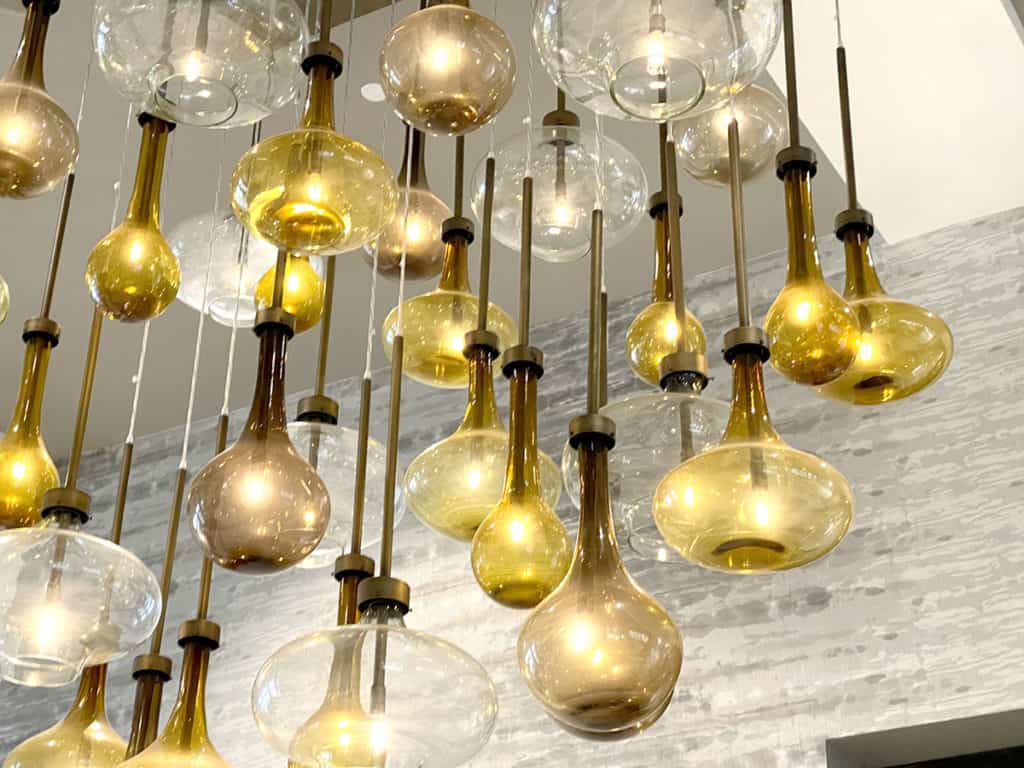 The lobby is beautiful! We especially loved those eclectic swings and the large fireplace. There are tables for sitting and lounge areas if you want to relax and enjoy ocean views from afar, or read a magazine.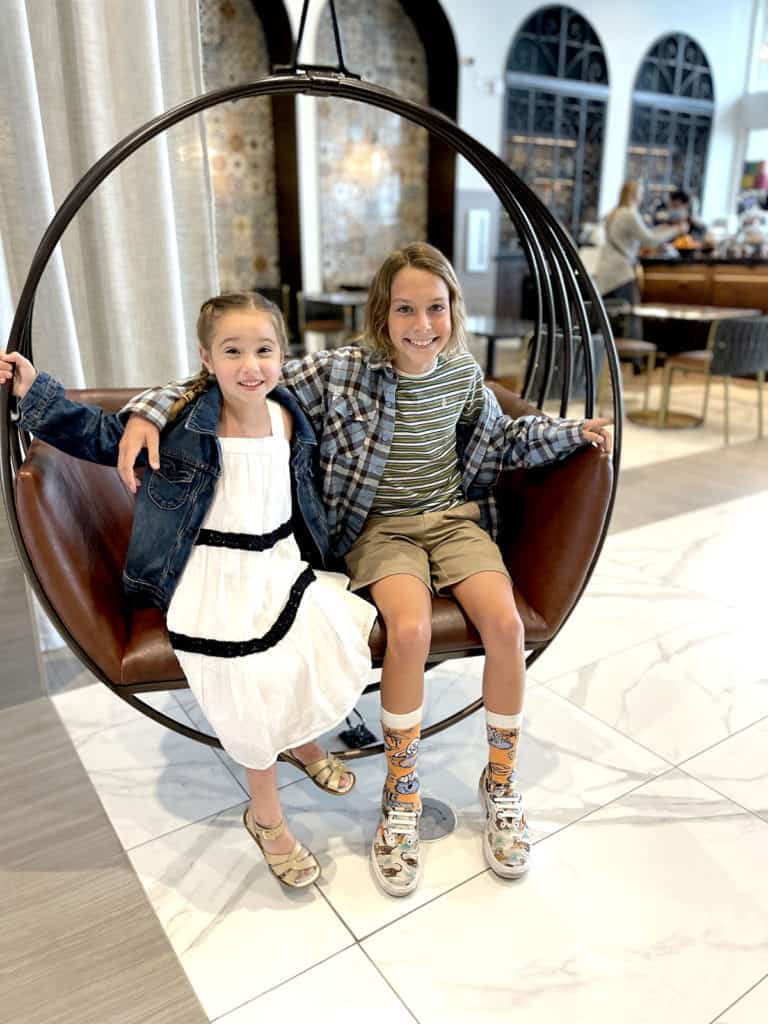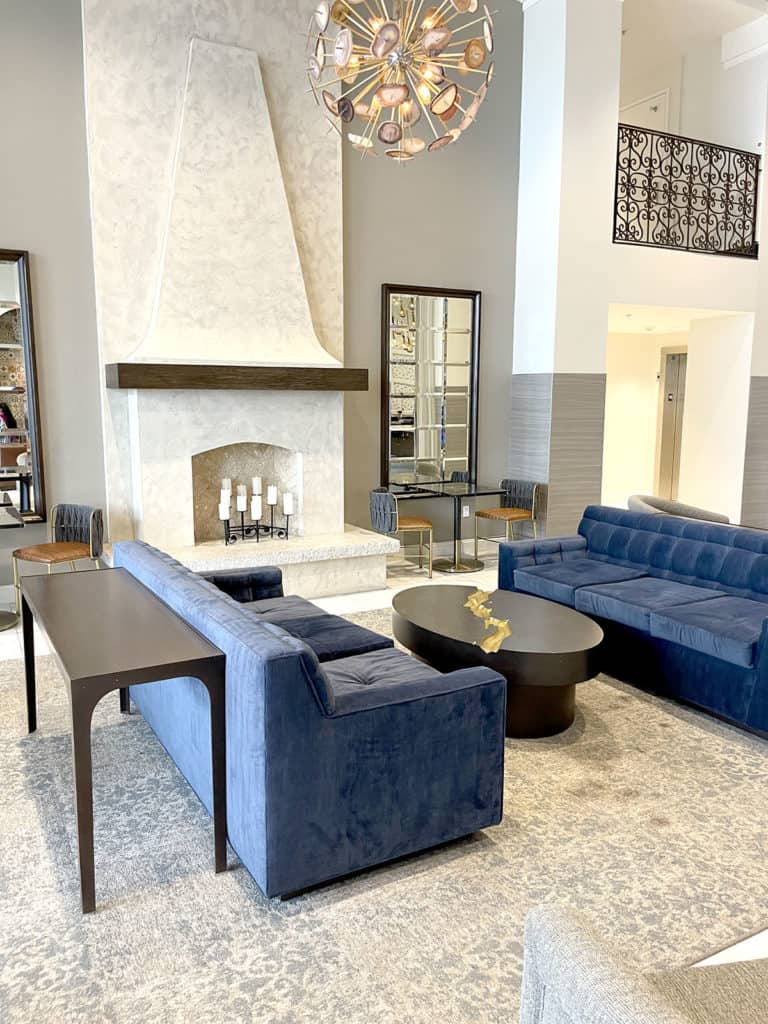 Now let's take a look at the rooms at Cassara Carlsbad, Tapestry Collection by Hilton!.
Cassara Carlsbad Rooms
The Cassara Carlsbad has a variety of rooms – from a standard room with a king-size bed, to their two-bedroom suites with two twin beds and a king-size bed. They even have some rooms equipped with a Peloton!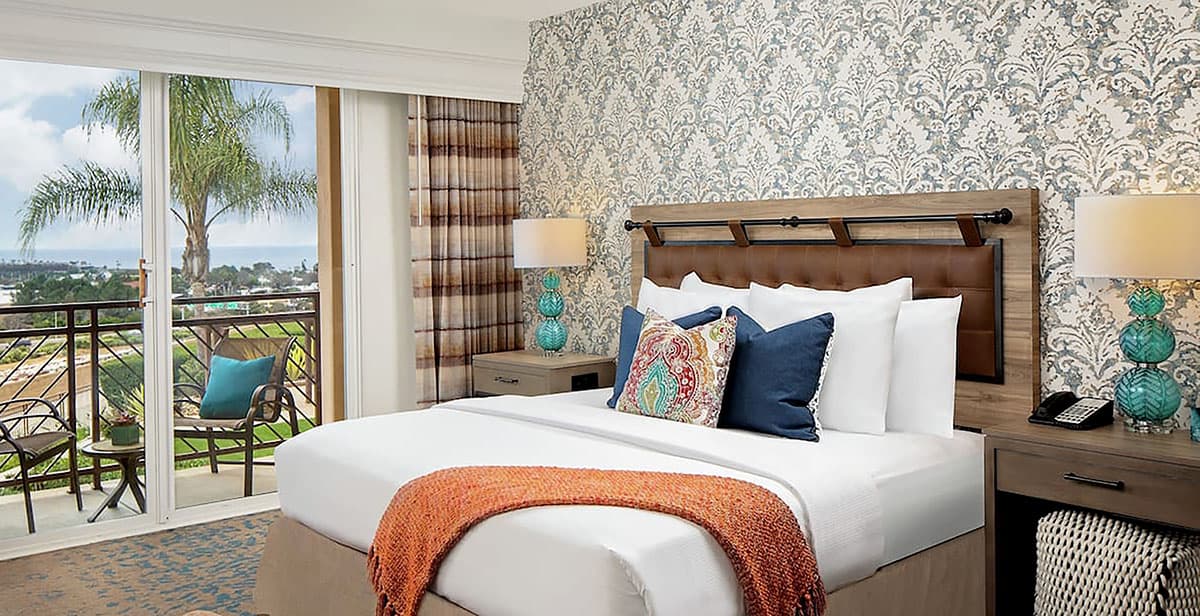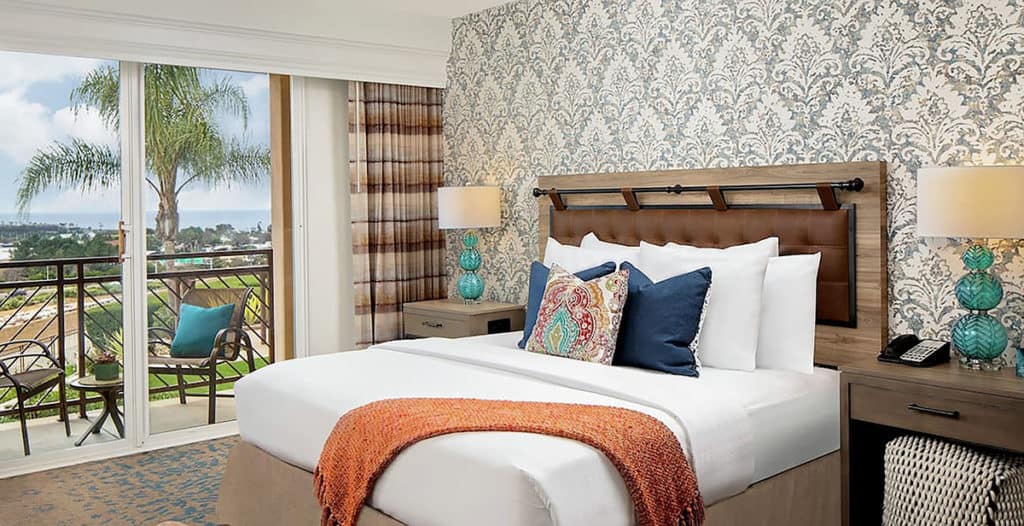 During our visit to Cassara Carlsbad, we stayed in one of the newly remodeled 2 bedroom suites. These rooms have a main area for a king-size bed, a desk and a television, a hallway with a sofa and a television, a bathroom and a separate room with two twin beds and a television.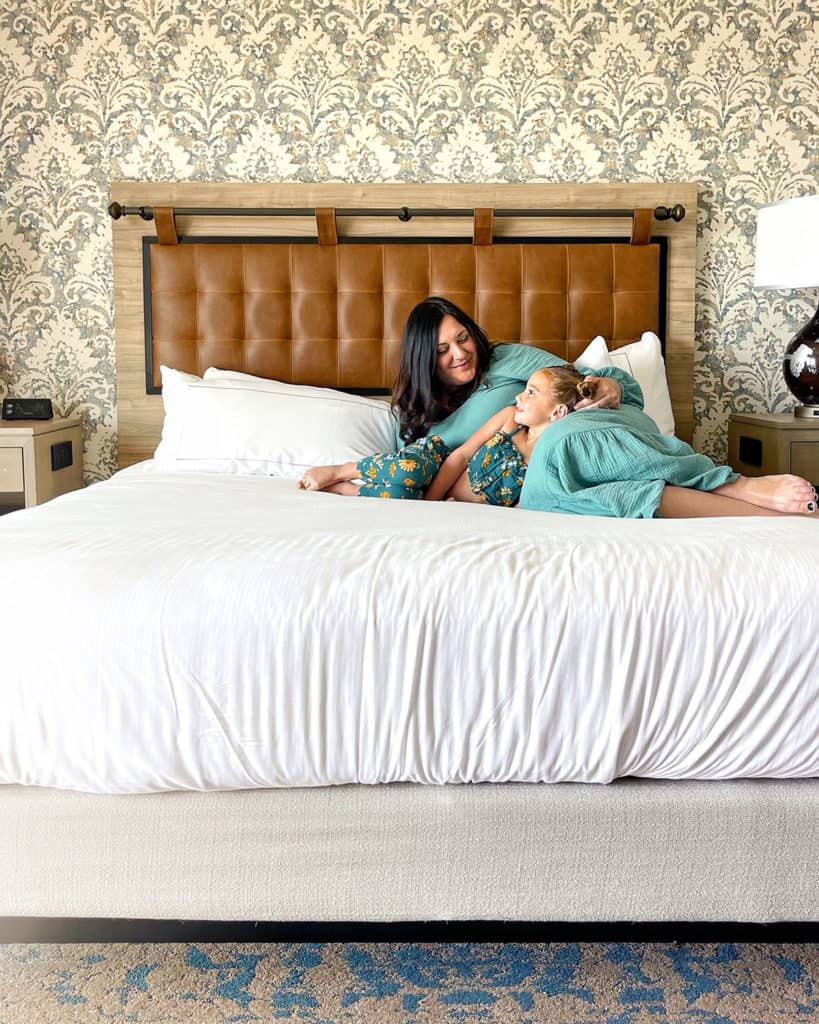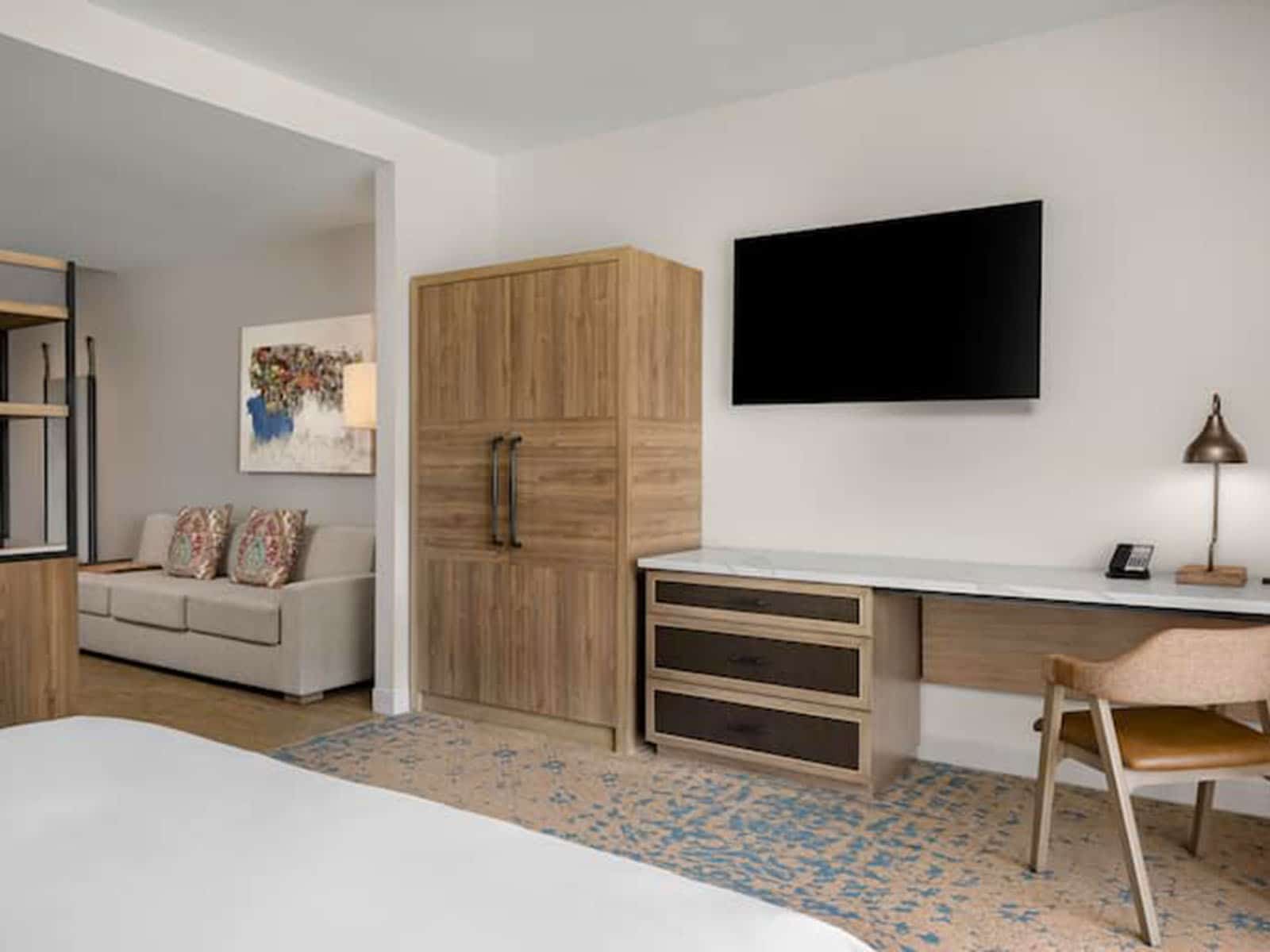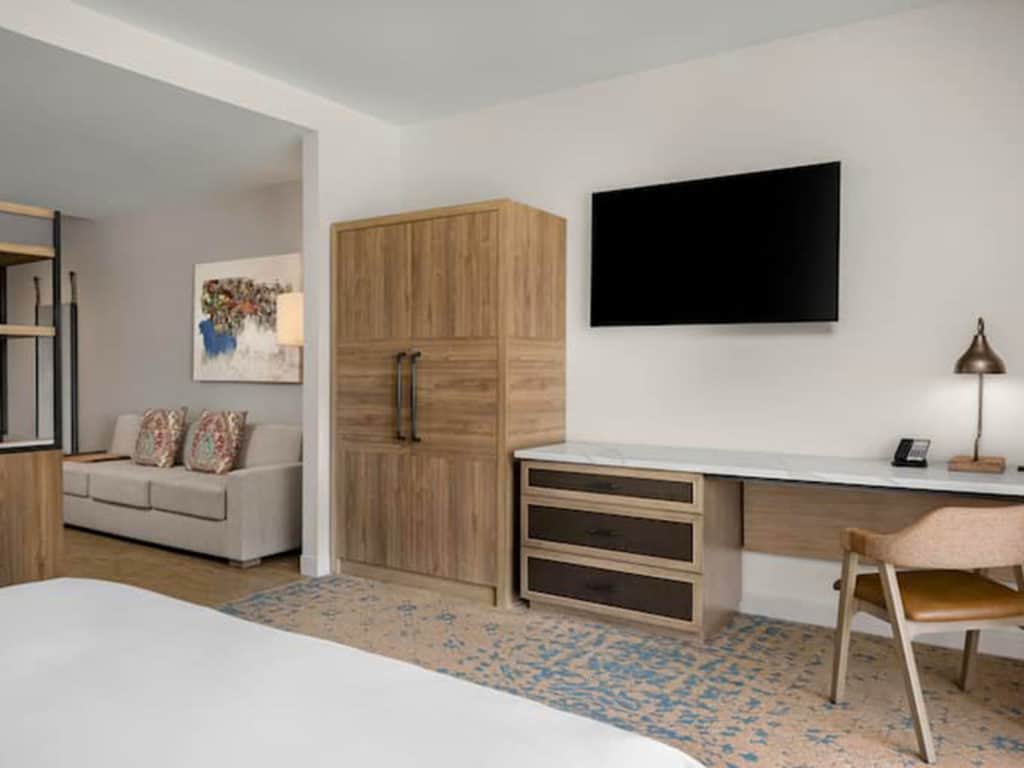 The suites are perfect for families of 4 or 5…if someone wants to sleep on the couch. Having separate bedrooms allows families to separate children from adults during times when they wish to sleep undisturbed.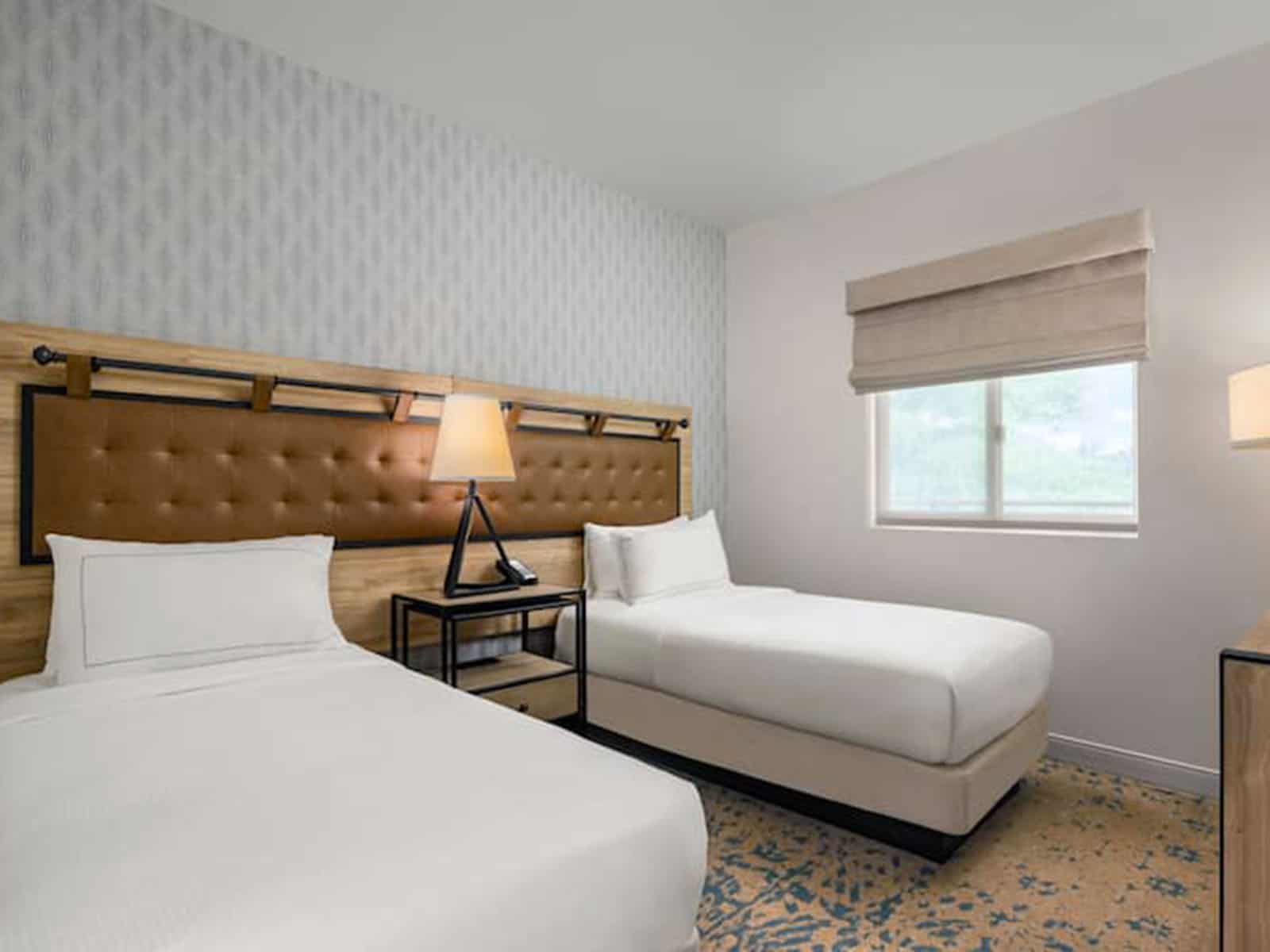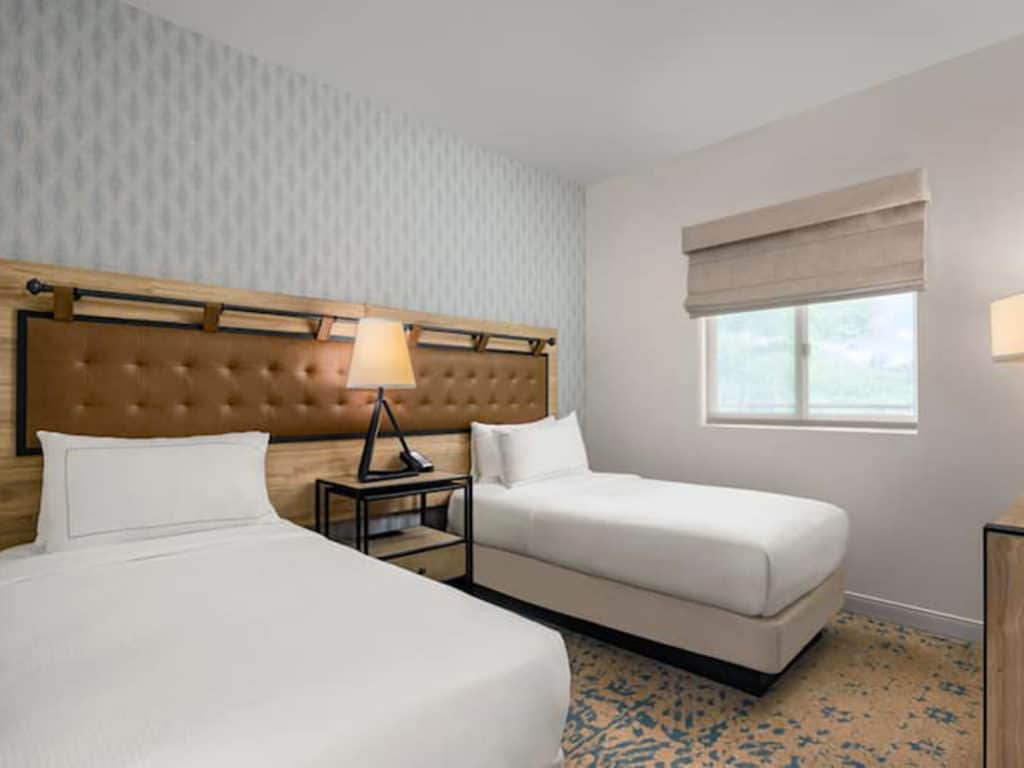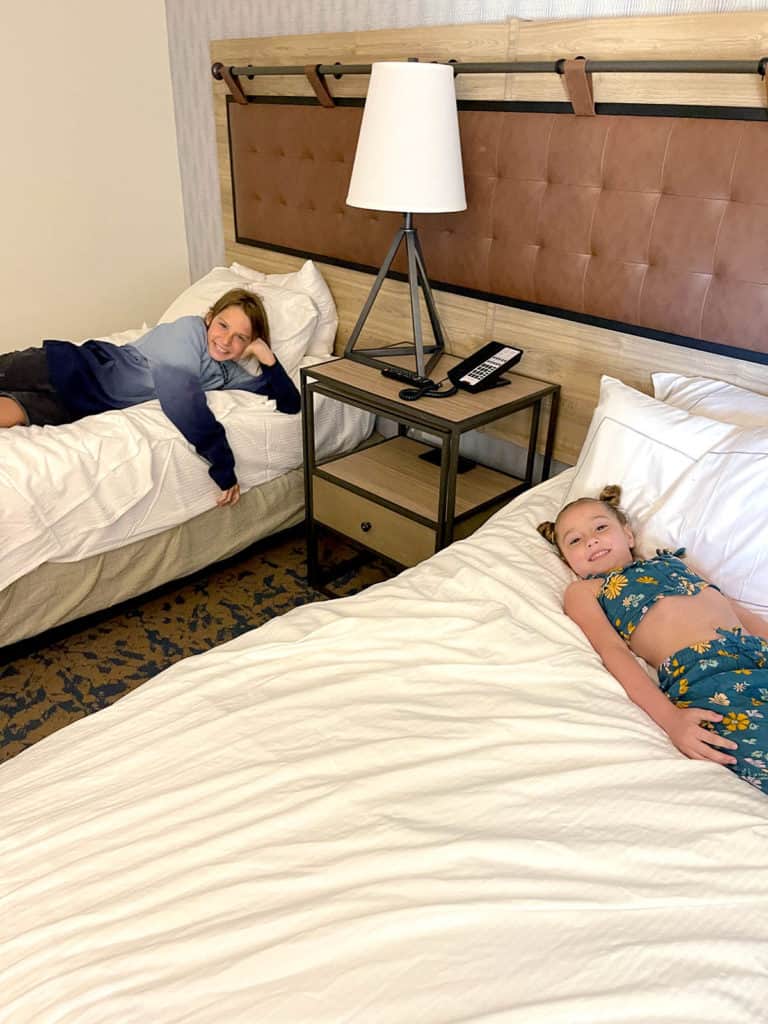 Did I mention that our room also has a balcony? Yes… and here is the view. Stunning views of the ocean and The Flower Field. The Cassara Carlsbad is so close!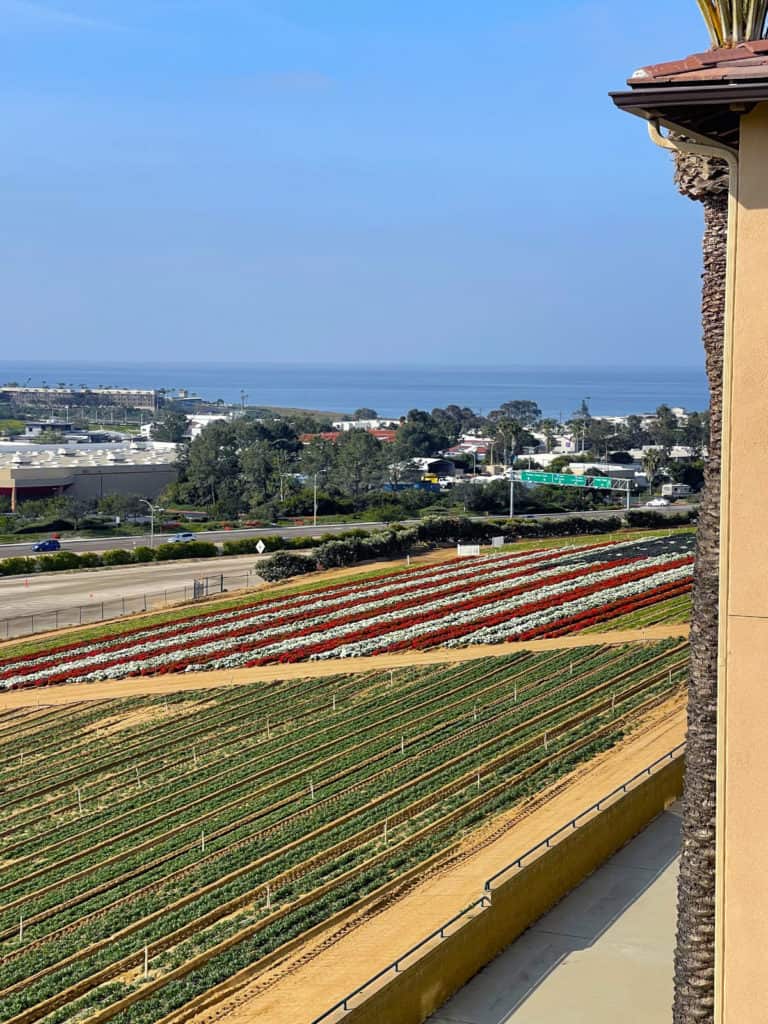 The hotel grounds are beautiful!
One of my favorite things about Cassara Carlsbad was the beautiful decor, the green and flowery landscaping, and the views. Once the fog lifts each morning, you're left with blue skies, ocean breezes, and blooming flowers.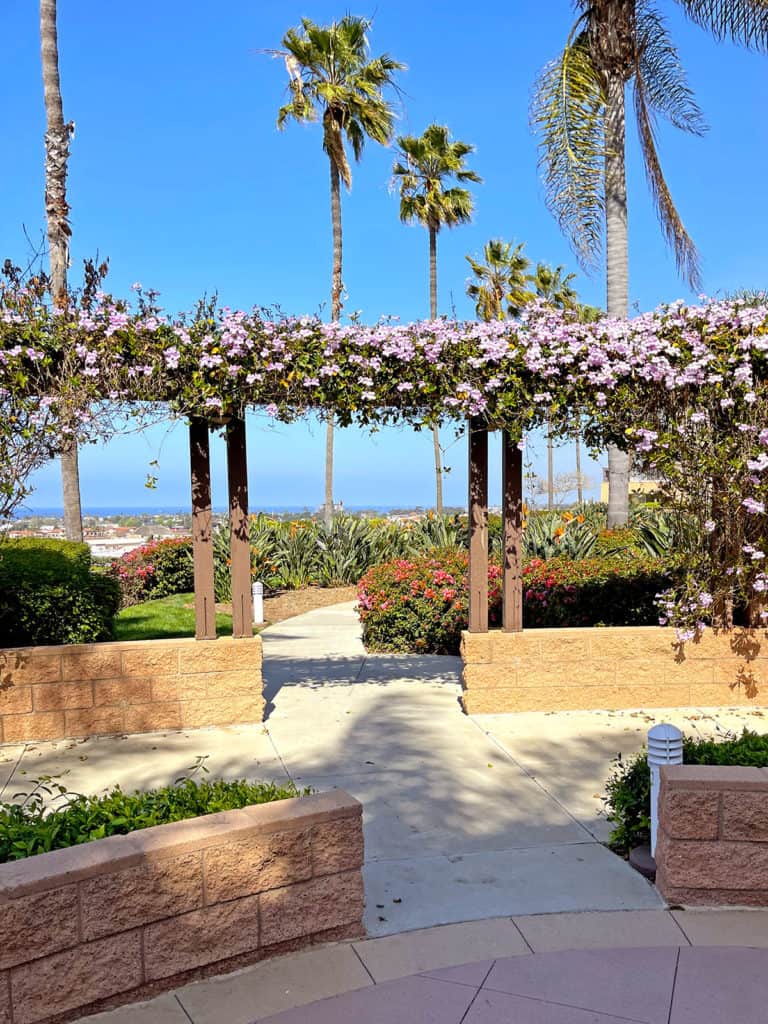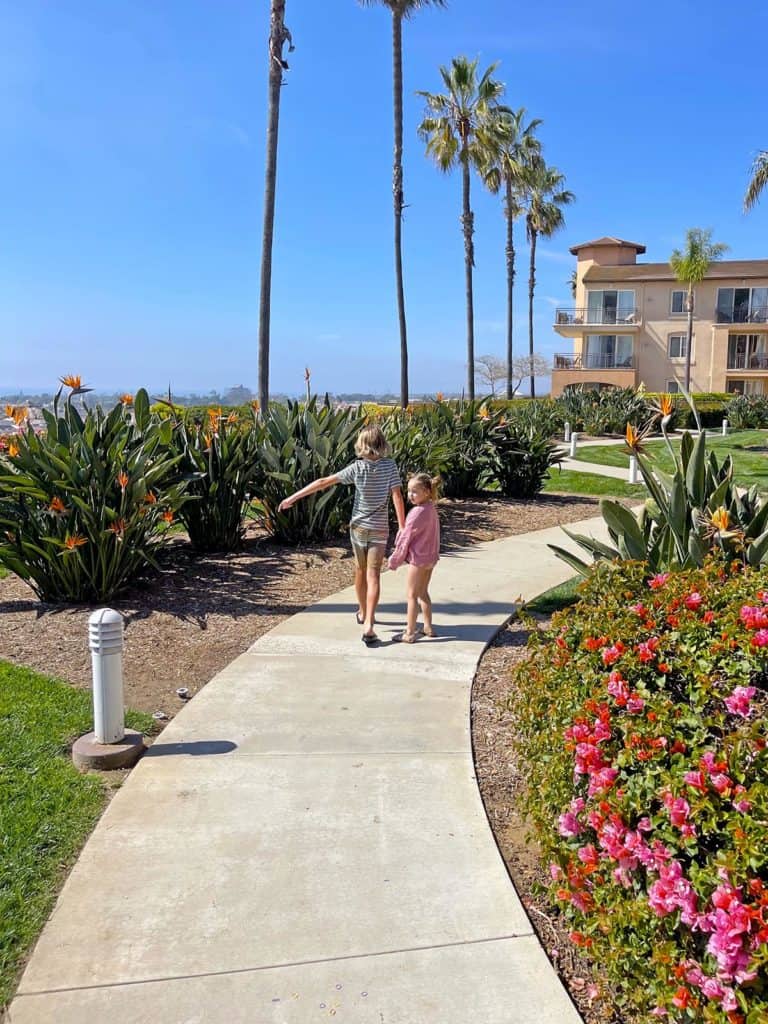 There are areas to sit and relax…even fire pits to enjoy in the evening. Bring your own s'more kits or purchase one in the lobby on select nights.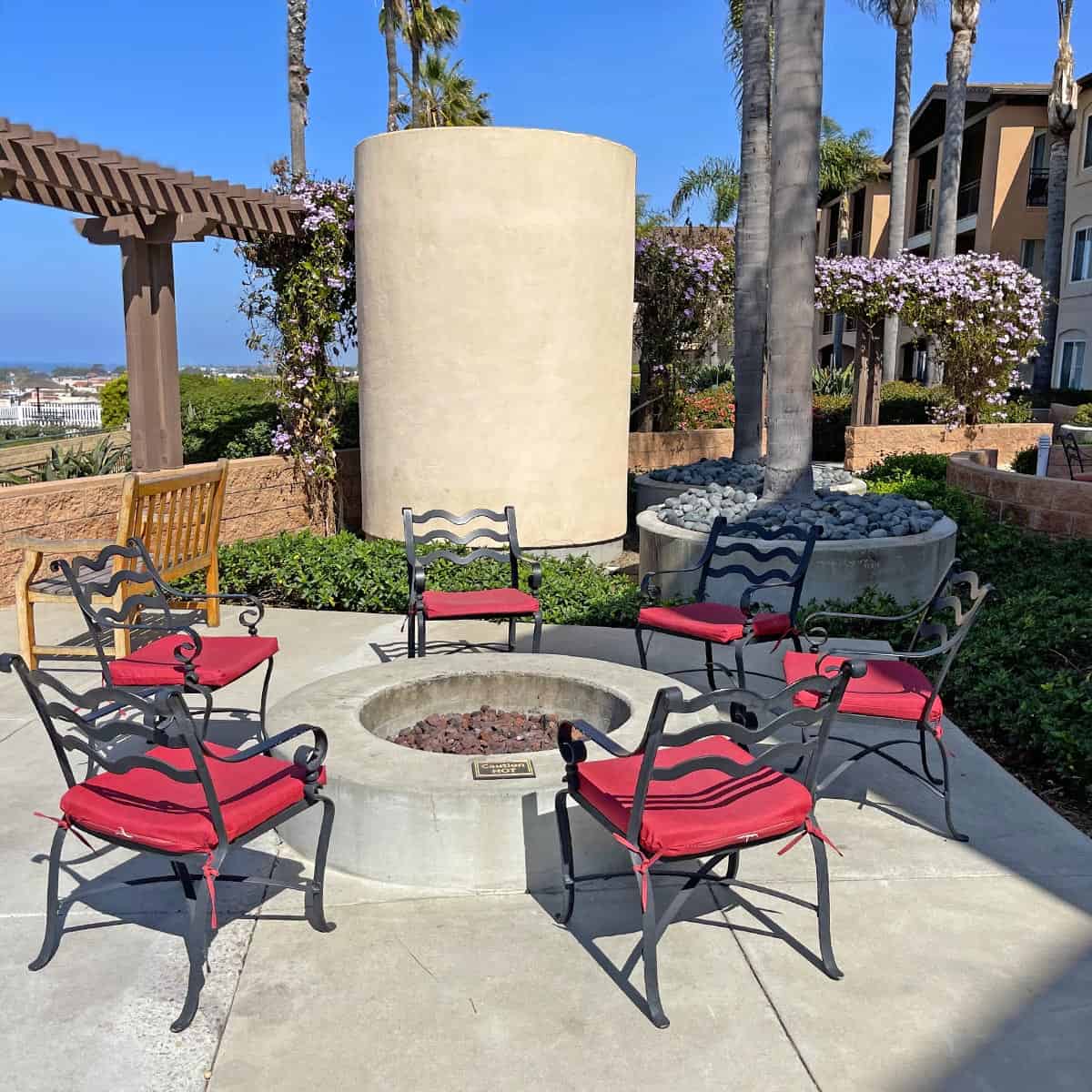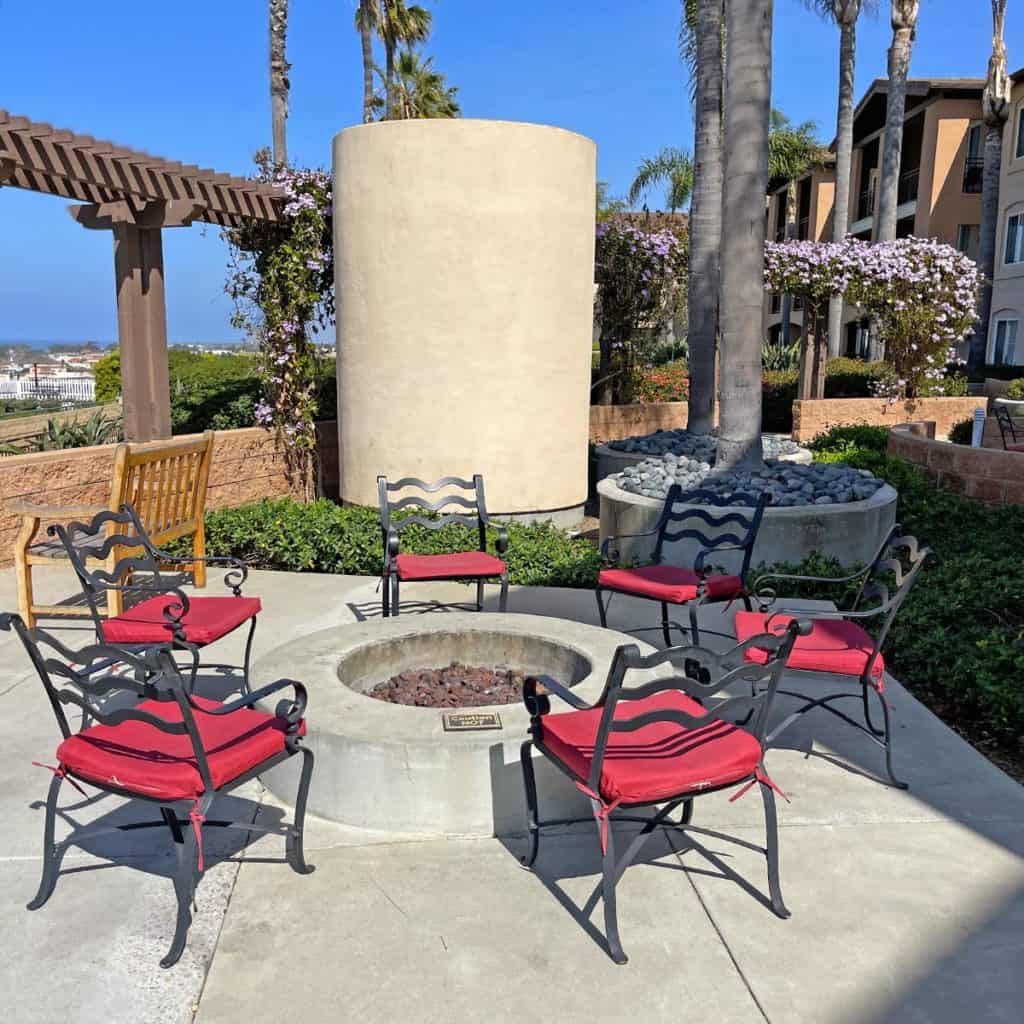 And when I say The Flower Fields is close to The Cassara Carlsbad, I mean it! One of the days we were there, we took a walk along the walkway that runs along the hotel grounds. The walkway overlooks The Flower Fields so you have an amazing view!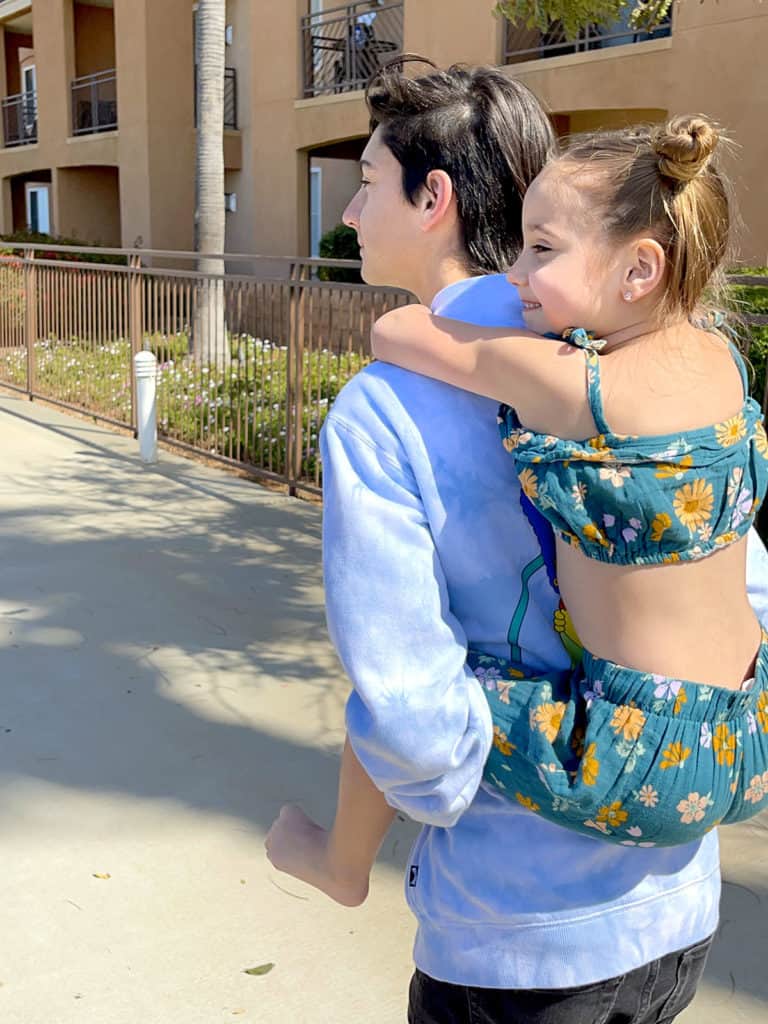 You know what I mean?!!!!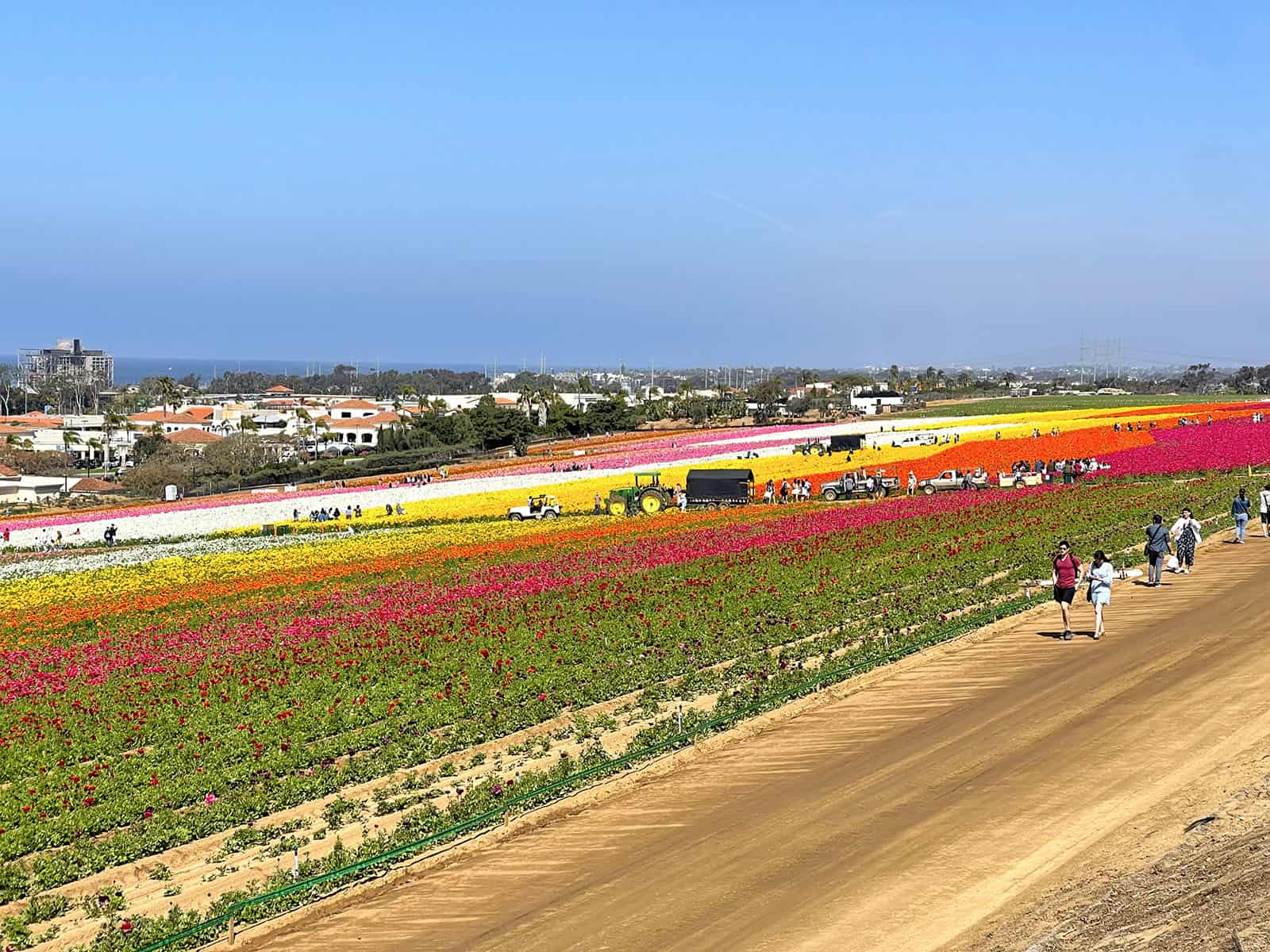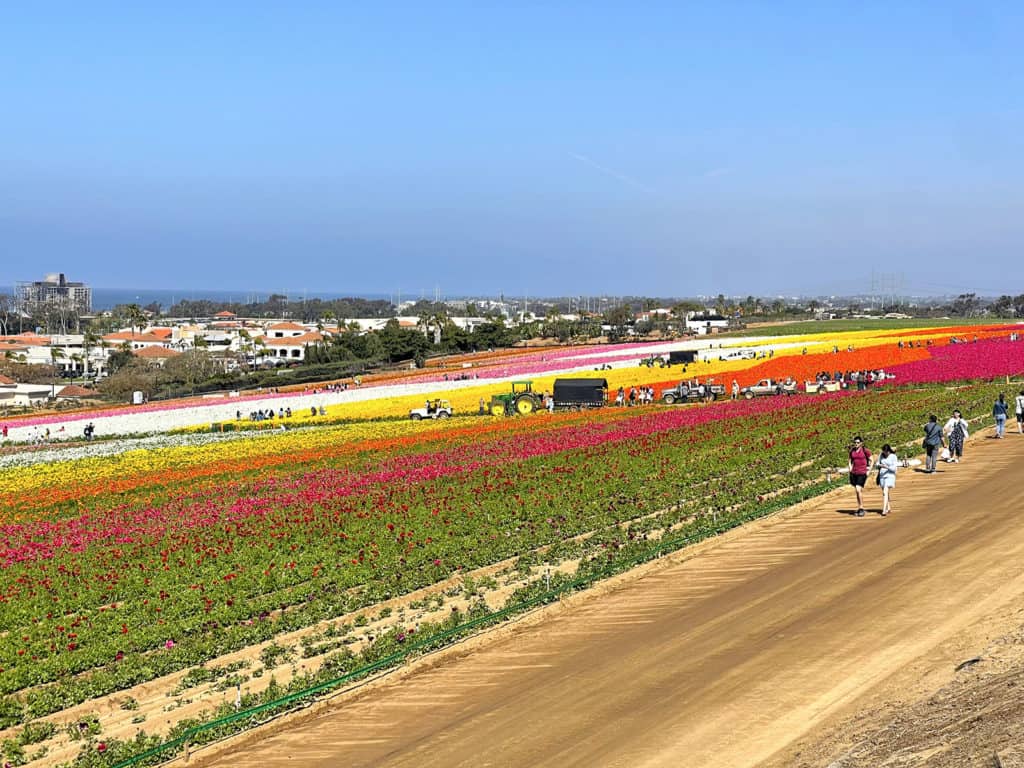 Why is the Cassara Carlsbad ideal for families?
Whenever we travel, staying in a family hotel is always important to us. It is important that children can be entertained with the amenities, and also that they can act like children. I don't want to attract stares from other customers if they behave like children. After all, when you're on vacation, that's the last thing you want to worry about.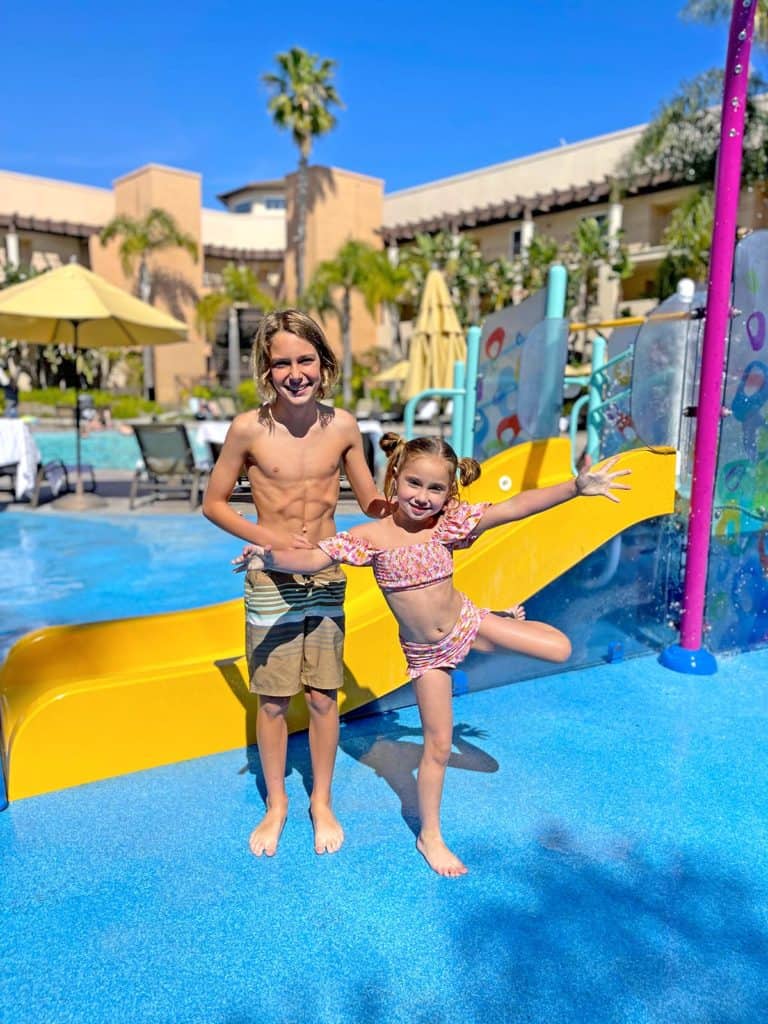 The Cassara Carlsbad has two resort-sized swimming pools, a family-friendly kiddy pool, and a fitness center. My kids were of course all about the family pool and splash pool! We spent a lot of time there.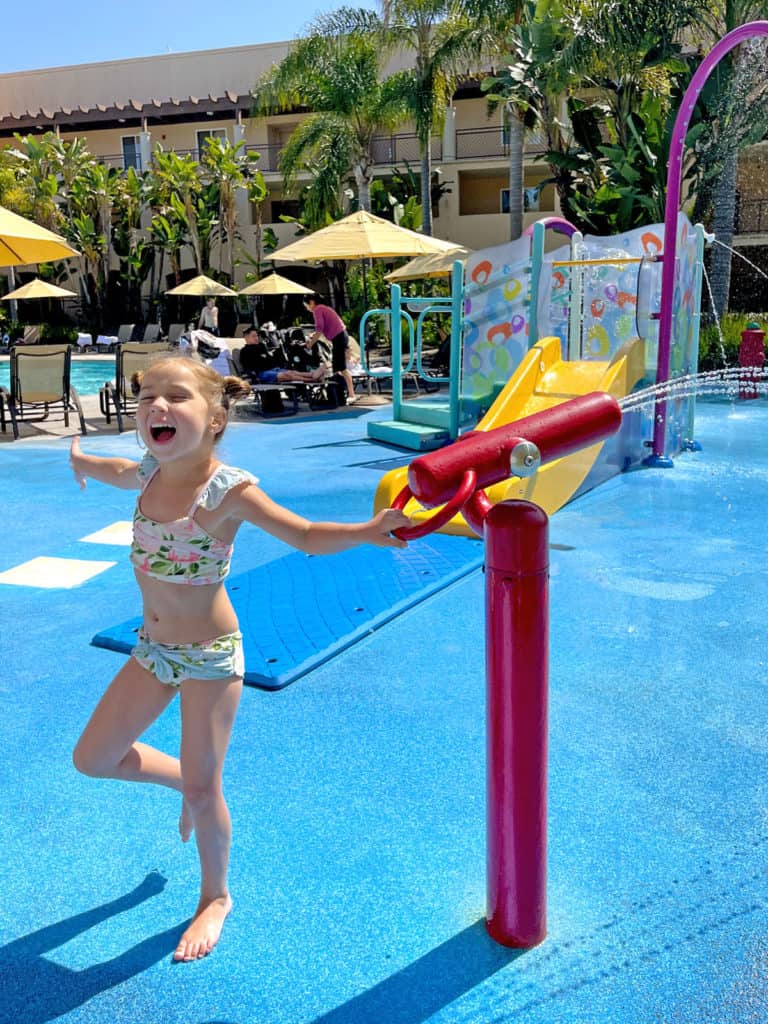 The splash pad was a big hit. There was plenty of room to run around in the water, spray the water cannons and enjoy the slide. The water was cold, but that didn't stop the kids!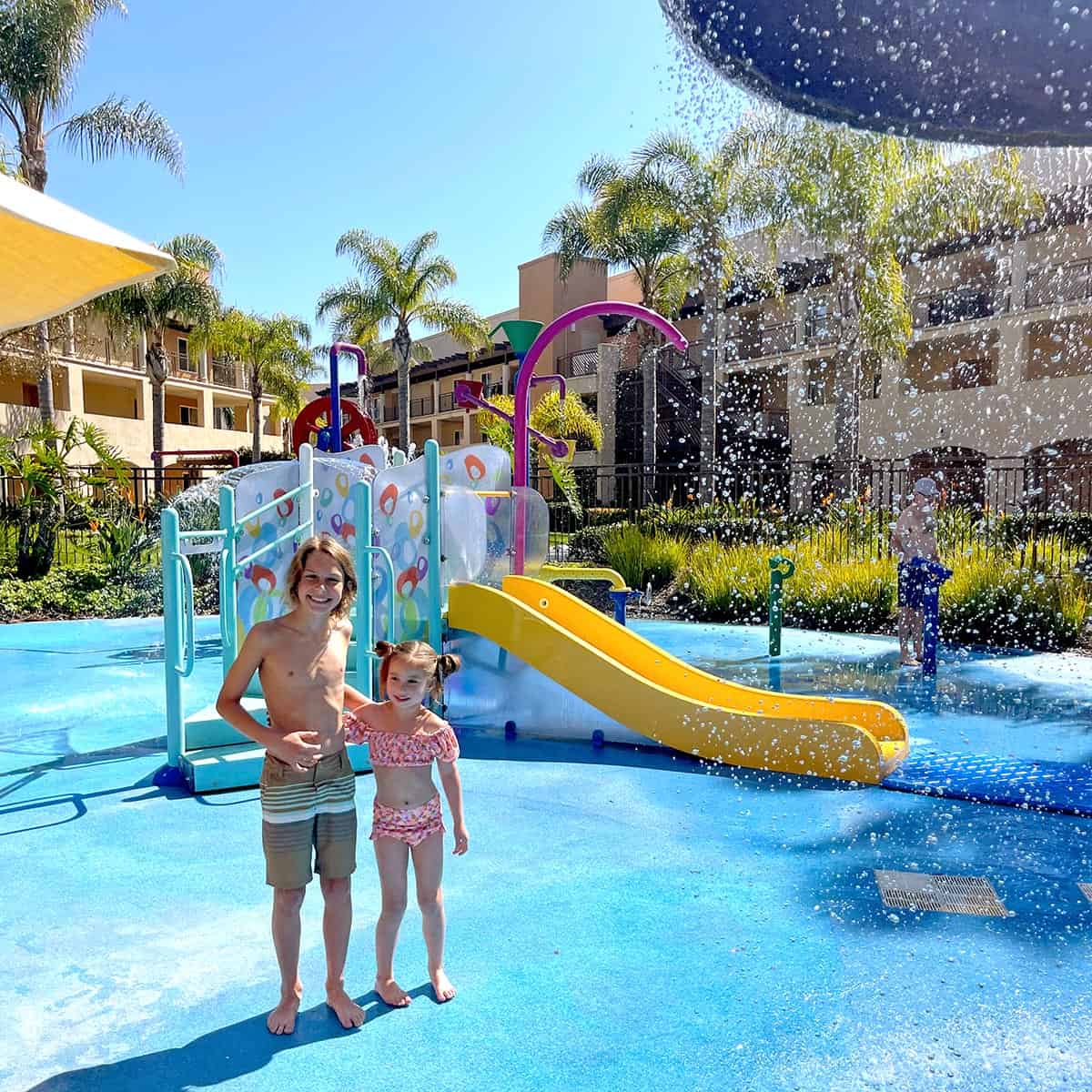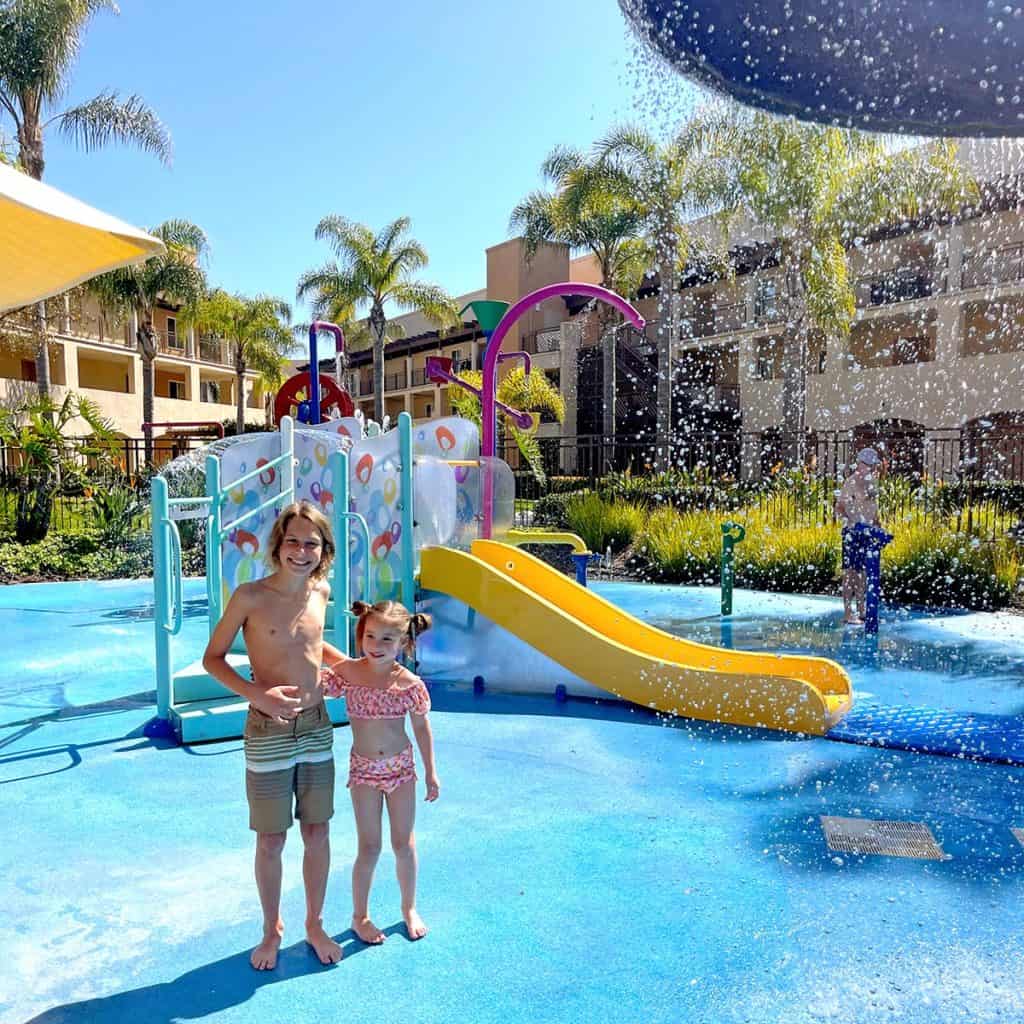 And of course the pool was so much fun. The water is heated…so it doesn't freeze. It's not exactly hot, but there's no shock when you walk in. You can bring your own floats to play in the pool, and there is a large shallow section.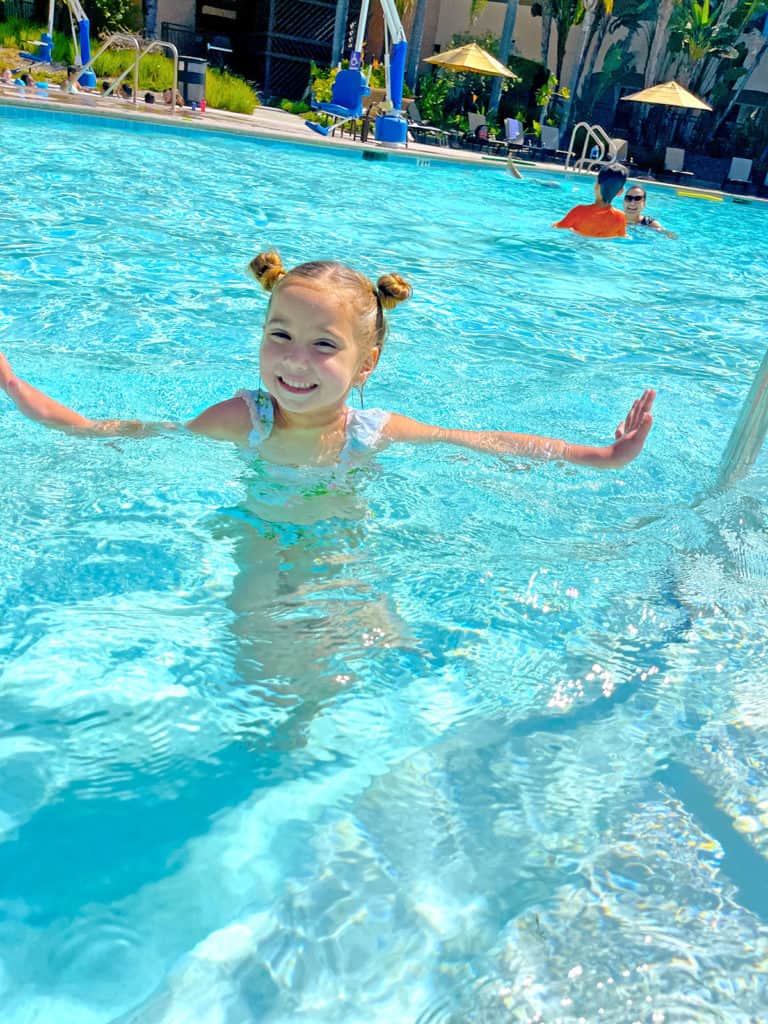 Next to the pool there is a table and games tables to enjoy. Also, when you arrive, be sure to ask for the children's activity schedule. Every day the hotel offers a few fun activities for children, such as crafts, ice creams and games.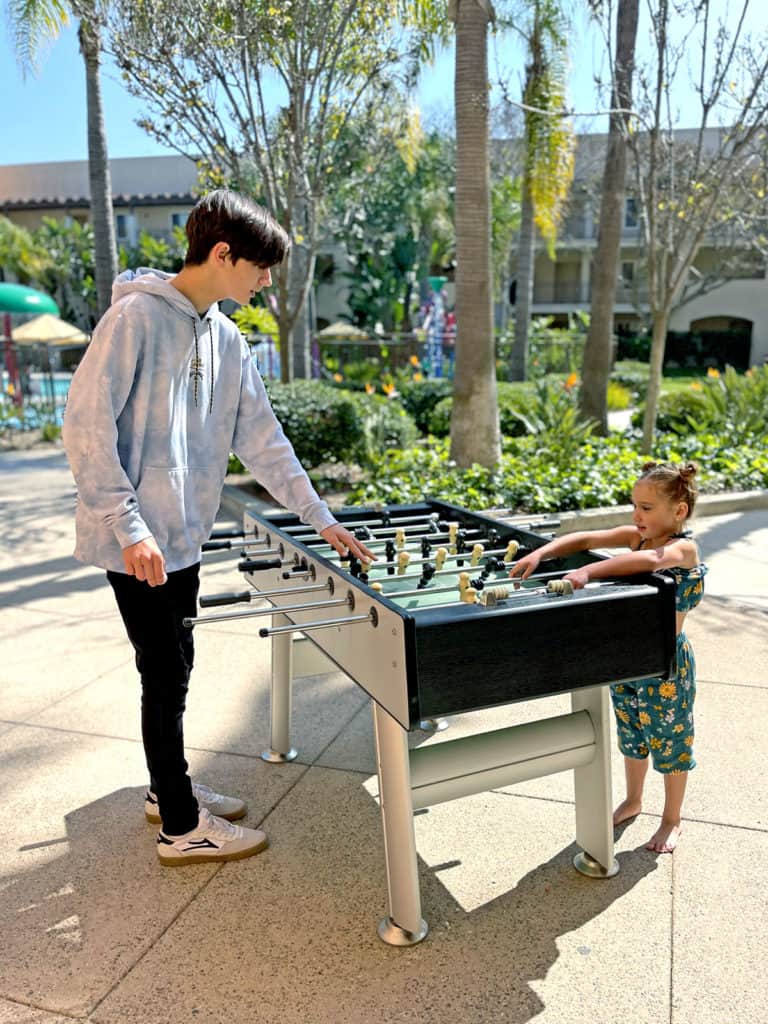 The main pool is located just outside the lobby and offers stunning views of the city of Carlsbad and the Pacific Ocean! Children are allowed to swim here, but it is suggested that they are not loud and playful in this area. The family pool is an ideal place for this.
This pool is used for relaxing and doing laps. Additionally, there is a large hot tub, cabanas, and plenty of lounge chairs.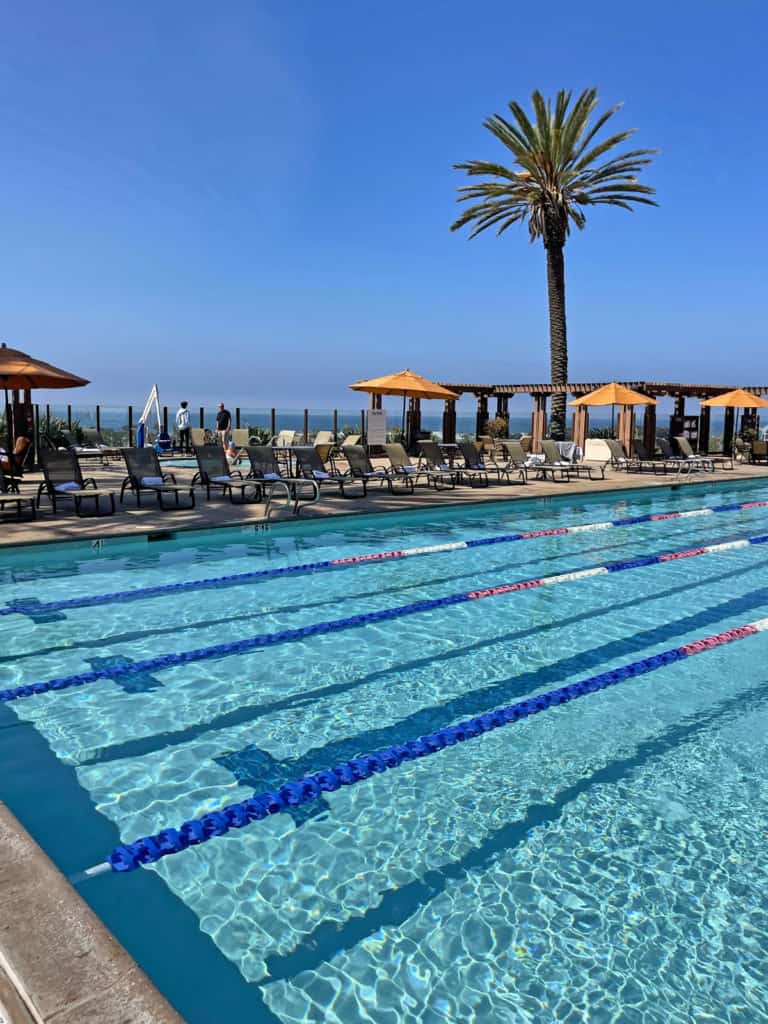 If you want a bite to eat, there's a walk-in food court serving snacks and drinks from Cassara Kitchen & Bar.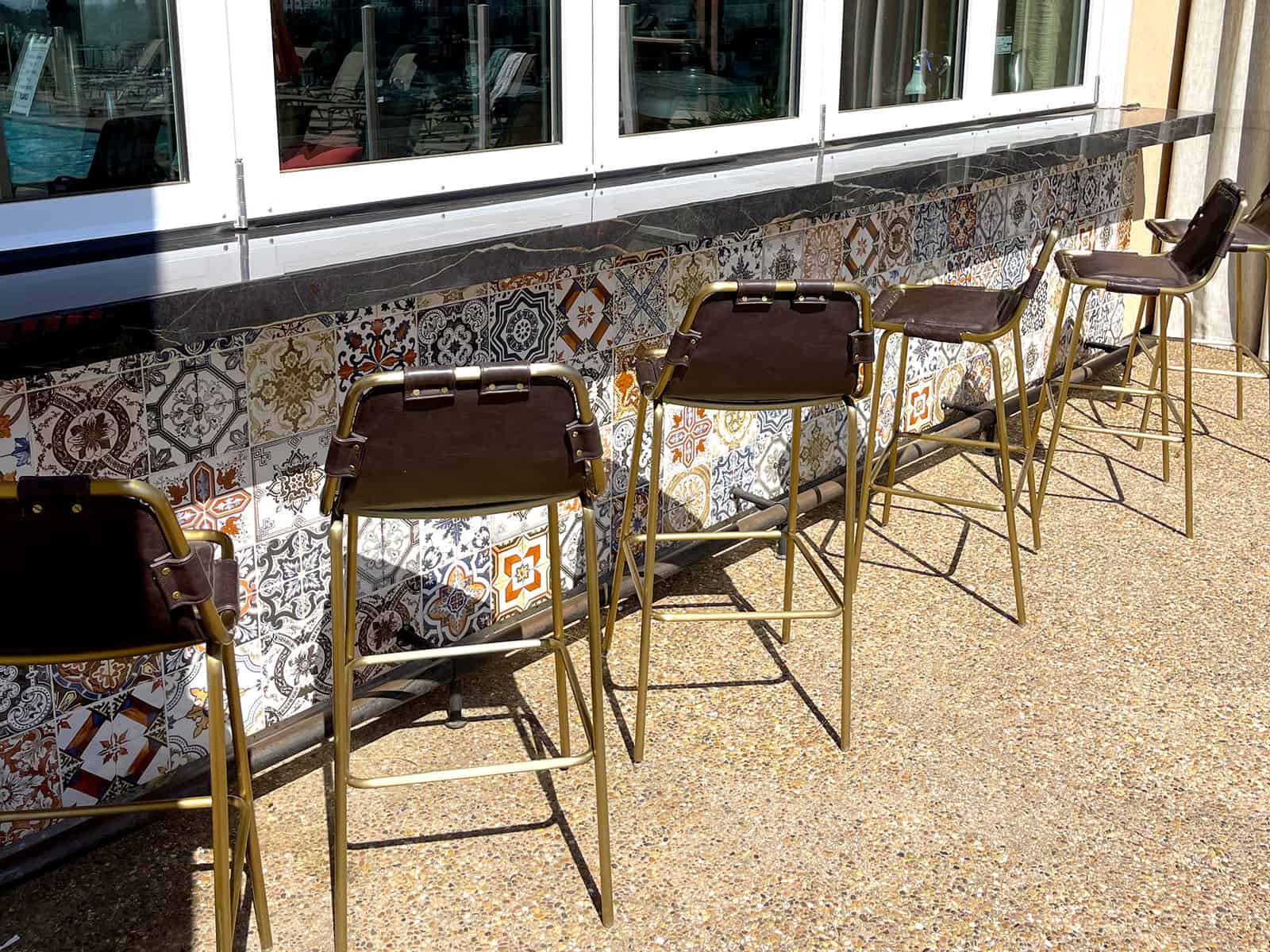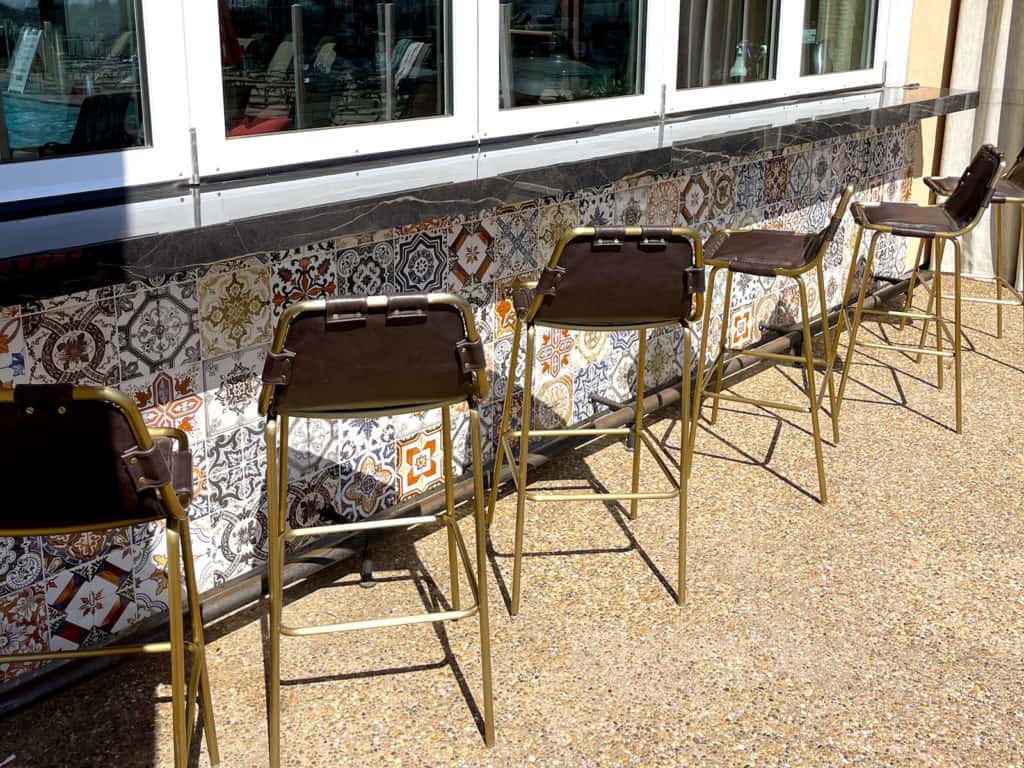 Look at this view!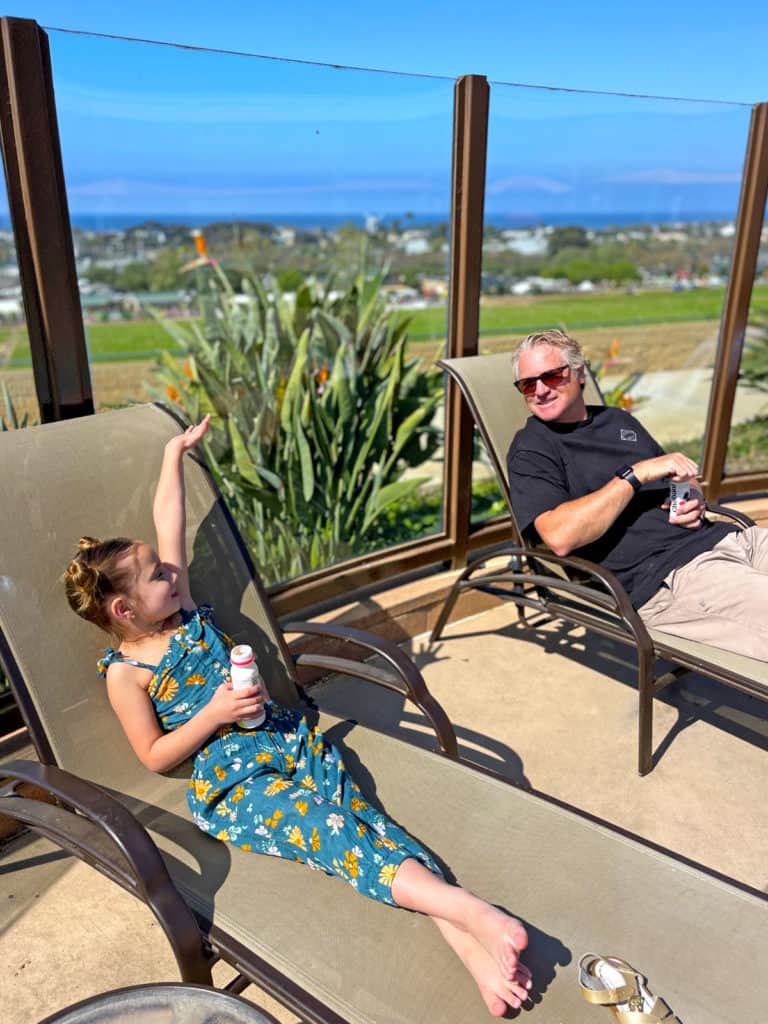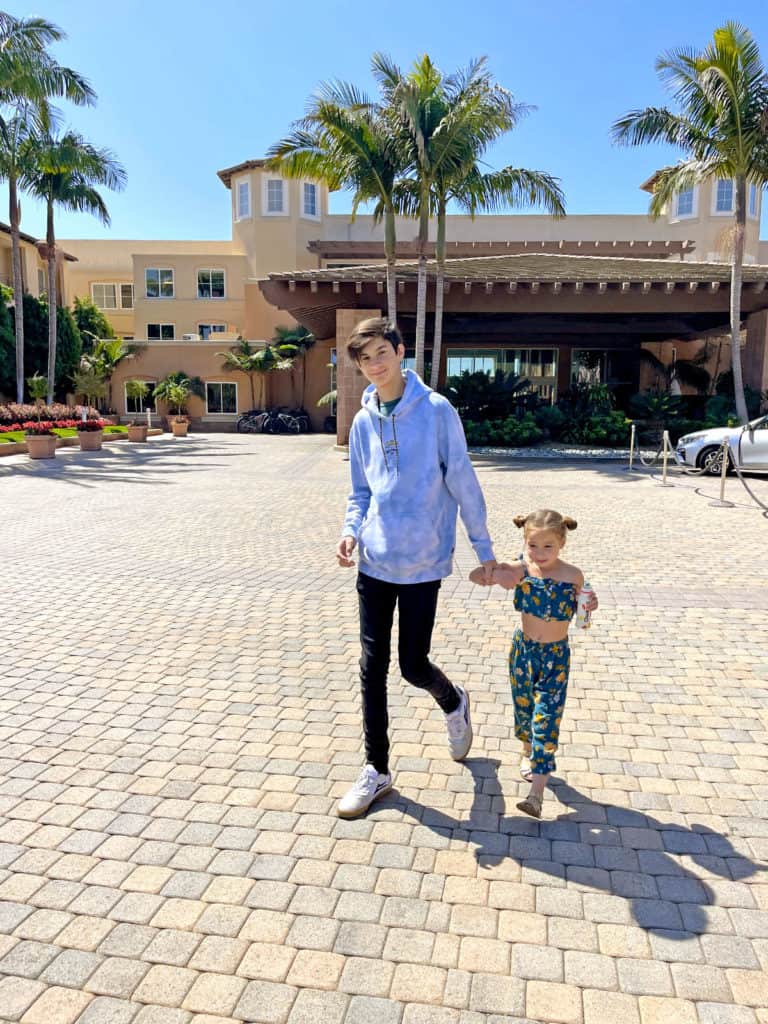 What to eat at Cassara Carlsbad?
The Cassara Carlsbad does not have a full restaurant, but you can enjoy the Cassara Kitchen & Bar in the grand lobby. Unwind with a classic craft cocktail overlooking the coast and pool. Treat yourself to our signature bites with always fresh regional and local ingredients.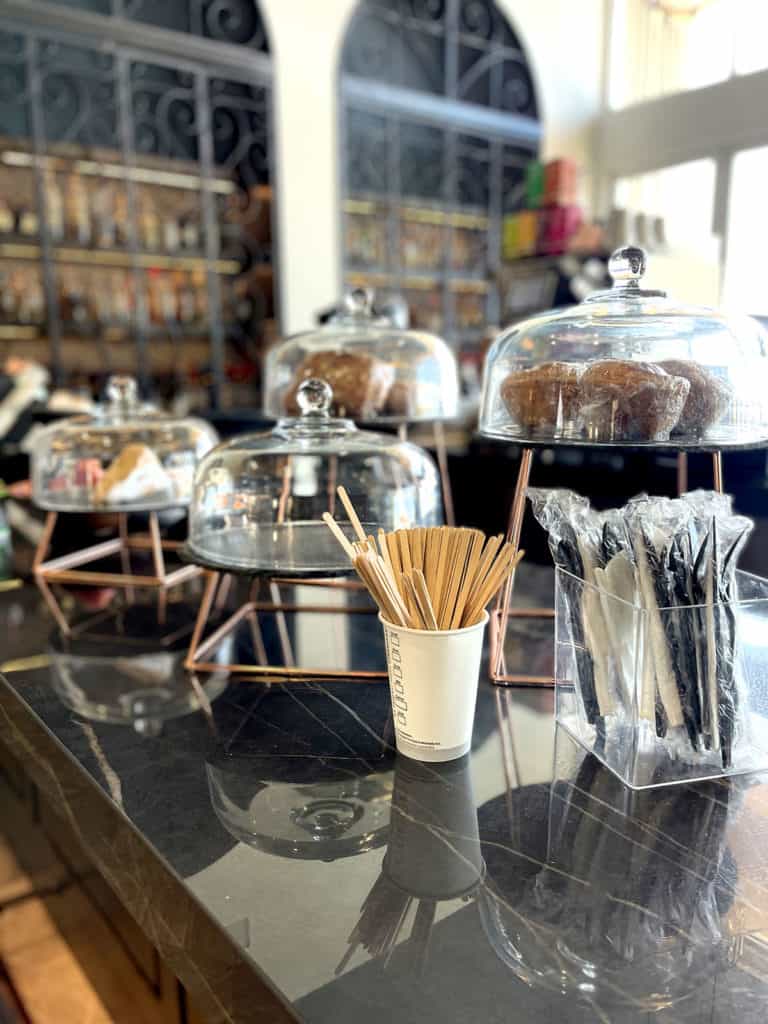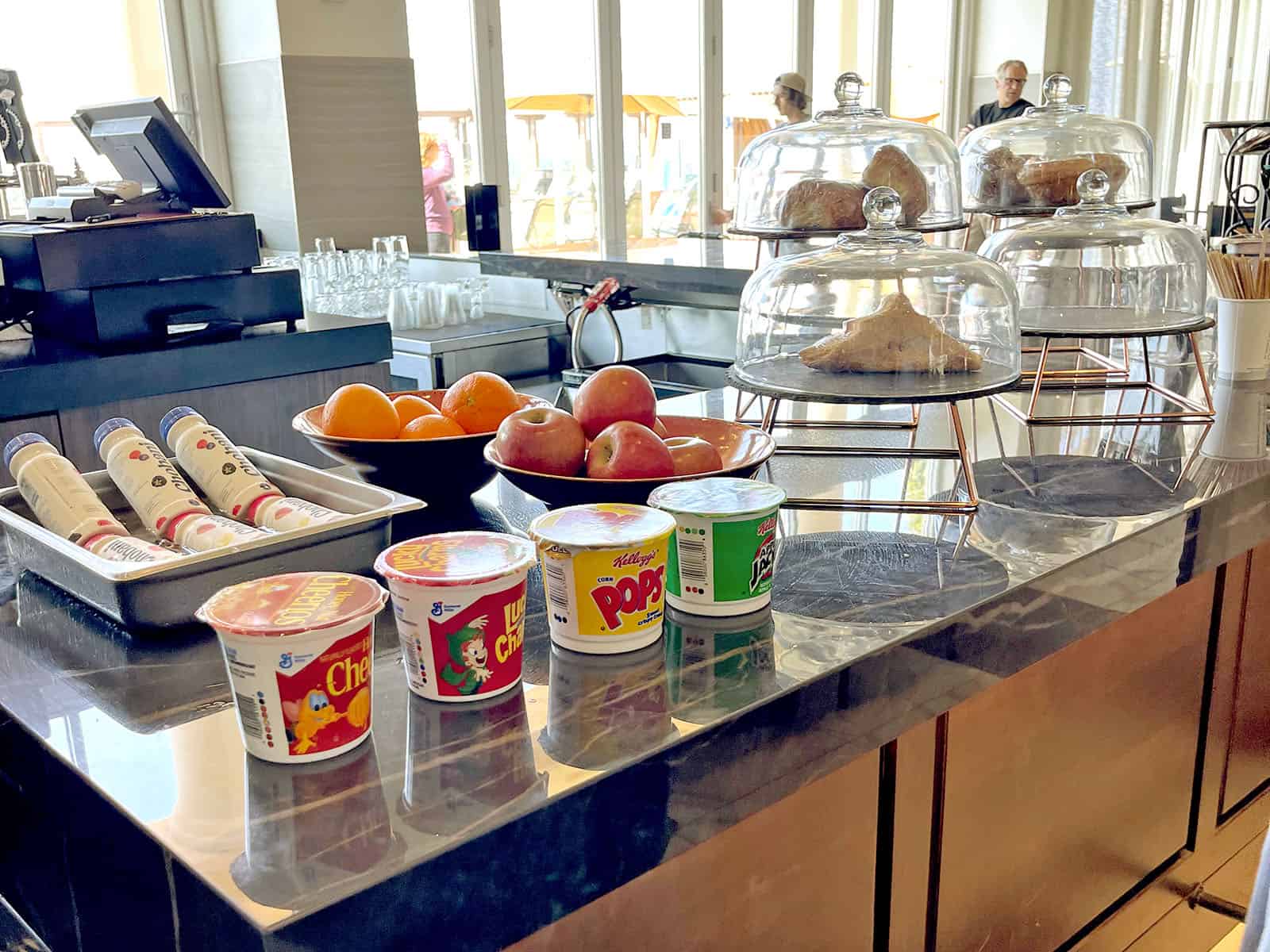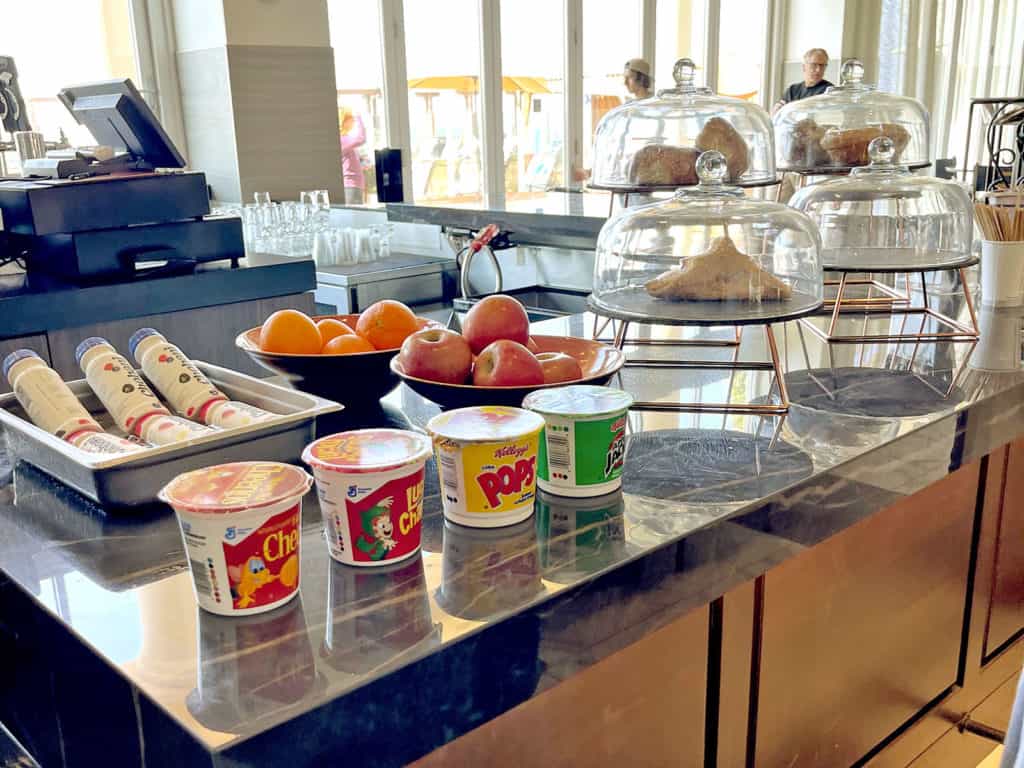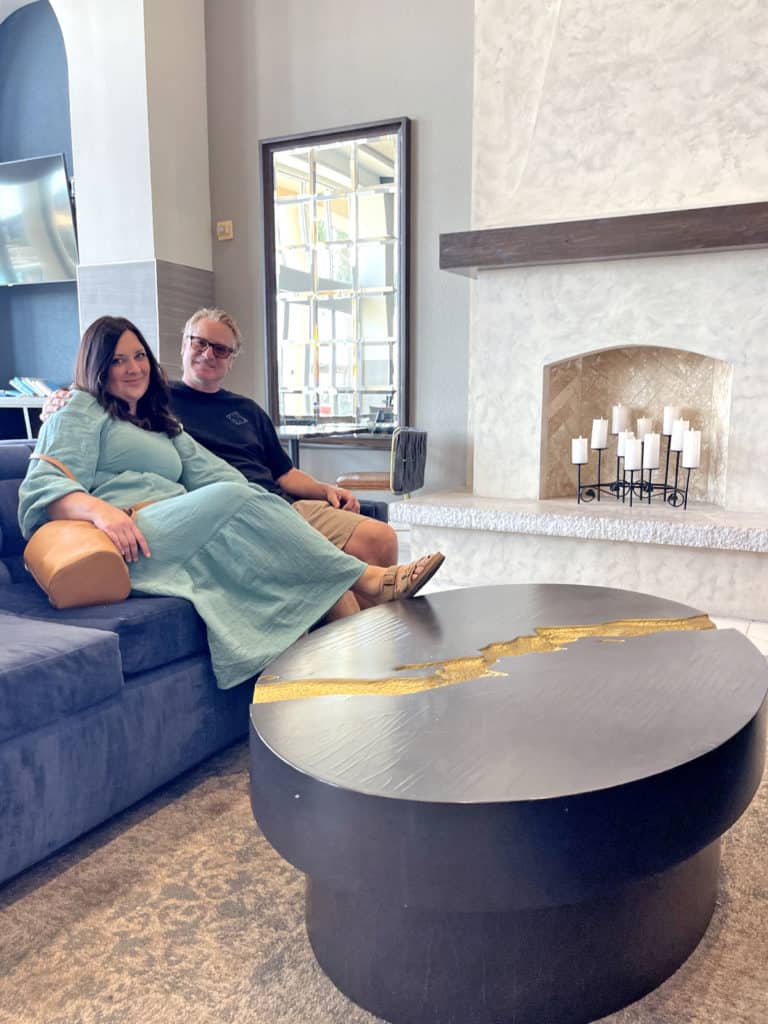 The Karl Strauss restaurant shares a car park with the hotel. It is therefore also an excellent option for food. they serve breakfast in the morning, lunch and dinner. The menu includes appetizers, burgers, sandwiches, steaks and drinks.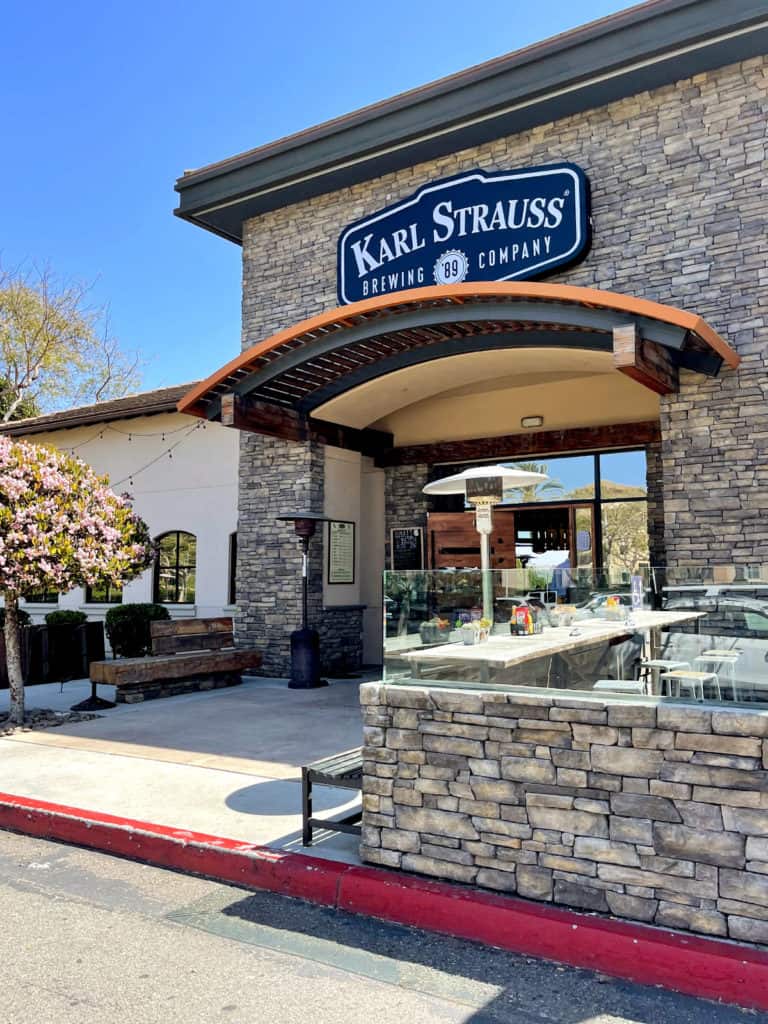 They offer indoor seating at the tables and bar, as well as outdoor seating in their patio with heaters and fire pits. It is good for families with children.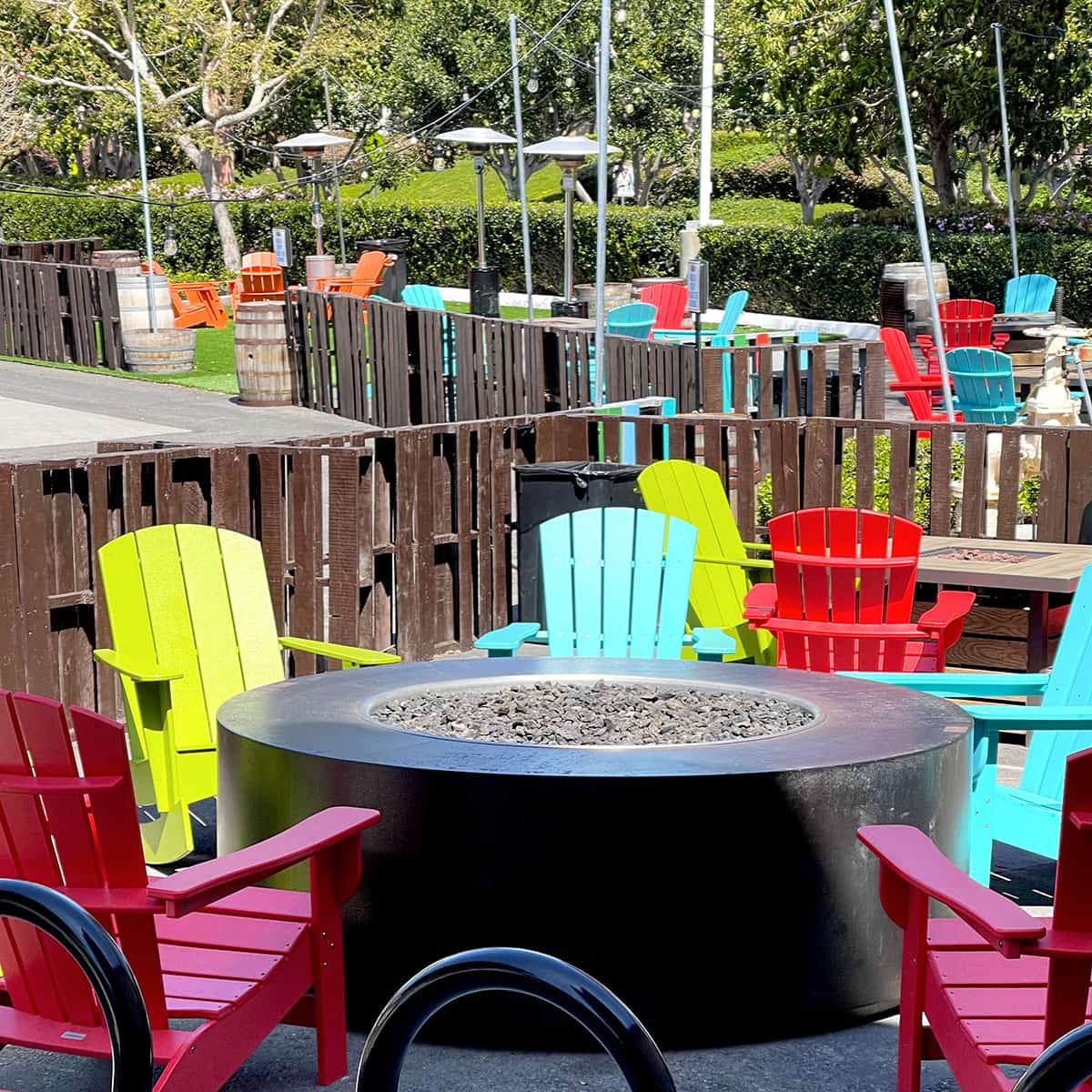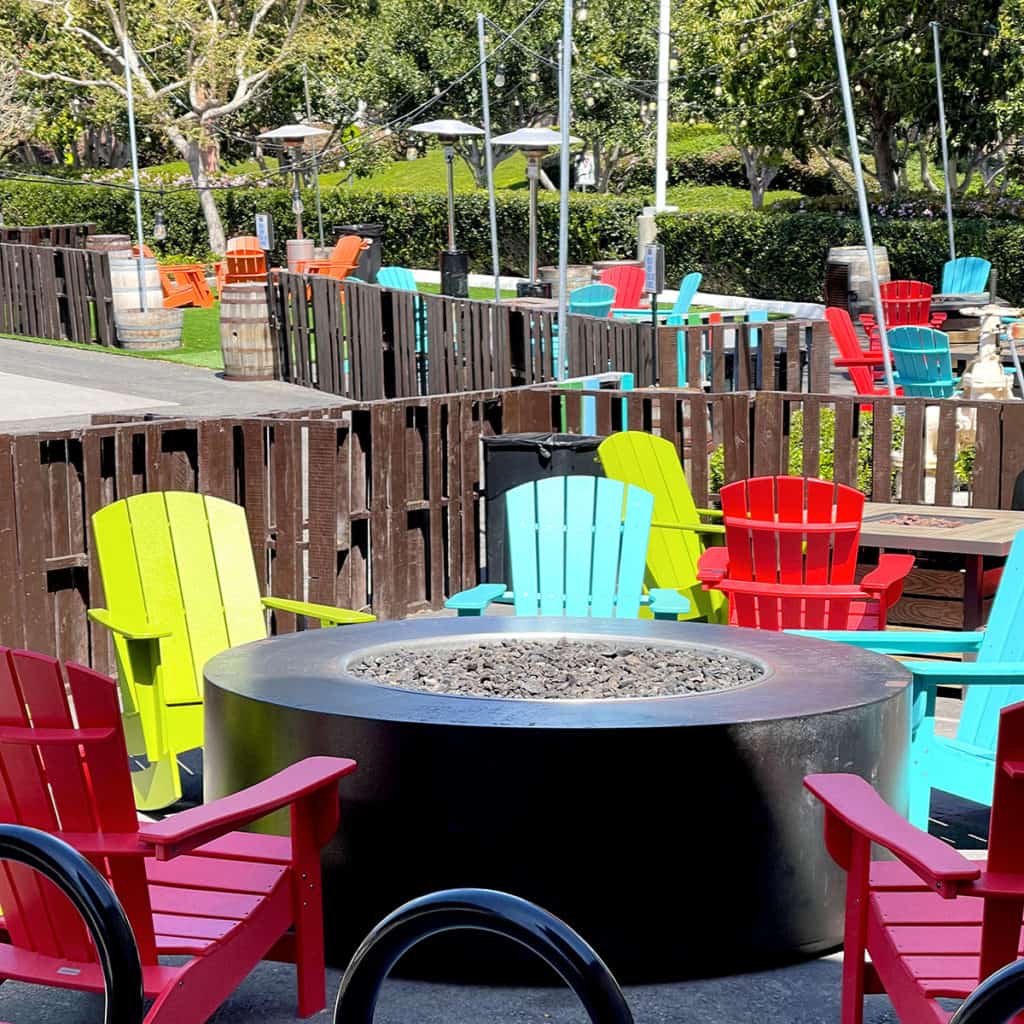 One of the best things about The Cassava Carlsbad is that because it's so close to everything in Carlsbad, it's easy to drive to a local restaurant and then return to the hotel to relax. After a fun day exploring Carlsbad and The Flower Fields, we had pizza and watched movies in the room.
It was an amazing feeling because the room was nice and clean and it was so relaxing not having to worry about doing things at home.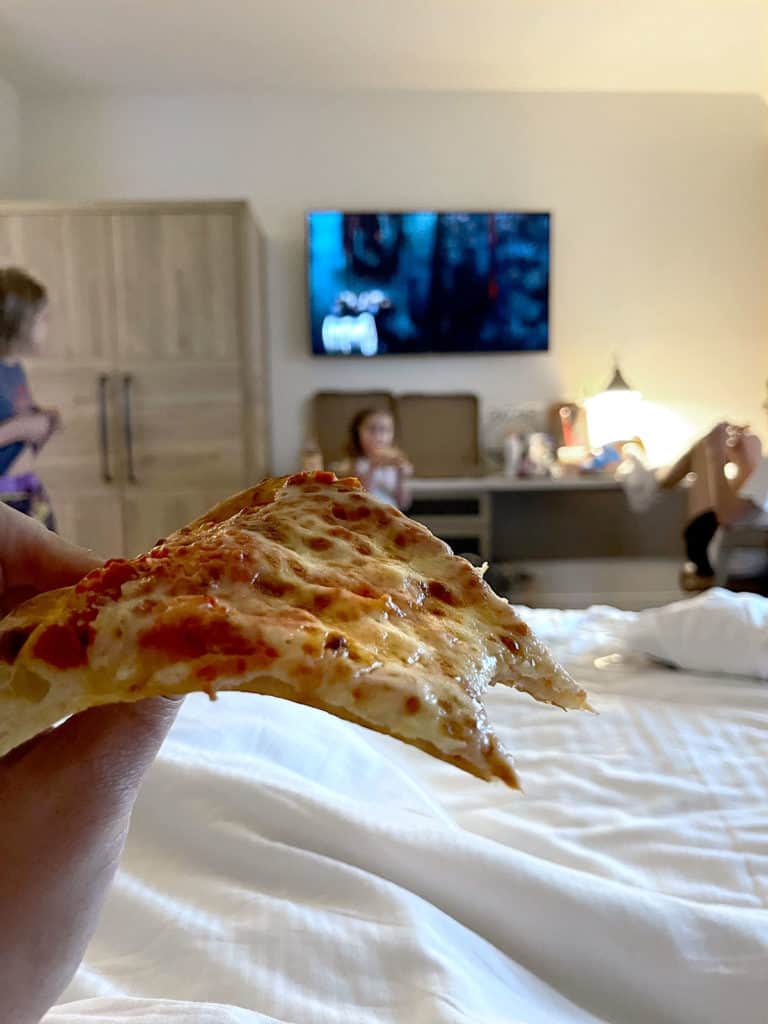 What places did we visit while staying at Cassara Carlsbad, CA?
There are so many things to do in Carlsbad, California. Of course, the beach is a popular choice! But there is so much more. The Flower Fields, Legoland, The Carlsbad Strawberry Company and so many fun restaurants and bakeries.
During our stay at Cassara Carlsbad we of course visited flower fields. You can see the hotel behind us so you know it's super close! You can walk or take a free shuttle to the fields. The hotel offers free shuttles not only to the fields, but also to Carlsbad Premium Outlets and to Carlsbad Beaches.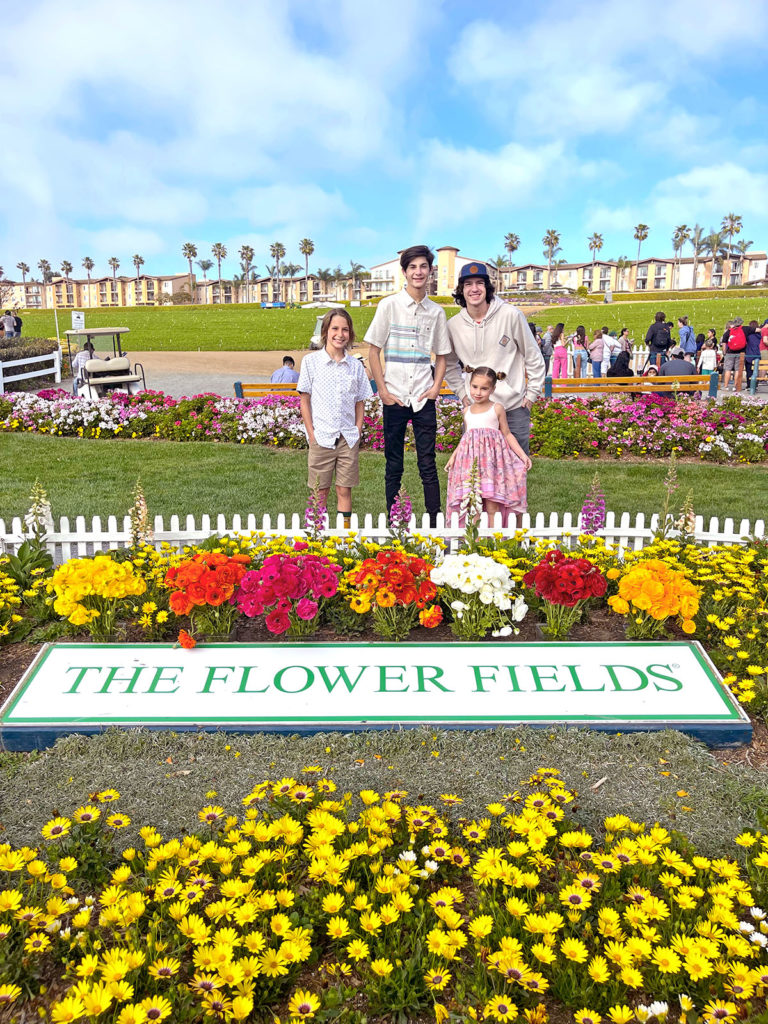 flower fields are seasonal, open only in the spring. Usually late March to early May. They are very popular for photo shoots! You can even take a tractor around all the fields to get the best views.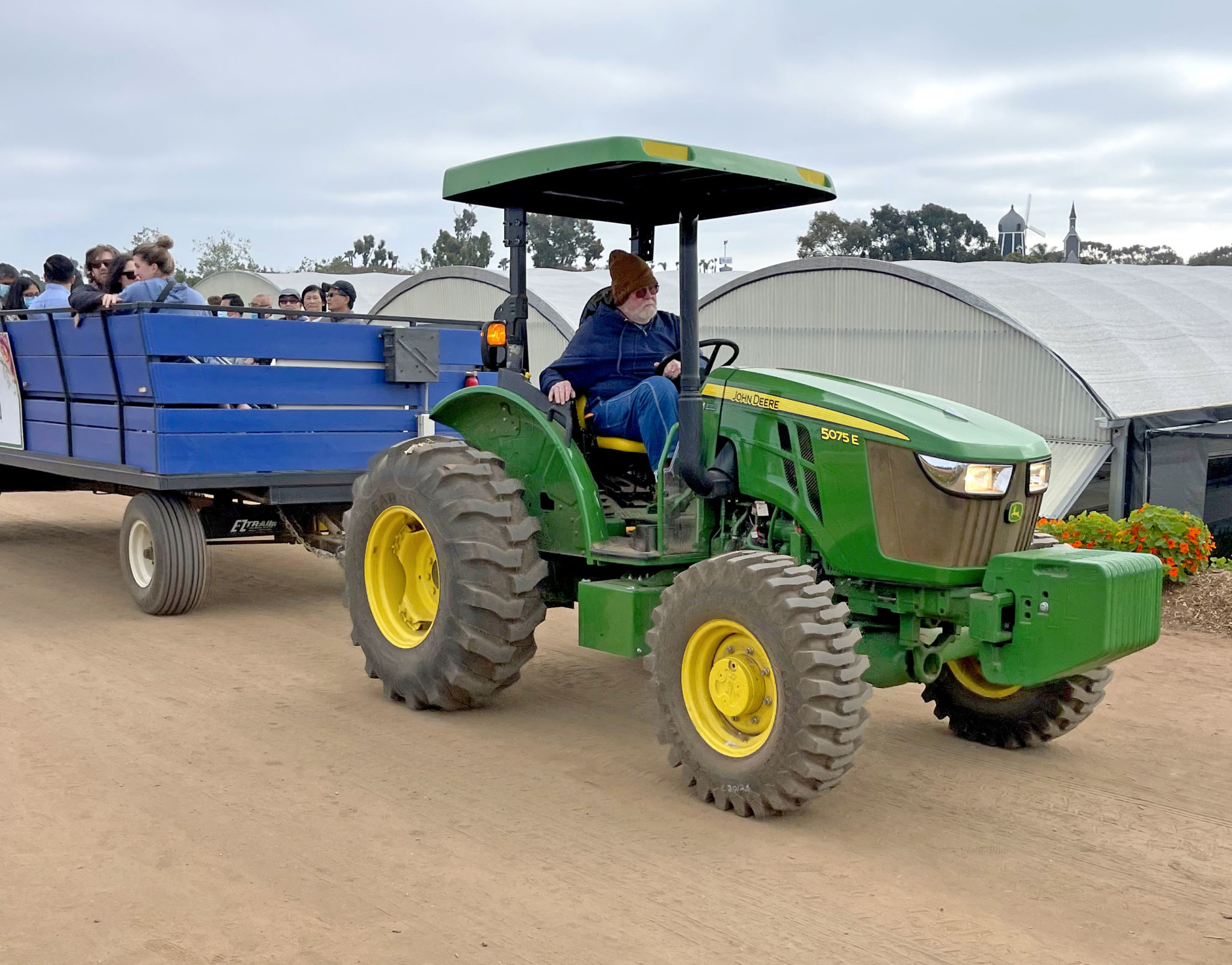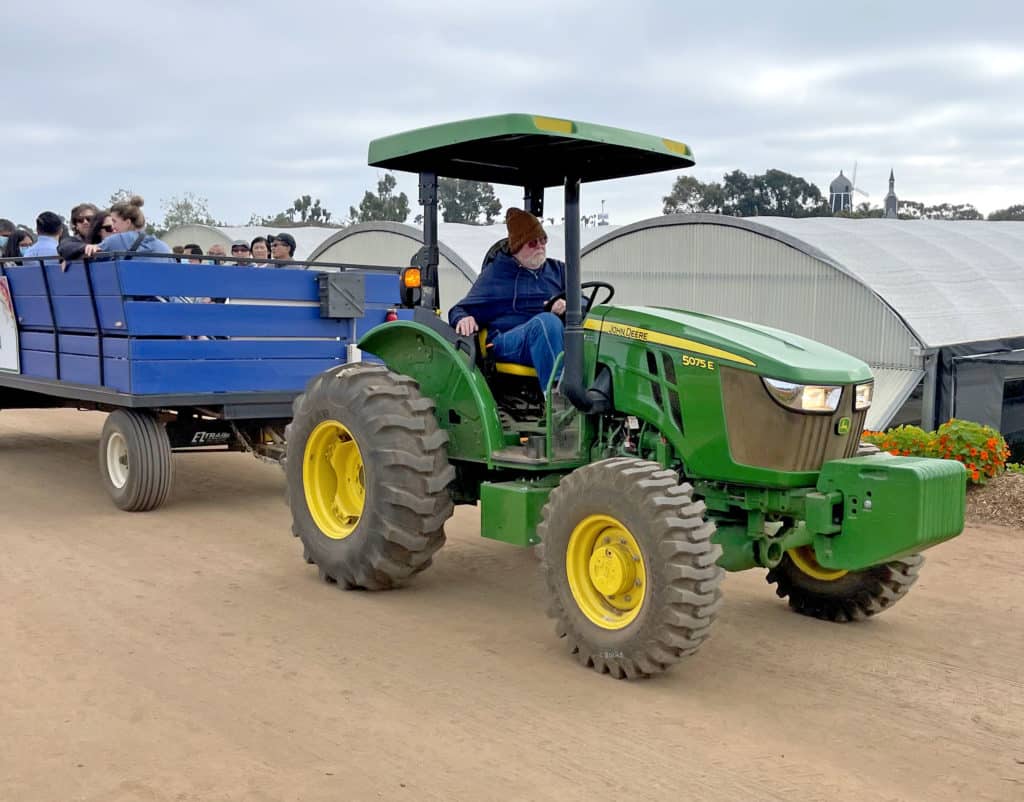 The colors are amazing, with a world famous 50 acres of buttercups! I recommend visiting at least once in your life.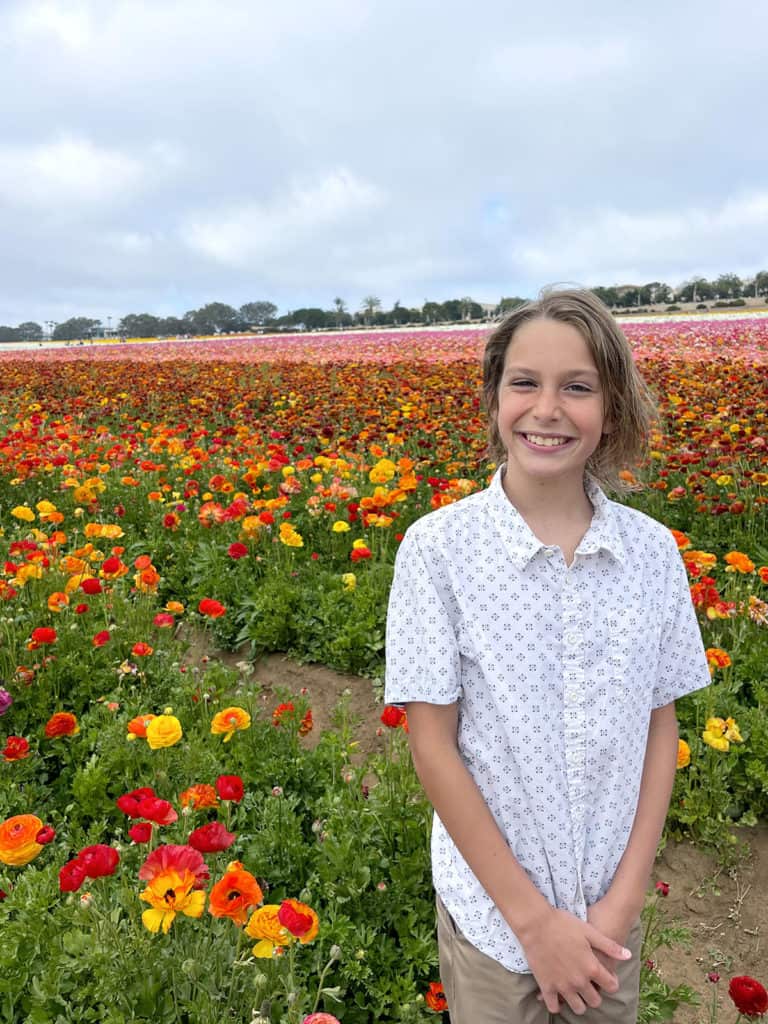 Apart from the wagon rides, you can stroll through the artists' gardens, visit the bird aviaries, play Santa's playground, mine gems, try the candy pea maze, see the historical exhibit poinsettia, and if you come in mid-April, there are sunflowers!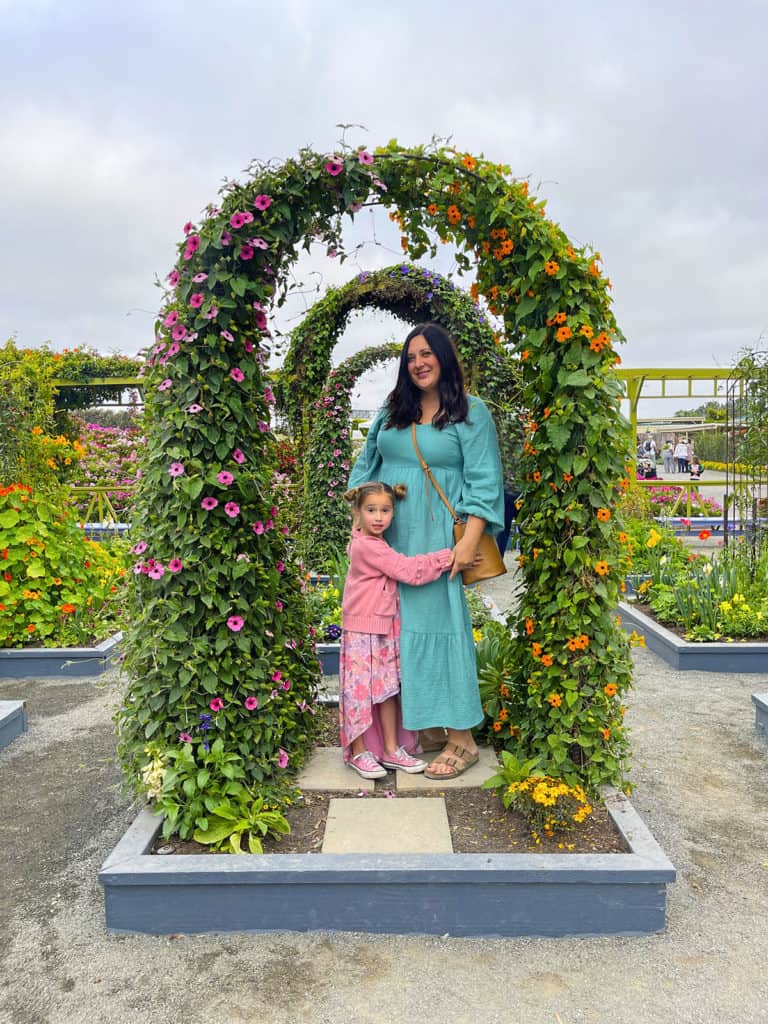 One morning we visited…
The Good Donuts in Carlsbad, CA
It was recommended that we visit Goods donuts Donut store. And we're glad we did. The donuts were amazing with unique flavors and top notch combinations. This is probably one of Carlsbad's most popular donut shops.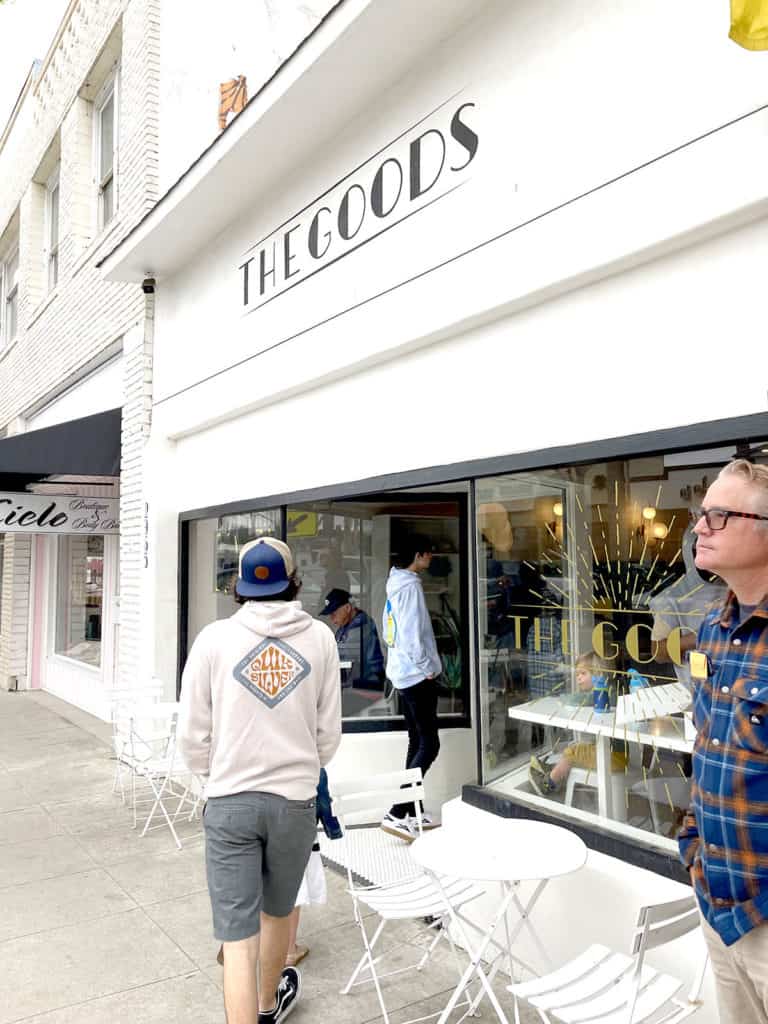 The Goods Donuts offers a new menu of flavors every week. The donuts are $3-$5 each, so not the cheapest donuts around. But it was worth it…because they were unlike any donut we've ever tasted.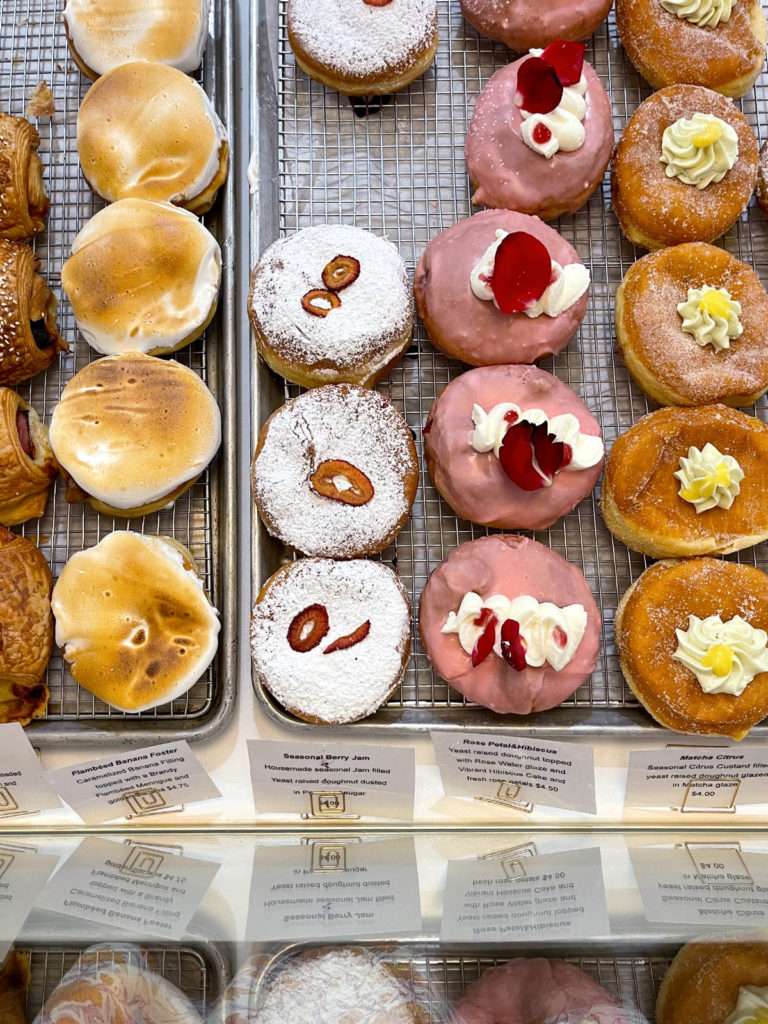 Besides donuts, there are also meat-filled croissants, gourmet coffee, smoothies and desserts.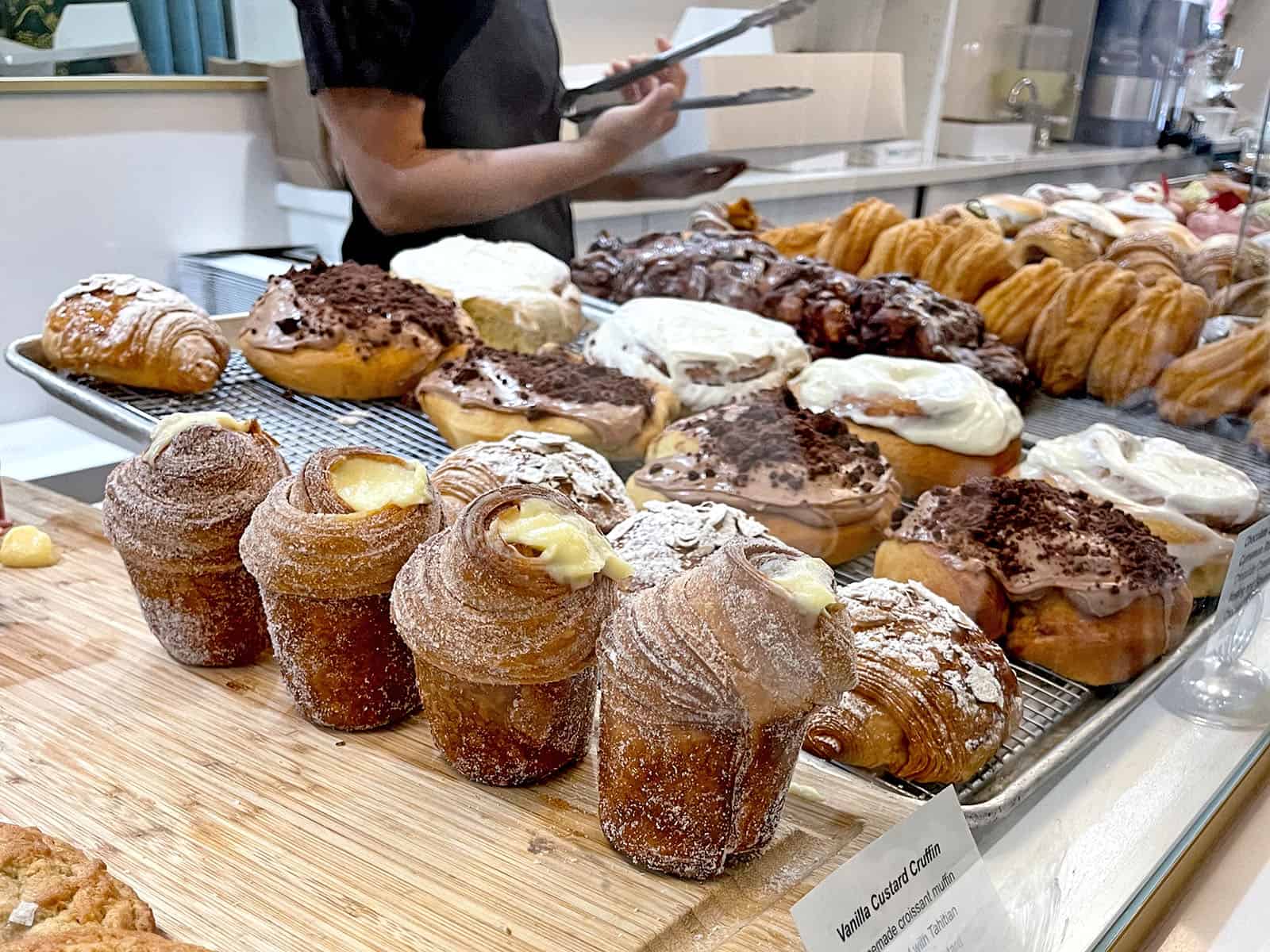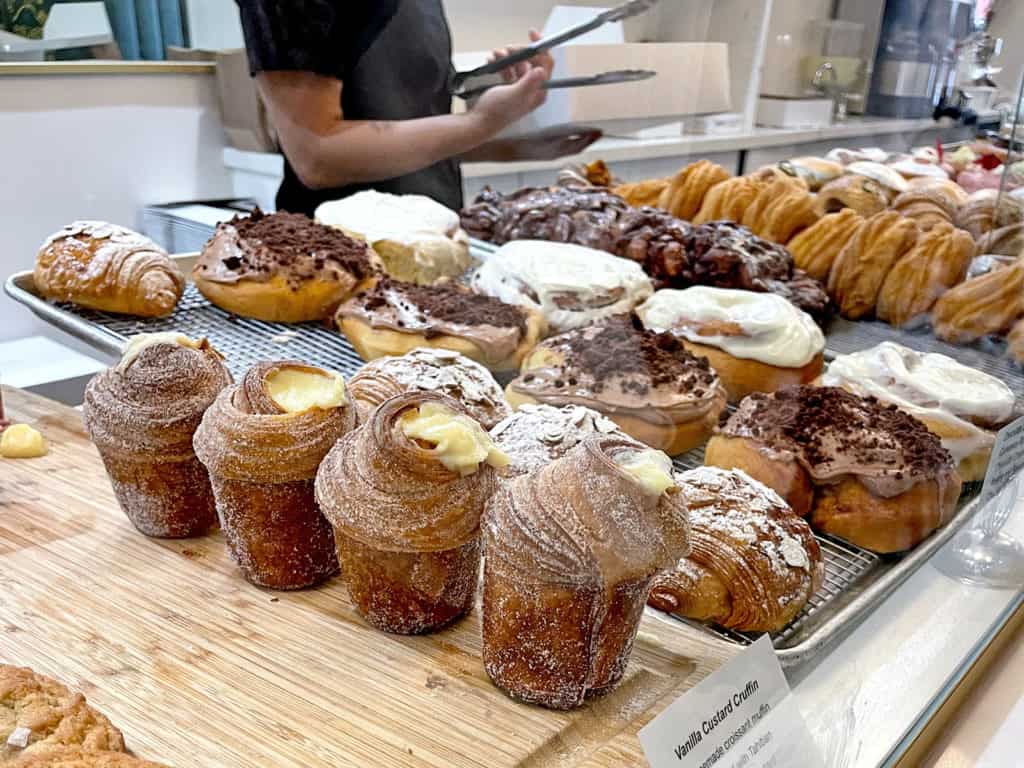 Our favorite was the Banana Fosters donut with meringue cream. However, we really liked them all and can't wait to come back to try more flavors.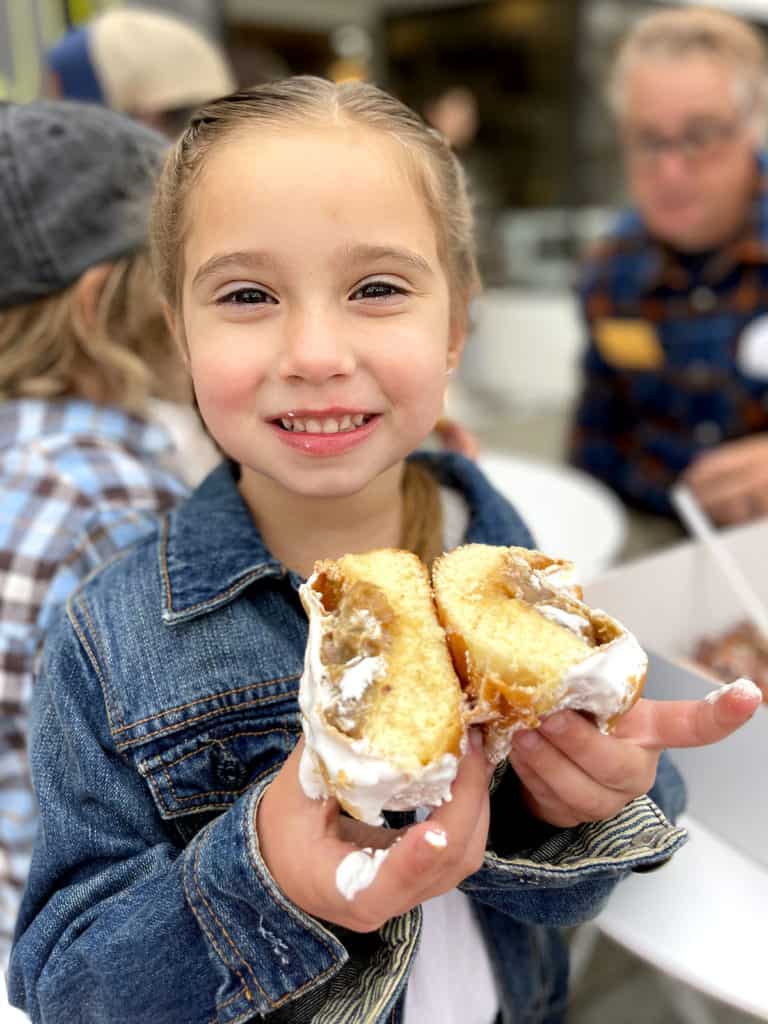 the next…
Haru Mama Noodles & Buns in Carlsbad, CA
Haru Mama noodles and rolls is famous for character-shaped buns. The kids really wanted to try them all. So we decided to check it out. . . even with an hour or more of waiting. Yes…the wait is long and the service is slow, but overall we had a good time.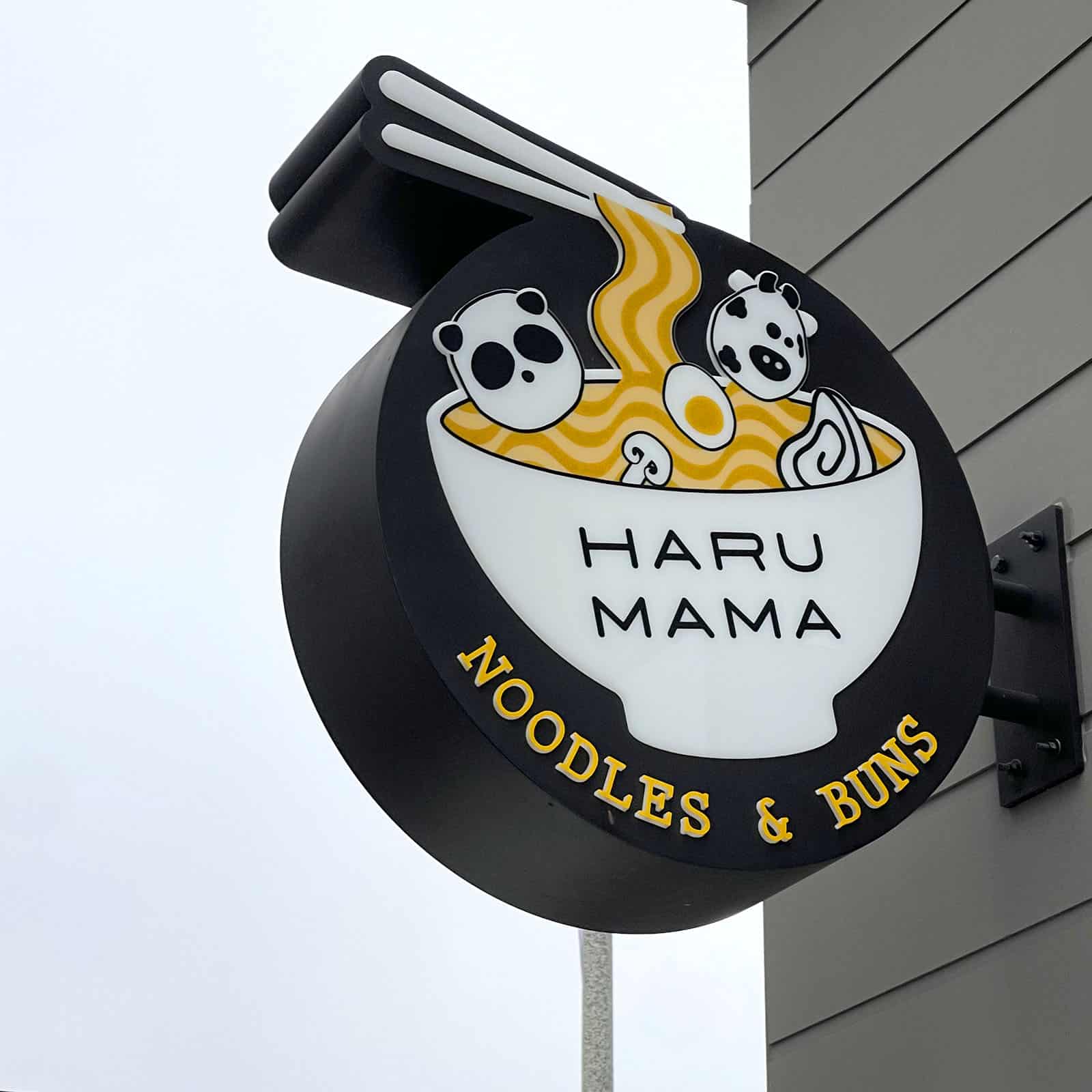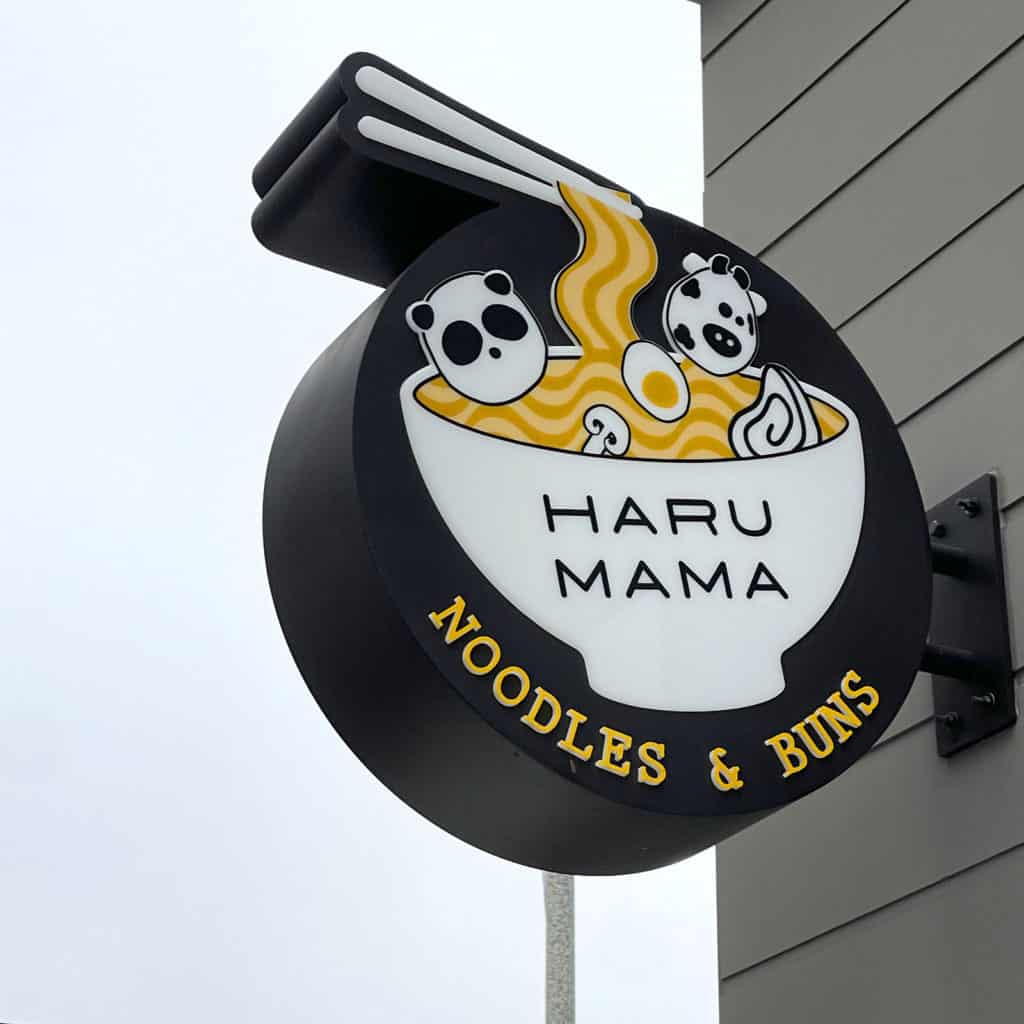 Haru Mama noodles and rolls has a good selection of noodles to choose from. It was a totally new experience for our family since we have never been to a ramen place. We didn't even know what to order.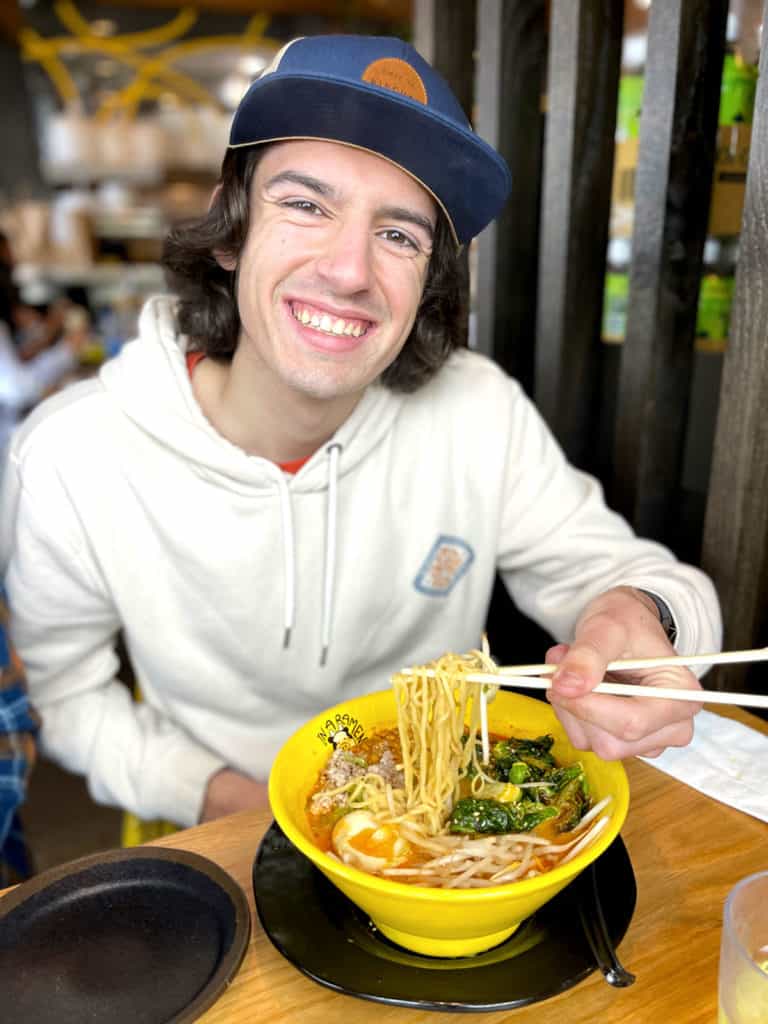 Overall we ended up loving what we ordered. They even had vegetarian options for me! YUM.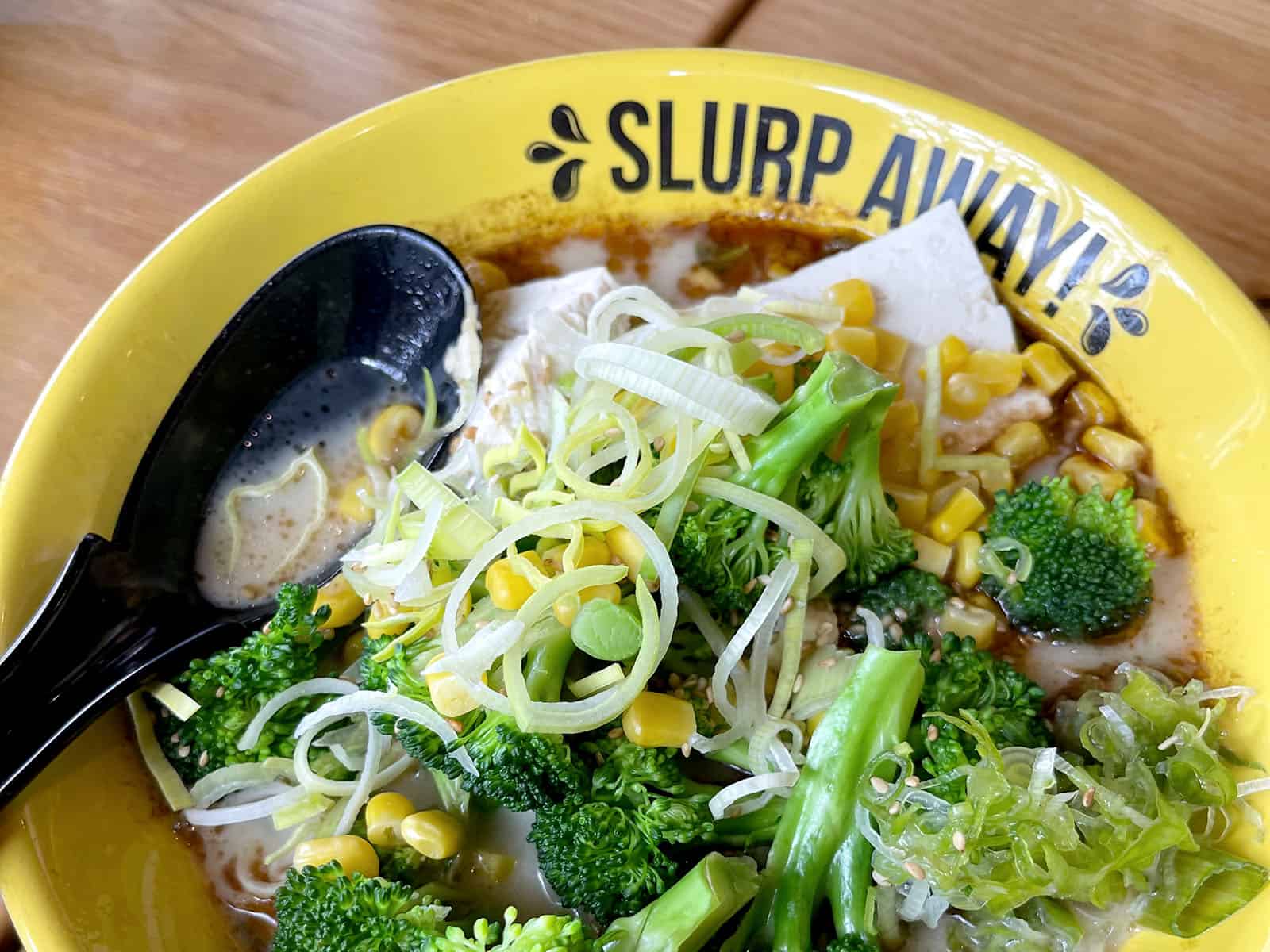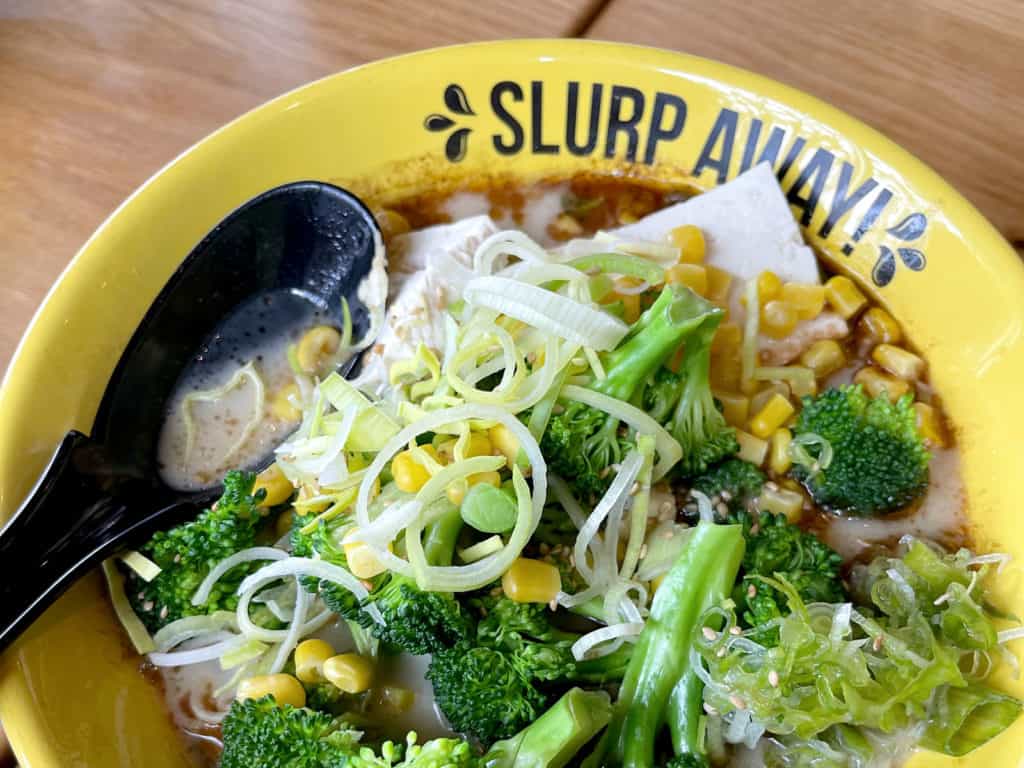 We've waited a long time for our character rolls…but that's what the kids wanted most. They did not disappoint! Super cute and everything was delicious. They have both sweet and savory choices. Be prepared to pay around $8 per pair of buns, $12-15 per noodle dish.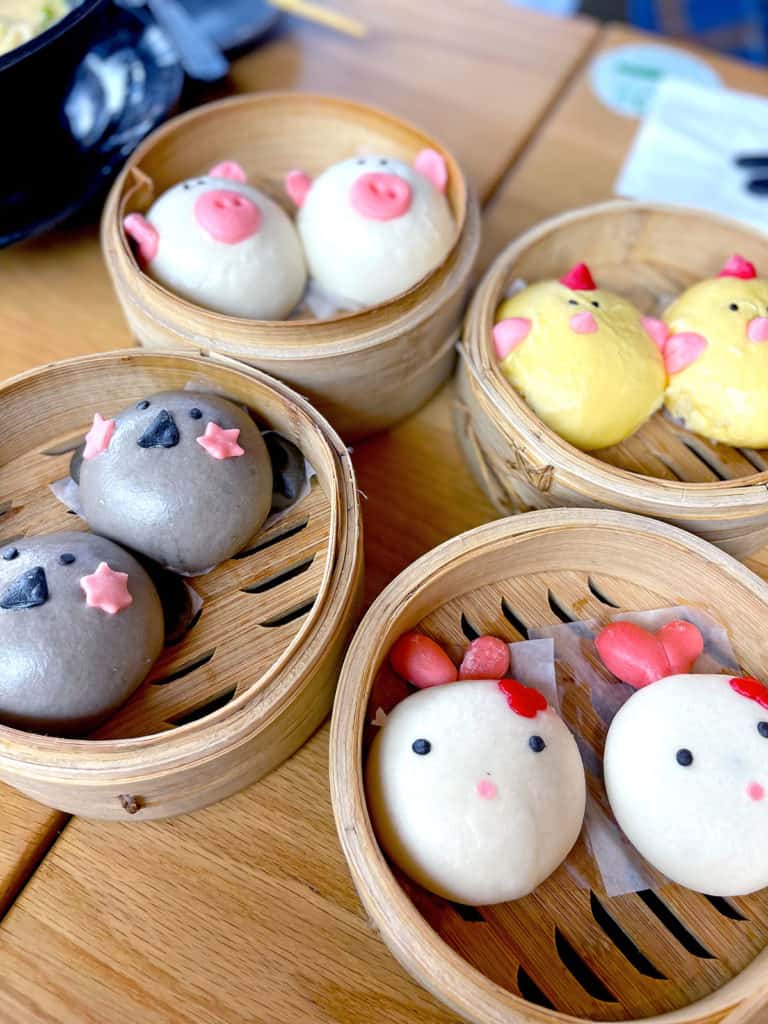 She was super happy to have the Koala character buns!!! They had strawberry cream inside (if I remember correctly).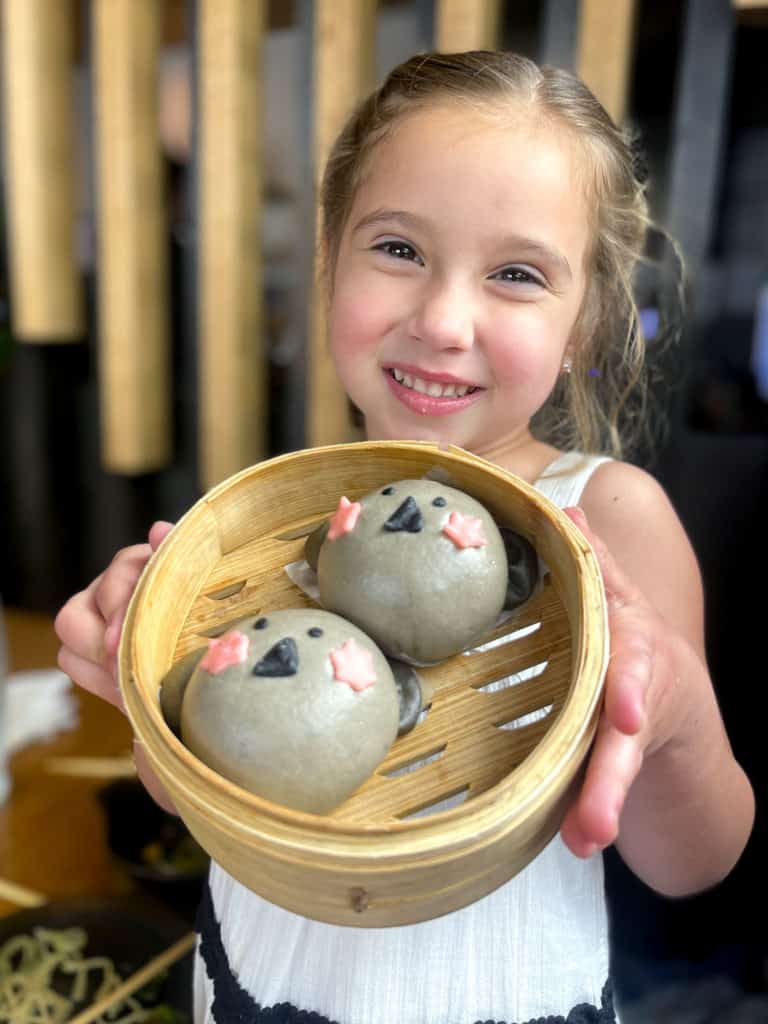 Finally, we checked…
The windmill food hall
Yes our trip was mainly on food, flowers and swimming. But it is okay! The windmill food hall not to be missed, it is located in the emblematic building of the windmill. You will see it as soon as you exit the highways. It's also right across from The Flower Fields.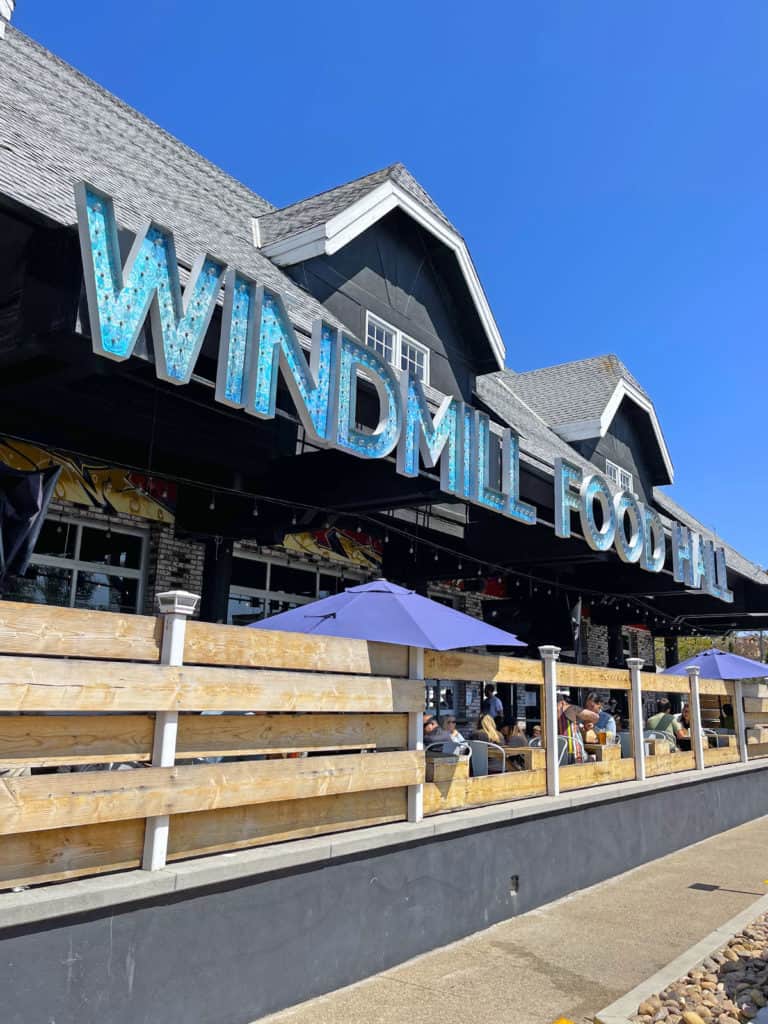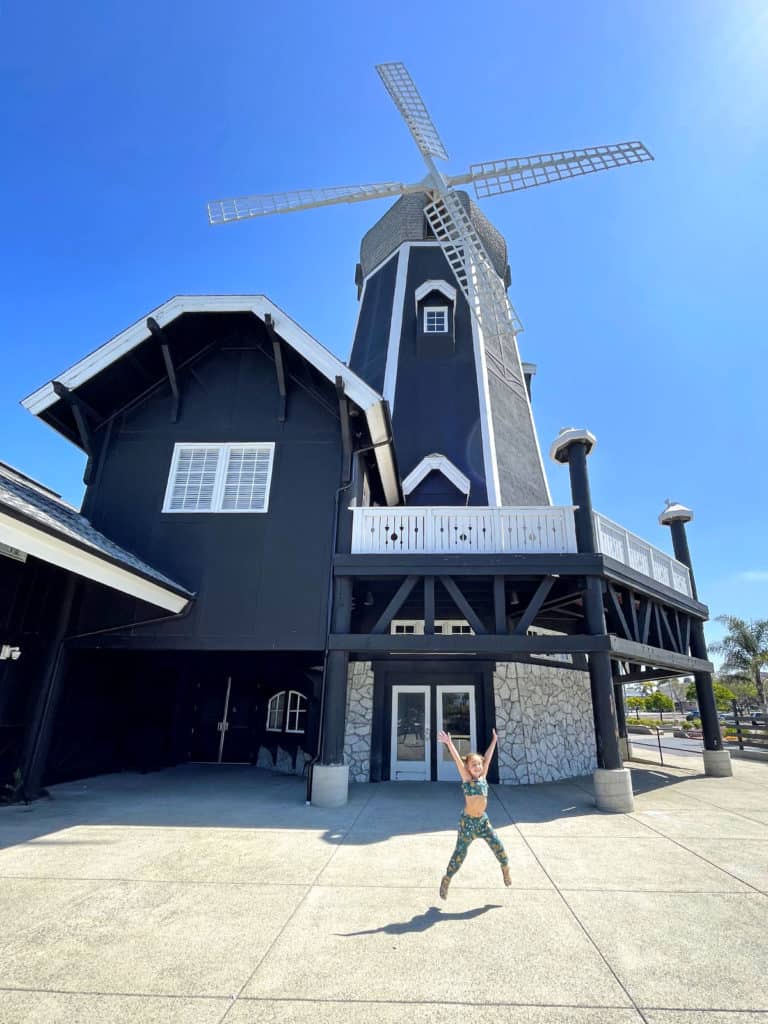 How awesome is that Windmill Food Hall, is that there are more than a dozen local food vendors. So you can have fun with the whole family. There's also a full bar that serves fun and creative craft cocktails and craft beers.
There is a fun vibe that will make you want to stay and relax, cool games for little kids and adults. Everything can be ordered by mobile order, which makes your visit easier.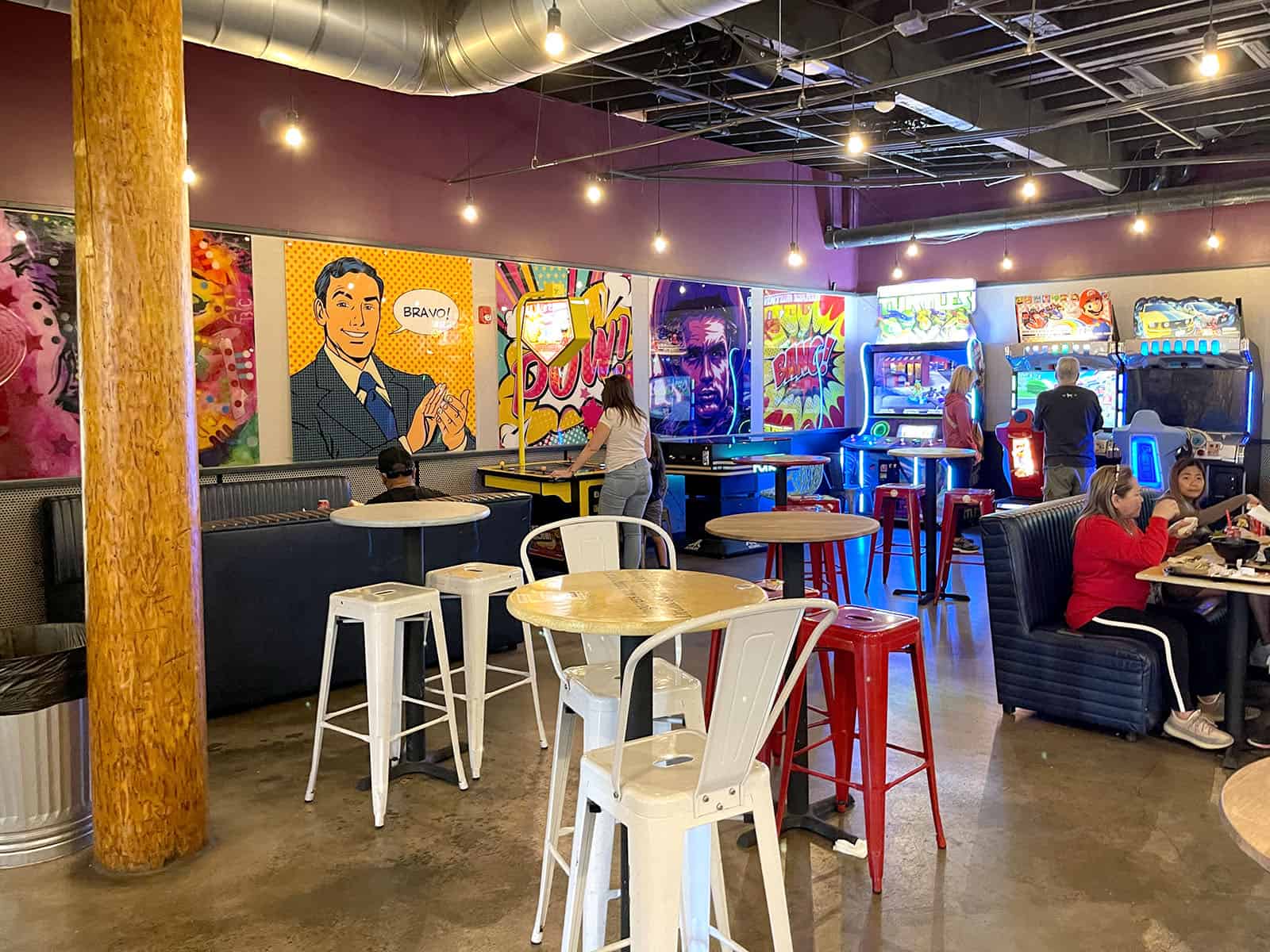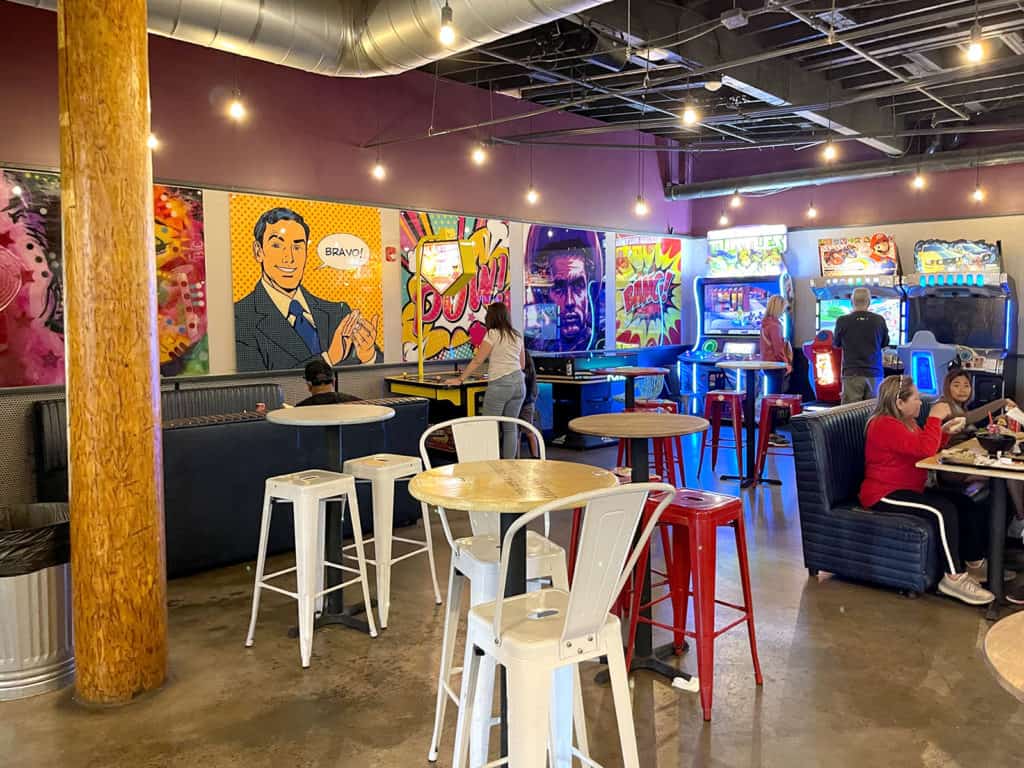 We enjoyed the food! Although there were many vendors, we couldn't try.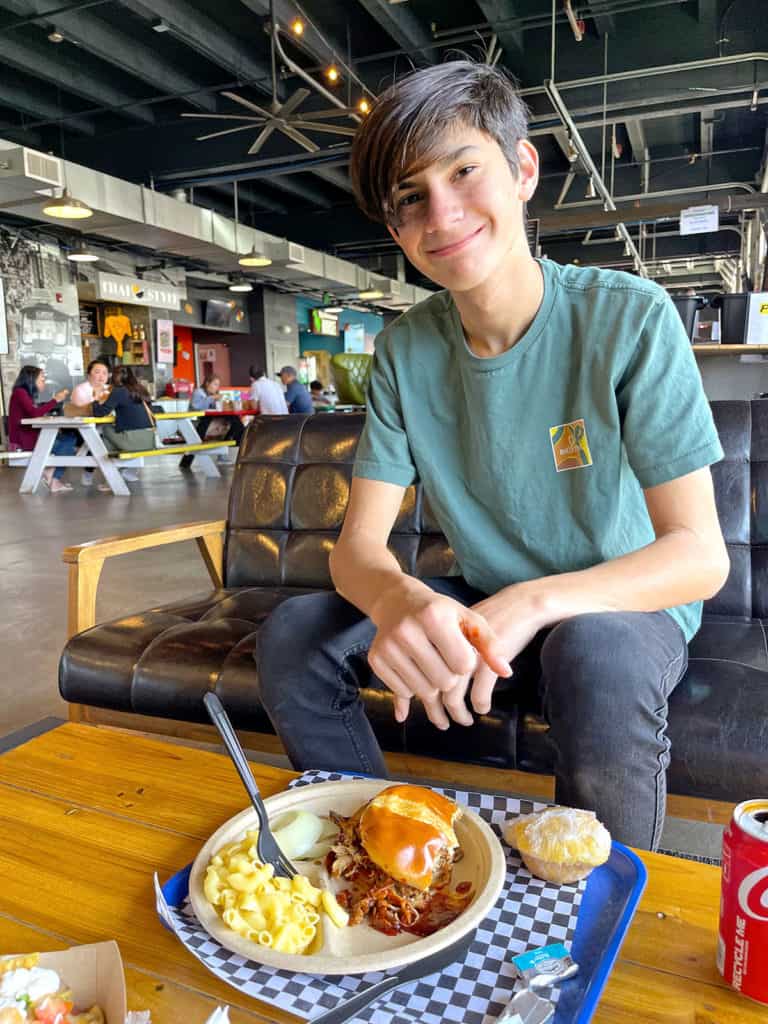 I recommend the Windmill Food Hall… because there is a lot of choice and the prices are very reasonable! An excellent choice for families.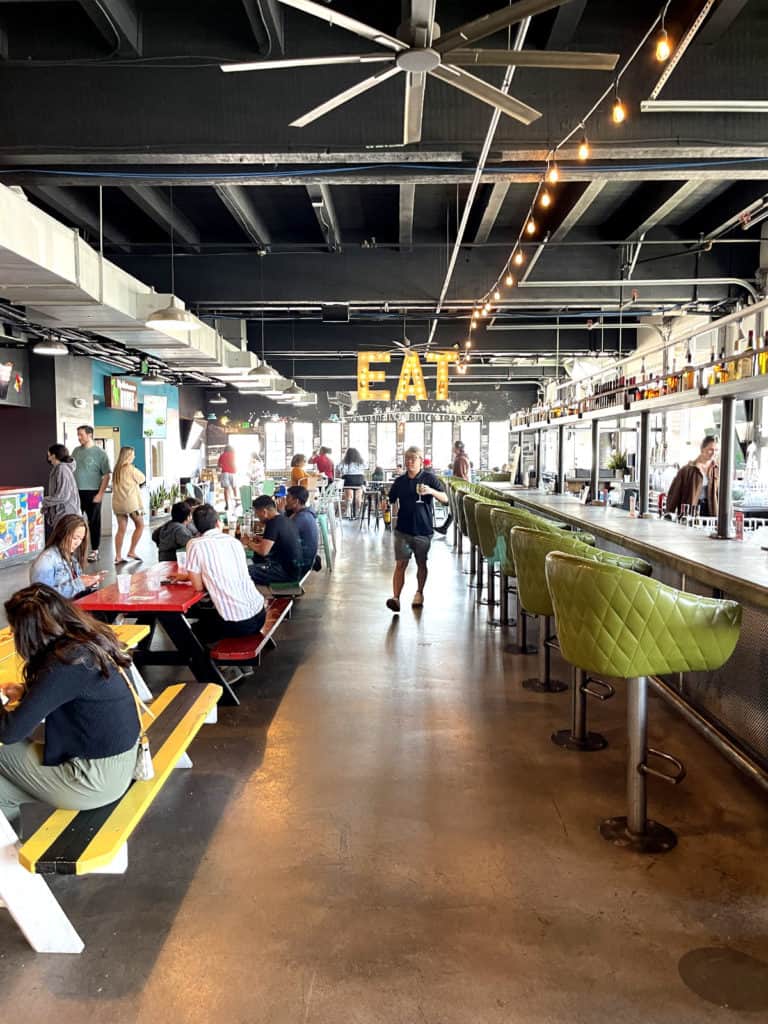 [ad_2]
Source link